Warriors' cap-clearing efforts not solely tied to Dwight Howard
The Warriors' effort to clear cap room is not solely tied to their pursuit of Dwight Howard. League sources say it's a pre-emptive move and could result in other free-agent pursuits if Howard says no to Golden State.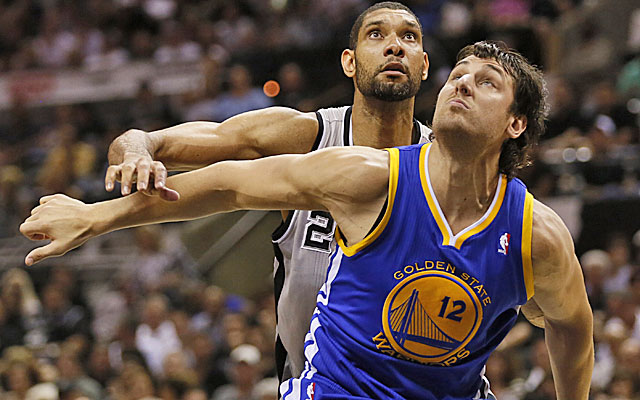 UPDATED 3:46 p.m. ET
The Warriors have begun trying to unload contracts on teams with cap space to make room for Dwight Howard. Does that mean they've been told they're getting Dwight Howard?
Nope.
League sources tell CBSSports.com that Golden State has offered the likes of Andrew Bogut, Andris Biedrins and Richard Jefferson to the Hawks, Cavaliers and Jazz. The Warriors would have to unload two of the three in order to clear enough space to land Howard in a straight free-agent signing, and Atlanta, Cleveland and Utah essentially are the only teams with that kind of room.
However, one league source briefed on the Warriors' plans says Golden State is determined to trade Bogut only in a deal that yields them a center -- and likely, only in a scenario that lands them Howard in a sign-and-trade with the Lakers.
It's important to note that the Warriors, according to multiple league sources familiar with the discussions, have indicated that their attempts to clear space are only a pre-emptive strike in the event Howard agrees to leave the Lakers for the Bay Area. Though the Warriors came out of their pitch meeting with Howard and his representatives encouraged by how their message was received, Howard's camp has not delivered any indications about what his decision might be.
Howard and his close circle of advisers, including agents Dan Fegan and Happy Walters, have been holed up in Aspen, Colo., to decide the All-Star center's free-agent future. Howard is deciding whether to re-sign with the Lakers or bolt for the Rockets, Mavericks, Hawks or Warriors.
One person briefed on Golden State's cap-clearing efforts told CBSSports.com that the team is intent on clearing room regardless of Howard's decision. If Howard says no to Golden State, the Warriors are expected to use the room -- if successful in moving contracts -- to chase another max-level free agent such as Denver forward Andre Iguodala, the person said.
There is another way Golden State could land Howard, that being a sign-and-trade arrangement with the Lakers. But league sources say there has been no indication that the Lakers are willing to facilitate such a deal if it involves taking back significant salary beyond the 2013-14 season. The Lakers' ace in the hole in their efforts to retain Howard is that their books are virtually clear in 2014-15, which would allow them to chase multiple high-level free agents next July regardless of whether Howard stays or not. Taking back salary in a sign-and-trade for Howard would compromise those efforts.
Bogut's $14 million salary comes off the books next summer.
There have been indications from Howard's camp that a decision on his future will come as early as Friday, with one person familiar with Howard's strategy telling CBSSports.com, "the sooner the better."
If Howard were to choose the Warriors, it could cause the process to drag on longer to allow Golden State the opportunity to clear cap room and/or orchestrate a complicated sign-and-trade that would keep the Lakers' books clean in 2014-15. League sources briefed on Golden State's efforts to unload multiple contracts say the price would likely start at multiple first-round picks, meaning Golden State would likely have to involve a third team to satisfy those parameters.
LeBron appears to be one of the two team captains for the 2018 All-Star Game

We've got all the scores, highlights and news for Thursday night

Arron Afflalo was involved in an altercation with Timberwolves big man Nemanja Bjelica on...
Fergie and Canadian rock band The Barenaked Ladies will sing their respective national ant...

Based on Gentry's tongue-in-cheek price, Boston is highly unlikely to acquire the big man

Larry Hartstein is 22-11 in ATS picks for or against the Timberwolves and has a play for T...