Warriors-Clippers Game 2 Preview: Foul trouble and small ball
Setting up Warriors-Clippers Game 2. Can Blake Griffin stay out of foul trouble? Will the Warriors' small ball work again?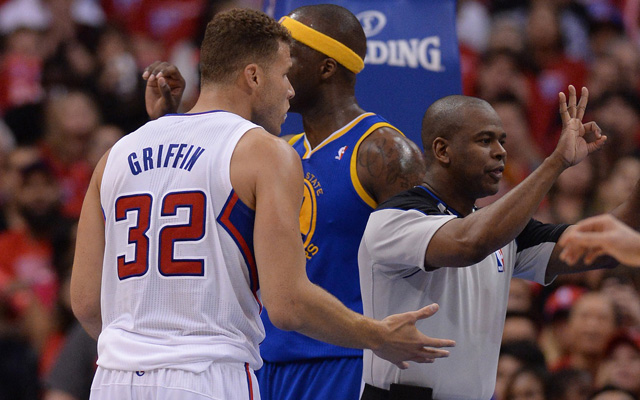 More postseason coverage: Playoff schedule, results | Latest news, notes
Previewing Game 2 of the Warriors-Clippers first-round series.
1. Where We Are: The Warriors won Game 1 on the road in a game where Stephen Curry had more shots than points and Andre Iguodala barely played with foul trouble. The secret? Blake Griffin wound up in massive foul trouble himself, playing just 19 minutes, and Jamal Crawford was ice cold.
The Warriors crowed quite a bit after the game about their underdog status. Without Andrew Bogut, the Warriors were forced to play small ball and it came up big for them. Jermaine O'Neal gave them quality play, but really it was Draymond Green, the second-year man, who wound up having a huge impact on the game. His defensive play and big shots were huge reasons the Warriors stole Game 1.
The Warriors were plus-18 in 16 minutes with David Lee and Green together. All hail small ball.
2. The Big Number: Plus-44.2. The Clippers were minus-21.7 (minus-14 points per 100 possessions) in the 29 minutes Blake Griffin sat with foul trouble. They were plus-22.5 (plus-34.6 per 100 possessions) in the 19 minutes he played. LA had a 44.2 swing from when Griffin was on the bench to when he was on the floor. Green struggled with Griffin in the post and from range. If he has another game like that, Game 2 will come out differently.
3. Key Adjustment: Beyond "stay out of foul trouble" the big key for the Clippers needs to be keeping their defensive adjustments up when the Warriors slip behind screens off the ball. Klay Thompson, Steph Curry, Draymond Green and Jordan Crawford all got looks from off-ball movement slipping behind screens. The Clippers were caught ball-watching and if you ball-watch against the Warriors, and they actually decide to move the ball (something they were great at in last year's playoffs and struggled with in the regular season), they will torch you. Hand down, man down, appropriately.
4. The Big Story: The foul trouble. Saturday's game was an abomination from an officiating standpoint. The refs clearly don't want this thing to get out of hand with the bad blood between the two, but whistling Griffin for his sixth foul for a reach in on a rebound with no substantive contact is a bit perplexing, as were several calls against Andre Iguodala. We need to see what these teams look like without the foul trouble. Hopefully Game 2 affords that possibility. 
5. The Facts: 10:30 p.m. ET at Staples Center. Andrew Bogut is still expected out, David Lee is expected to play.
Trail Blazers guards Damian Lillard and C.J. McCollum have been pushing for Anthony to join...

Anthony reportedly gave the Knicks an expanded list of teams he'd waive his no-trade clause...

The Suns will also receive a second-round pick in the deal
Kerr noted Warriors are deeper than the NBA championship team of last season

The Dubs will make a decision as a team on visiting the White House, but Steph would vote...

Wolves are an up-and-coming NBA squad, but this region knows heartache too well