Warriors, Clippers trade barbs over Griffin's 'flopping'
Klay Thompson is not a fan of Blake Griffin's flopping when he's so big; Doc Rivers jabs back.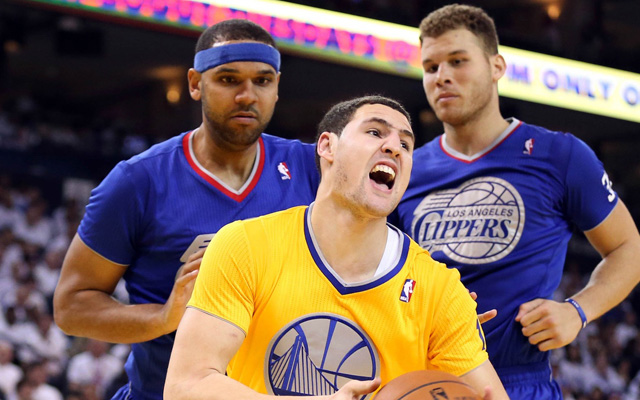 More Playoffs: Schedule | Threat Matrix | Previews: East | West | Picks
The Golden State Warriors and Los Angeles Clippers do not like each other. Not one bit. They have gone at it for two years in and out-of game. With Game 1 set for Sunday as the underdog Warriors try and upset a third seed for the second year in a row, the talk has already started. 
Klay Thompson went on radio almost immediately after the matchup was locked and questioned why Griffin flops so much. Doc Rivers playfully responded on Friday. 
"That's Klay's opinion," Rivers said Friday. "I don't really care, honestly. I just keep looking at what Blake's done, so if he's flopping, keep doing it because those numbers look awful good to me. So flop on. That's the way I look at it. Whatever he's done this year, I want him to keep doing exactly that.

"I think what's happening is Blake's kicking a lot of people's butt, and they need something to say about him."

Here's what Thompson told 95.7 The Game on Wednesday:

"He flops a little bit," Thompson told 95.7 The Game. "He flails his arms around, so you might catch a random elbow or something, and that doesn't rub off too well on guys, you know?

"He's kind of like a bull in a china shop, kind of out of control sometimes. And then you just do see him flop sometimes. Like how can a guy that big and strong flop that much? So yeah, I can see how he can get under people's skin and be frustrating to play against."
via Clippers coach Doc Rivers responds to Klay Thompson, muses Blake Griffin should 'flop on' – Inside the Warriors.
This series is going to get so ugly, so fast, and Andrew Bogut's not even playing. The over/under on fights in this series has to be four. These are two of the biggest showboat teams, the biggest trash talking teams, the teams that like to run it up the most, the teams whose benches go the most nuts, teams with serious expectations of going far in the playoffs. 
Something has to give. 
Game 1 is Saturday. 
Butler suffered the injury on Friday night against the Rockets

The extent of Butler's meniscal injury isn't yet known, but there's reason for Wolves fans...

No timetable was provided for Butler's recovery
We've got all the scores, top plays and news from Saturday's NBA games

Galin Dragiev is on a 31-18 NBA run and just locked in a play for Thunder vs. Warriors on...

SportsLine's Mike McClure, a DFS pro with more than $1M in winnings, gives optimal lineup...