Warriors' Draymond Green apologizes for 'profanity-laced tirade'
Golden State forward Draymond Green would like to move on now, and that's fair.
• 2 min read
Golden State Warriors forward Draymond Green apologized on Monday for the "profanity-laced tirade" reported by ABC's Lisa Salters on Saturday. During halftime of the Warriors' 121-118 win over the Oklahoma City Thunder, Green's frustrated screaming could be heard through the locker-room walls at Chesapeake Energy Arena. 
"I admit my mistakes," Green told reporters, via ESPN's Ethan Sherwood Strauss. "I made a mistake. I admitted my mistakes to my teammates, my coaching staff. I apologize to my teammates and my coaching staff, this organization. That wasn't the right way to handle what needed to be handled and, as a leader of this team, I can't do that because it sets a bad precedent for how everything is ran around here, how everything should be ran, how everything has been ran and how everything will be ran going forward.
"It won't happen again," Green continued. "It's, you know, something where my emotions kind of got ahead of me and I let my emotions get the best of me. However I will never quit on my teammates, as some have reported, you know. I would never quit on my coaching staff. I would never quit on this organization. This organization has given me everything that I can ask for. So I have supported and represented this organization to the best of my ability. That's not who I am, that's not who I've been and that's not who I will become. Sometimes, emotion, that's human, I'm not perfect, nobody on this Earth is perfect. If we were, there's no reason for us being here. As a human being I made a mistake and, like I said before, I apologize to my teammates, to everybody who I need to apologize to. It won't happen again."
During the highest-rated non-Christmas NBA game since 2013, per ESPN's Darren Rovell, Salters reported that Green was "yelling and screaming, 'I am not a robot, I know I can play, you have me messed up right now. If you don't want me to shoot, I won't shoot the rest of the game.'" He ended up shooting 0-for-8, but finished the game with 14 assists, 14 rebounds, six steals and four blocks to go with his two points.
Golden State coach Steve Kerr called the incident "unusual," but had no interest in commenting on it further on Saturday. Warriors star Stephen Curry, who provided perhaps the league's best individual performance of the season that night, also chose to protect his teammate, saying that it "lit a fire under us."
Everybody knows that Green is an emotional player. The vast majority of the time, that is a great thing. Sometimes, though, when a team is struggling, those emotions can come out in inappropriate ways. In this instance, you'd assume that Green has built up enough goodwill in the Golden State locker room that this can just blow over. Ideally, now that he has publicly and privately apologized, everyone can move on.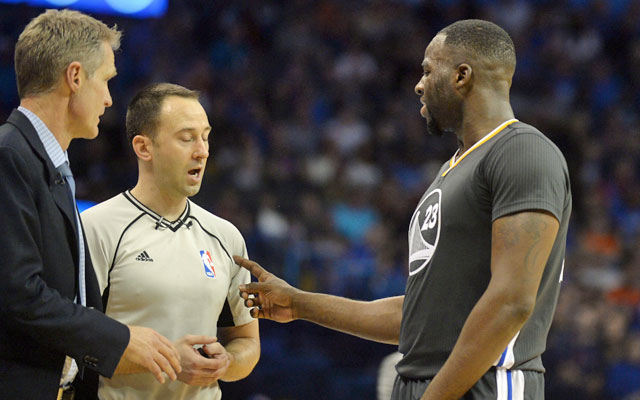 The idea was to bring Bell along slowly, but he's making it harder and harder to keep him on...

Donovan Mitchell kept the top spot in the rankings, but there was plenty of shuffling below...

Stephen Oh is 23-7 picking Rockets and Spurs games and just locked in a play for Friday
SportsLine simulated Friday's Sixers-Thunder game 10,000 times

Cavs star chose to be very secretive when talking to Lakers rookie after Thursday's game

New York announced Porzingis would not return shortly after star forward left game