Warriors find rhythm in a Game 1 without any flow, beat Clippers
Whistles, whistles, and more whistles. That's all we saw in a game without any rhythm, but that didn't stop the Warriors from finding some and taking down the Clippers.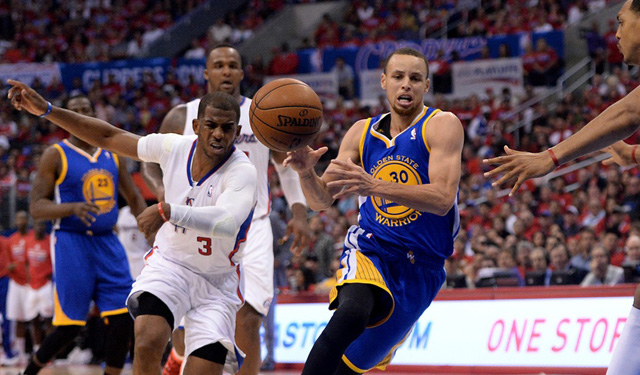 More Playoffs: Schedule | Threat Matrix | Previews: East | West | Picks
This game was nearly ruined by officiating. One team didn't win or lose because of the officiating. Instead, everyone involved and watching came close to losing in what should have been a fun, free-flowing game Saturday afternoon. There were 51 fouls called and 60 free throws shot, plus a few reviews to thwart any pulse from this game.
Even with constant stoppages and star players sent to the bench because of questionable foul trouble, we still managed to get a pretty good second half, and the Golden State Warriors put on a shooting display in the third quarter reminiscent of their incredible 2013 run. The Warriors shot 70 percent in the third quarter, led by David Lee's 10 points and supplemented by Jermaine O'Neal and Klay Thompson scoring eight each in the period. 
In a three-plus minute stretch in the third, we saw an incredible display of basketball by both teams in which the Warriors and Clippers scored on 12 of 16 possessions. They totaled 30 points, 15 apiece, with execution so dizzying that the game became nearly too fast to process. 
The rest of the game was marred by ticky-tack foul calls, which sent Blake Griffin and Andre Iguodala to the bench early and often. Iguodala had four fouls in only 11:33 in the first half; Griffin had three fouls in 3:53 of the first half. By the end of the third quarter, both players had five fouls and eventually fouled out. 
Glen "Big Baby" Davis managed to give the Clippers some good minutes off the bench, before the team decided to go with smaller lineups around DeAndre Jordan, who played 45 minutes. Harrison Barnes and Draymond Green stepped up in the iguodala's absence for the Warriors, who already were Andrew Bogut (fractured rib). And it was the Warriors' resiliency that proved the biggest difference.
They shook off an injury to the big man that completes their title contending aspirations, and they shook off trying to find rhythm in a game devoid of it. They shook off the road environment and once again being a 6-seed trying to prove their capabilities against a highly-favored 3-seed. Mark Jackson found a way to keep his team engaged and believing in themselves. They went from hurting themselves with 23 turnovers to hurting the Clippers with 40.7 percent 3-point shooting, 45.5 percent in the second half. 
This wasn't the look of the series we were expecting. We were expecting to see two offenses, playing more up-tempo and finding fun ways to score. We got a glimpse of that at times and will hopefully get more of it throughout the rest of the series. For now, it's up to the Warriors to figure out how to keep finding moments of execution on both ends of the floor. They survived a game in which Stephen Curry didn't make a single shot in the fourth quarter, which is good but something that needs to be solved.
For the Clippers, they need to figure out how to regain an advantage they were sure to have. Chris Paul was fantastic throughout most of the game, but possibly too overworked at the end to hit clutch free throws he badly missed. That's where Blake Griffin staying on the court comes in, so he can have the entire offense flow through his scoring threat instead of Paul's. 
And hopefully all players will figure out how to stay away from the whistles and remain on the court. Otherwise, we could really lose out on a great series. 
The restricted free agent has a deal in place that will keep him with the Bulls after a st...

James' support continues his trend of social activism on social media

The newly-acquired All-Star thinks the addition of Anthony boosts the Thunder in the NBA's...
The Knicks were asking for the house in discussions for Carmelo Anthony

Steve Kerr has given his response to Donald Trump in writing

Trump rescinded Curry's invitation to the White House after Curry said he wasn't interested...