Warriors fire Mark Jackson as coach after three seasons
Golden State coach fired after constant clashes with management and ownership over control.
More on Jackson: Hoiberg, Kerr to replace Jackson? | Curry speaks up for Jackson
The Golden State Warriors have fired coach Mark Jackson after three seasons, the team announced Tuesday. 
"It's never easy to make a decision of this nature," said General Manager Bob Myers in a statement via e-mail. "Mark has accomplished many good things during his three years with the organization, including his role in helping elevate this team into a better position than it was when he arrived nearly 36 months ago.  We're appreciative of his dedication and commitment since his arrival and are extremely grateful for his contributions.  However, as an organization, we simply feel it's best to move in a different direction at this time."  
The controversy will be over firing a coach that has had this level of success and the support of his players. Jackson reportedly clashed with personnel inside the Warriors organization beyond just ownership and front-office personnel, even as the players supported him to a man. 
Also hearing that staffers throughout the building--business dept, etc--have been asked about Jackson and it's not going well for him.

— Tim Kawakami (@timkawakami) May 6, 2014
"Mark Jackson has had a big impact on the improvement of our team and the success that we've had over the last couple of years," said Owner & CEO Joe Lacob said in the Warriors' statement.  "Nonetheless, we must make some difficult decisions in our day-to-day operations of the club and this would certainly qualify as one of those examples.  We wish Mark the best of luck in his future endeavors and thank him for his contributions over the last three years."
Jackson had been at the center of rumors of conflict with the front office and ownership for months. Two of his assistant coaches, Brian Scalabrine and Darren Erman, had been removed in the past two months. Scalabrine was reassigned after Jackson reportedly tried to fire him in front of Warriors players without clearing it with ownership, and Erman was caught recording conversations in what was reportedly an effort to illustrate the way Jackson and the rest of the staff were undermining his authority.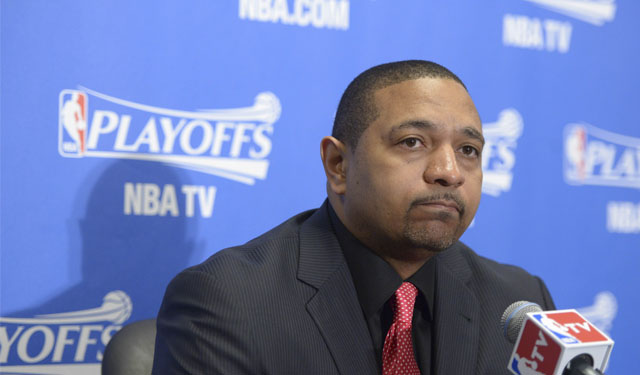 Jackson finishes with a 121-109 record, 9-10 in playoff games, and consecutive playoff appearances. The Warriors upset the Denver Nuggets in last year's first round, and lost to the Clippers in the first round in seven games this season, despite the loss of Andrew Bogut for the season due to injury. 
Warriors owner Joe Lacob denied having made a decision about Jackson last week. Reports surfaced recently that Jackson had clashed with legend and front office member Jerry West over West's presence at practice.
Ersan Ilyasova isn't quite the player he used to be, but maybe the 76ers can bring the best...

LeBron James speaks his mind and that's part of what makes him a superhero to Gregg Popovi...

We've got all the scores, top plays and news from Sunday's NBA games
Stephen Oh has his finger on the pulse of Wizards basketball and released a play for Sunda...

The Warriors don't have any interest in winning a popularity contest. They're fine winning...

The Cavs traded Thomas at the deadline after just 15 games