Warriors' Iguodala has strained left hamstring, out indefinitely
The Golden State Warriors will be without Andre Iguodala for an indefinite period after he injured his left hamstring Friday night.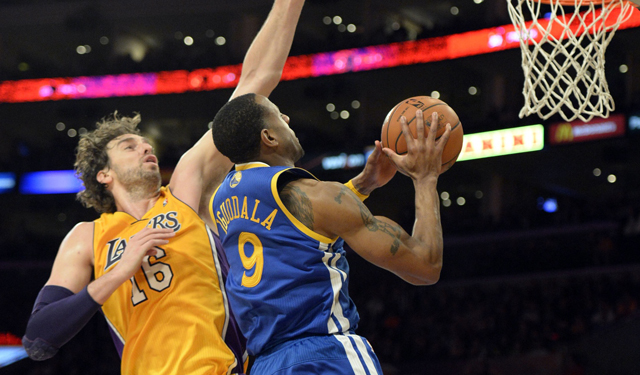 The Golden State Warriors were already trying to figure out how to play without point guard Stephen Curry, backup point guard Toney Douglas, and backup center Jermaine O'Neal, having lost their last two games. You can add Andre Iguodala to the injury list after he strained his left hamstring in the third quarter of Friday's loss to the Los Angeles Lakers.
Iguodala felt a pop in his hamstring and had an MRI on Saturday to make sure there wasn't a more serious injury that may need surgery to repair. As of right now, it's just a strain and the Warriors will be without him Saturday night when the team faces the Portland Trail Blazers in Oakland. He's out indefinitely. From the Warriors:
Warriors forward Andre Iguodala has been diagnosed with a strained left hamstring following an MRI that took place earlier today. He originally suffered the injury in the third quarter of last night's game against the Lakers at Staples Center.

Iguodala will not play in tonight's game against the Portland Trail Blazers and is out indefinitely.
Douglas is missing a couple of weeks with a stress fracture in his left tibia, O'Neal is out with a right knee injury and a strained left groin, and Curry has missed the last two games after suffering a concussion against the Utah Jazz earlier this week. Curry may play in Saturday's game.
Iguodala is averaging 12.9 points, 6.3 assists, and 4.2 rebounds while shooting 54.5 percent from the field and 47.9 percent from 3-point range.
Nerlens Noel is now being represented by Rich Paul of Klutch Sports

Steve Kerr opens up about his back issues and more

OJ Mayo, banned from the NBA for positive drug test, is considering playing overseas
The King? 'LeBron, it turns out, is Aquaman,' or so the account via Dwyane Wade's wife goe...

From Penny to Thunder Dan to Pistol Pete to Agent Zero, guys who would be better in 2017

Griffin said recently he thinks it's more likely that LeBron James goes to New York than L...