Warriors offering Bogut and Thompson to Lakers for Howard?
The Golden State Warriors reportedly would give up Klay Thompson and Andrew Bogut to land Dwight Howard in a sign-and-trade. But the first step is convincing Howard to pick Golden State.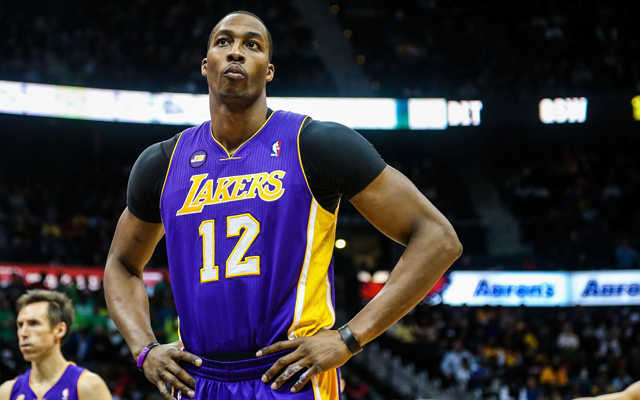 The Warriors have never been shy about pursuing Dwight Howard. They wanted him when he was in Orlando, and they want him now. 
And according to the Oakland Tribune, the Warriors are willing to do just about anything to get him. 
The Warriors are definitely interested in landing Dwight Howard if at all possible. It's a long shot, to be sure. But Golden State doesn't seem at all deterred by Howard's propensity for drama, his injuries, or his wanting to play for other teams.

"Are you kidding?" one source said. "He's the best center in the game."

[...]

According to sources, the Warriors are willing to offer Andrew Bogut and Klay Thompson or Harrison Barnes. The Warriors can also add in the expiring contracts of Richard Jefferson or Andris Biedrins to sweeten the deal with more cap relief for the Lakers. Golden State, which can only sign Howard via sign-and-trade, believes that is the best offer Los Angeles will receive.
One major hang-up: Howard has to agree to play for the Warriors first; he's meeting Monday with a Golden State contingent. As Ken Berger of CBSSports.com says, there have been no official talks and won't be until Howard says he'd play for the Warriors. 
First trigger for Warriors-Lakers talks: Dwight would have to say in meeting with GSW officials later today that he wants to go to Bay Area.

— Ken Berger (@KBergCBS) July 1, 2013
Even if Dwight indicated desire to play in Bay, Lakers may still balk at sign-and-trade. Source says LA has demonstrated no appetite for it.

— Ken Berger (@KBergCBS) July 1, 2013
The Warriors are the darkhorse here for Howard. The Rockets, Mavericks and Lakers seem to be the top contenders. But with a young, talented roster, a likable coach in Mark Jackson, a new arena coming eventually and a crazy passionate fanbase, it's possible Howard could be persuaded. 
The only way for the Warriors to acquire Howard is through a sign-and-trade deal; they don't have the cap space to sign him. And they're serious enough about it that they'd give the Lakers really quality pieces in Bogut and Thompson (or Barnes). 
So if you're the Lakers and you don't win over Howard, you've got to have your fingers crossed that he picks the Warriors. Because that Warriors package would be a decent little consolation prize. 
Vince Carter is destined for a Raptors reunion; he doesn't know when it'll happen

Thomas has a target date for his return, and with the Cavaliers scorching, this could be h...

LeBron James once again is using his platform to be socially active
Not many games, but still plenty of action and intrigue Sunday in the Association

Kobe Bryant had a solid piece of advice for back in 2016 when he left OKC for Golden State

An old rivalry is reignited between LeBron James and the Cavaliers and John Wall and the W...