Warriors' O'Neal confronts Blake Griffin after loss to Clippers
Warriors center not a fan of the Clippers forward as tensions continue to rise between Golden State and LA.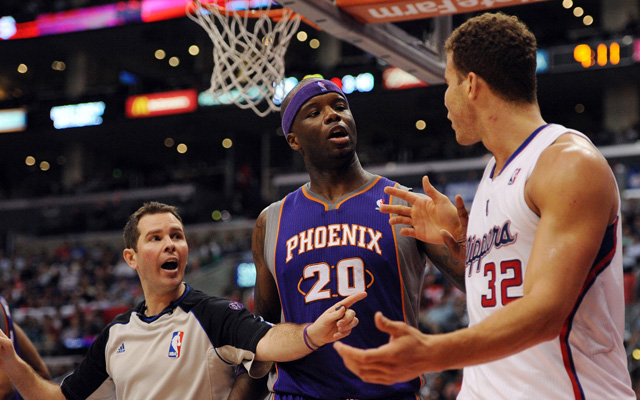 More NBA: Power Rankings | Expert Picks | Latest news, notes
After the Clippers' win over the Warriors Wednesday night, Jermaine O'Neal apparently felt the need to straighten some things out with forward Blake Griffin outside the locker room. From the OC: 
Following the Clippers' 111-98 victory Wednesday, Golden State center Jermaine O'Neal confronted Blake Griffin outside the Clippers' locker room.

The players had a heated discussion that didn't become physical and ended with a handshake.

In a loss to Golden State on Christmas night, Griffin got ejected after a pair of technical fouls. After the game, Clipper plays accused Golden State of intentionally trying to get Griffin ejected.

While there were a few hard fouls and tangled bodies Wednesday, things were in relative control on the court. But in the fourth quarter, O'Neal barked at Griffin during a timeout, and the veteran center was called for a technical foul.

The incident happened as Griffin walked from the Clippers' locker room into the team's interview room after the game. O'Neal initiated things, and team officials attempted to separate the two.

Griffin declined to comment on the conversation, saying it "was between me and him."
via Warriors' O'Neal confronts Griffin postgame: Clippers Blog: Orange County Register.
The two teams have a growing rivalry, despite both of them adamantly denying it's such, that included the Clippers refusing to have chapel with Golden State earlier this year. This doesn't sound so much like a confrontation as a casual disagreement, but it's one more thumbtack in the increasingly punctuated paper that keeps the two teams from trying to rip one another's throat out. 
Griffin tends to get into it with a lot of teams throughout the league. Most of this started his rookie season. After he started his campaign of prolific dunks on people, players responded by fouling the crap out of him. This lead to him defending himself the only wayhe knows how, by getting in their faces about it. The result is stuff like this. 
If these two meet in the playoffs, you can expect them to resolve their differences with a lot less tact and patience. 
The Nets guard defeated the Bulls' Lauri Markkanen, ending the bigs' reign in the Skills C...

Tensions between refs and players have been high this season, so it was time for a sit-dow...

Irving is known for his controversial flat-Earth comments
George will be an unrestricted free agent in the summer

Durant said playing good basketball is more important than ending up with the best record

Follow along with all the news, notes and highlights from All-Star Saturday night