Warriors open talks with Jazz, others to move Andrew Bogut
The Warriors have spoken with the Utah Jazz about a potential trade of Andrew Bogut to clear cap space.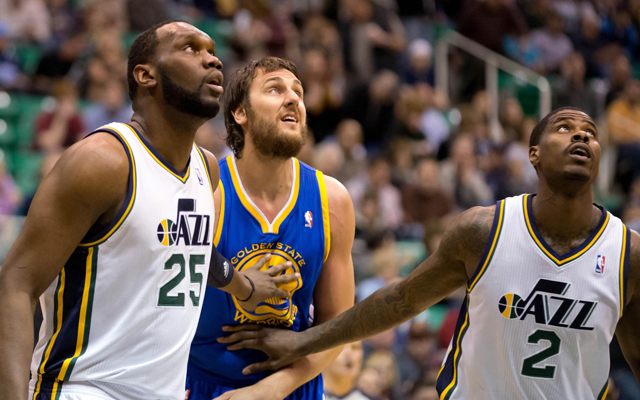 Ken Berger of CBSSports.com reports that the Golden State Warriors have entered into talks with several teams to try to move their big cap-devouring pieces in order to clear space for free agents (not necessarily Dwight Howard). 
League sources tell CBSSports.com that Golden State has offered the likes of Andrew Bogut, Andris Biedrins and Richard Jefferson to the Hawks, Cavaliers and Jazz. The Warriors would have to unload two of the three in order to clear enough space to land Howard in a straight free-agent signing, and Atlanta, Cleveland and Utah essentially are the only teams with that kind of room.
via Warriors' cap-clearing efforts not solely tied to Dwight Howard - CBSSports.com.
Meanwhile, ESPN isolates Utah as the leader in taking Bogut. 
The Utah Jazz, sources said, have expressed the strongest in taking back Bogut, who played his way into the No. 1 overall pick in the NBA draft out of the University of Utah.

The Jazz and Warriors are in talks, sources say, with Utah possessing the requisite salary-cap space. The Jazz also have an opening to take in Bogut's contract and have an opening for a big man after letting Al Jefferson walk away without compensation to come to terms on a three-year deal worth nearly $41 million to sign with Charlotte.
via Los Angeles Lakers bracing for worst with Dwight Howard, sources say - ESPN Los Angeles.
The Jazz have cap space, with Paul Millsap still out on the free agent market (though conversations have been held according to multiple reports, between the two parties) and with AL Jefferson signing with the Bobcats. So they can absorb at least Bogut along with maybe one of the other pieces Golden State's trying to dump. 
It would be a curious decision by the Jazz. They've had a logjam down low for years with Jefferson clogging up minutes for Enes Kanter and Millsap taking minutes from Derrick Favors. So adding Bogut would be problematic in that respect. Bogut is a simply awesome force when healthy (as seen at times in the playoffs) but also constantly injured. His playoff performance was a shock to many since he coudn't play for most of the year due to recovery from surgery on his ankle. 
ESPN reports the latest indications center around them trying to move "only" Jefferson and Biedrins, but there aren't going to be many takers there unless the Warriors give up Harrison Barnes or Klay Thompson with them, or every pick they will ever have again.
So we'll have to see where Howard chooses, and how the dominos fall, but it certainly seems that the Warriors are going to make every attempt to upgrade the roster that had a scintillating playoff run before losing the Spurs in six games. 
The Warriors used a huge third quarter to come back from a 23-point deficit to get the win

Three takeaways from Golden State's 24-point rally past the Sixers

Okafor has played only 25 minutes this season
Capela's shoe slipped off, and was sitting near the free throw line

The Magic will instead play in the Las Vegas Summer League

Ball walked away from an altercation between the Lakers and Suns on Friday night