Warriors owner Joe Lacob: 'We have to win a championship'
Golden State Warriors' owner Joe Lacob will feel like a failure if the Warriors don't eventually get a championship. Not a bad owner to have.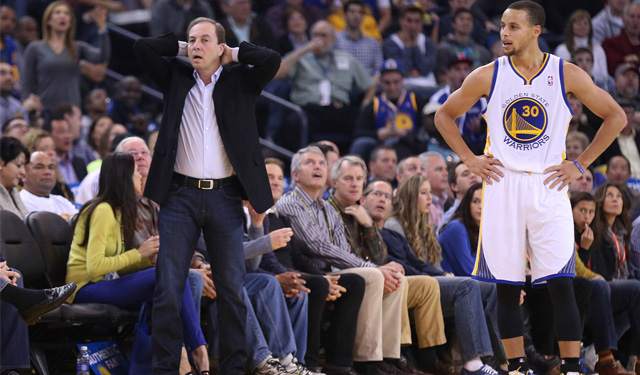 More NBA: Power Rankings | Expert Picks | Latest news & notes
With a win Friday night, the Golden State Warriors will have clinched back-to-back playoff berths for the first time since 1991 and 1992. In less than four years with Joe Lacob and partners owning the Warriors, this franchise has already seen more success than it had in the previous 20 years. This ownership group removed all of the people it didn't see fit for being a part of their vision moving forward and brought in new people to turn this into a first rate organization.
But none of the success is going to matter to Lacob if this team doesn't eventually win an NBA title. That seems to be his only goal and one he's communicated quite fervently to the Warriors' fans out there. According to Inside the Warriors, Lacob said the team has to win a championship or he'll feel like a failure with this business venture.
"I'm 58 years old now, and I've been successful. I've made a lot of money. I've done a lot of things I've wanted to do in life, but now we have this new venture, which is the Warriors. A second career, if you will, and all I can think about it is, we have to win a championship. I will be a failure. We will be a failure if we do not win the championship. So that's what drives me. We promised a lot of people things. We brought in (president and chief operation officer) Rick Welts and all these people you might have met tonight that are tremendous at their jobs.

They are incredible. They are so good, and we are all driven the same way. We are completely connected. We are focused. We are driven as a unit, as we. Because that's really what it's about. It's not one person. It's not me. It's we. You get things done with other people. That's how you succeed. And we are driven together to bring this thing home to the Bay Area."
This may seem like the obvious thing for Lacob to say but not all owners come out and openly have this kind of goal to share with their fans. It puts pressure on the players, the coaching staff, the front office, and himself to find a way to put the right mix of successful people together in order to accomplish this goal, one that hasn't happened for this franchise since 1975. 
The Warriors haven't been the title contenders they were hoping to bill themselves as heading into this season. Injuries, coaching, and poor play from the bench have kept them from being everything they were cracked up to be in the preseason after acquiring Andre Iguodala in free agency. He's not willing to say whether or not this team has met his expectations:
"We'll address that at the end of the year did we meet our expectations. No. 1 goal is to make the playoffs. That's No. 1, and I don't really want to get into all that kind of discussion right now because I want to stay focused on what we all need to do as players, as coaches, as management, everybody. Focused on one thing – winning, getting to the playoffs, winning in the playoffs. At the end of the year, we sit around like every business, and we'll evaluate how did we do, where can we be better."
This could mean the trading of players or even the firing on Mark Jackson as the coach. The team has had issues with Jackson and his coaching staff recently, reassigning one of the assistants reportedly at the request of Jackson and then recently firing another assistant for violating team policy. 
Trump rescinded Curry's invitation to the White House after Curry said he wasn't interested...

Silver said he was hoping Warriors would get chance to share their views directly with the...

Along with the Thunder, those were the three teams most involved in the Anthony trade talk...
LeBron said he was frustrated by the President's recent actions

A look at the various actors and elements in the latest sensational blockbuster trade in the...

Blockbuster deal doesn't change the Thunder's projected finish in the West