Warriors ready to engage in trade talks if Howard chooses them
After agreeing to a deal with free agent Andre Iguodala, the Warriors are willing and able to engage the Lakers in sign-and-trade talks for Dwight Howard.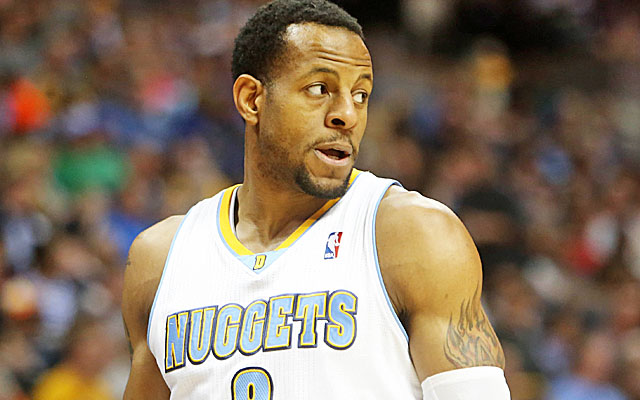 UPDATED 4:44 p.m. ET
The Golden State Warriors achieved two of their key offseason goals on Friday, whether they get Dwight Howard or not.
By dumping the salaries of Andris Biedrins and Richard Jefferson on the Utah Jazz, Golden State cleared the necessary cap room to sign free-agent forward Andre Iguodala, with whom the Warriors agreed to a four-year, $48 million deal.
Brandon Rush also goes to the Jazz, who will send a player -- yet to be notified -- with a non-guaranteed contract to the Warriors. Golden State will send Utah multiple draft picks, a league source confirmed.
The upshot: If Dwight Howard chooses Golden State as his free-agent destination and the Lakers are amenable to a sign-and-trade arrangement, the Warriors are willing and able to engage, league sources told CBSSports.com.
The centerpiece of any Howard sign-and-trade with the Lakers would be center Andrew Bogut and his $14 million expiring contract, plus one of Golden State's young studs -- Harrison Barnes or Klay Thompson, league sources said. However, there has been no indication from Howard's camp -- holed up in Aspen, Colo., to make his free-agent decision -- that he's made a decision. Nor has there been any indication from the Lakers that if Howard elects to leave, they'll be willing to facilitate his departure.
If the Warriors fall short in their pursuit of Howard -- and a person briefed on the matter told CBSSports.com on Friday that Golden State is of the belief that the All-Star center is bound for Houston -- they at least know they've added an elite defender in Iguodala to a team that advanced to the Western Conference semifinals last season.
Earlier Friday, CBSSports.com reported that Golden State was engaged in multiple trade scenarios in an effort to dump salary and make a push for Iguodala.
Howard is considering the Lakers, Rockets, Mavericks, Warriors and Hawks. Golden State is the only team among them that would have to pull off a sign-and-trade to fit him under the cap.
LeBron said he was frustrated by the President's recent actions

A look at the various actors and elements in the latest sensational blockbuster trade in the...

Blockbuster deal doesn't change the Thunder's projected finish in the West
The Thunder strike again this offseason, and Knicks, entering a new chapter, also make out...

The Warriors have responded to the White House rescinding their invitation

Carmelo Anthony has to change his game in Oklahoma City