WATCH: Did Steph Curry win MVP with this 45-point performance?
Warriors guard goes supernova vs. Blazers. Did his performance settle the MVP debate?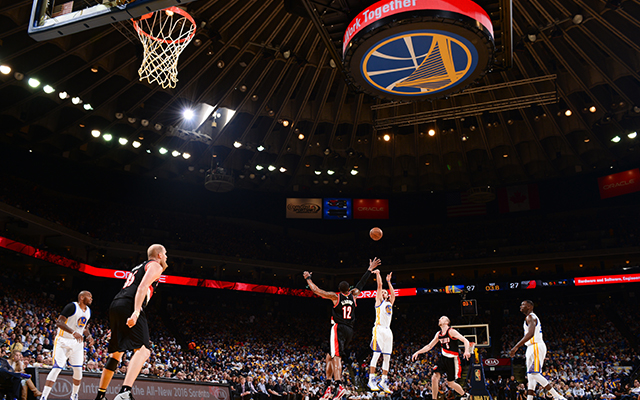 On Thursday night, Steph Curry did what he does. He made incredible shots. He racked up nine assists. He boggled the defense and dazzled the audience with behind-the-back dribbles and step-back 30-foot 3-pointers. He broke the NBA's single-season 3-point record. And he lead his team to victory.
Curry dropped 45 points for the Warriors on Portland Thursday, and each shot was seemingly more incredible than the last. From the incomparable Dawk Ins:
Simply stunning.
And it leads you to wonder if this was the performance that seals MVP for the Human Torch. The race has basically come down to Curry vs. James Harden. Harden dropped 41 on Sunday vs. the Warriors in a nationally-televised Sunday afternoon game. That performance, coupled with Warriors fatigue and the incredible fact that the Rockets remain in contention for the 2-seed despite all their injuries this season, including Dwight Howard's extended absence, had raised the idea that Harden had pulled slightly ahead of Curry. 
Should an individual performance like Harden's vs. the Thunder or Curry's vs. the Blazers really be the deciding factor? With an entire season's worth of games to consider, isn't there a better way to come to a conclusion than having to rely on recency bias and games that happen to have been put on the big networks? 
Well, yes and no. 
There are certainly ways to evaluate the players over the course of the entire season. We did a two-part break down (third part coming next week) that's as extensive as you're going to find. But the two are so close in so many areas, from metrics to narrative (best player on best team vs. player who dragged an injury-compromised team the furthest), that it may really come down to these. Voters need nights like Thursday to give them something to point to and say "That's why he's the MVP. Because he did that."
That may not be fair, but really, with an MVP this close, and this good, there's going to be unfair things about whatever the result is. None of the candidates deserve to lose MVP. They all deserve to win it. It's just a matter of who's able to leave the most lasting imprint with the voters. 
Curry may have gone a long way in that direction Thursday night.  
Oh, by the way, Harden faces the San Antonio Spurs on NBATV Friday night. 
CBS Sports HQ Daily Newsletter
Get the best highlights and stories - yeah, just the good stuff handpicked by our team to start your day.
Please check the opt-in box to acknowledge that you would like to subscribe.
Thanks for signing up!
Keep an eye on your inbox for the latest sports news.
Sorry!
There was an error processing your subscription.
Young finished with 35 points on 13-of-23 shooting, and also added 11 assists

Ingram, Rondo and CP3 all earned multi-game suspensions for their role in the Saturday night...

The former MVP will not be under any minutes restriction
Chris Paul and Rajon Rondo certainly have plenty to answer for as the NBA sorts through video...

The possibility of playing alongside Kristaps Porzingis is intriguing to Kyrie Irving

SportsLine's Mike McClure, a DFS pro with almost $2M in winnings, gives optimal lineup adv...