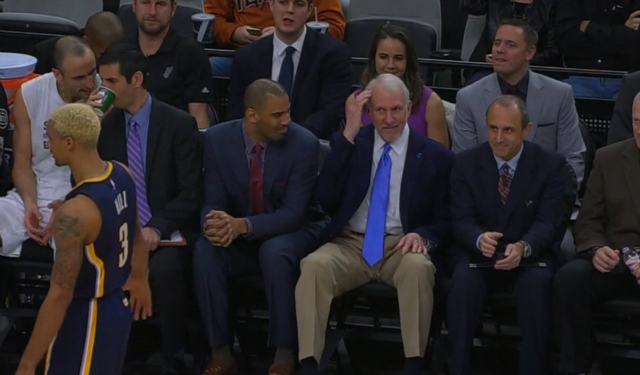 San Antonio Spurs coach Gregg Popovich has long referred to George Hill as one of his favorite players, even though the Spurs traded Hill in order to acquire Kawhi Leonard on draft day in 2011. When Popovich saw Hill on Monday, then, he had to say something about his new hairdo. It appears that he gave it a tongue-in-cheek stamp of approval:
This is my favorite clip of the NBA season so far. Hill's smirk and Spurs assisant Ime Udoka's laugh really take it to another level.
"I love it," Popovich said when asked about Hill's hair, via the Indianapolis Star's Candace Buckner. "I wish I had the guts he has. That could really turn some heads."
Hill said that Popovich told him, "I should change it to his color. Go white."
Hill, by the way, has said that he is planning to keep his hair blond all season long. Sure, I guess, why not?