WATCH: How Westbrook's relentlessness made him unstoppable
After dropping 49-16-10 on the Sixers, we take a look at the Thunder's basketball killer robot and how his mental approach separates him beyond other athletic freaks.
As the world continues to marvel at what Russell Westbrook has accomplished in the last week -- four straight triple-doubles for the first time since Jordan in '89, including a 49-16-10 in a win over the Sixers Wednesday five days after he suffered a fractured face-- the questions about his place in the NBA's hierarchy have never been louder. Just how good is he? Just how incredible is what he's doing? 
For more on the MVP race and Westbrook, check out Ken Berger's column: 
Westbrook was just hooping Wednesday night in Oklahoma City, to the scary tune of 49 points, 16 rebounds and 10 assists -- his fourth consecutive triple double. Nobody in the NBA had recorded that many triple-doubles in a row since Michael Jordan strung seven together during the NBA season that coincided with Westbrook's birth. According to STATS, it was the most points by a player with a triple-double since Larry Bird also scored 49 in 1992.

The Thunder are 5-2 during this latest stretch without Kevin Durant, and the masked man-child named Westbrook is carrying them. He's averaging a triple-double during that span -- 33.7 points, 11.3 assists and 10.6 rebounds.

This after an historic month of February during which Westbrook averaged 31.2 points, 10.3 assists and 9.1 rebounds -- with a 46.9 assist percentage (that being how many of his teammates' baskets he assisted on, second only to Chris Paul among players who logged at least 10 games during the month) and a 37.2 usage rate (the percent of his teams possessions that end in either a shot attempt, free-throw attempt or turnover by Westbrook, second only to LeBron James' 37.5).
via Half-man, half-rocket ship, Russell Westbrook makes his MVP case - CBSSports.com.
But beyond his numbers and the team's performance with Westbrook and without Durant, beyond the historic production, there's something that needs to be captured right now, as we're experiencing this remarkable run. Berger talks about Westbrook's "alien" physical talent, and indeed, there really is nothing like Westbrook. His combination of speed, explosiveness (which is different), ability to move in mid-air, his vertical, it's all stuff that we may have seen spurts of (Derrick Rose), but rarely have we seen it all put together like this for over 35 minutes consistently at a time. 
Bear in mind that Westbrook is doing this physically, and there's an exhaustion cost to the production he's putting in, after having three knee surgeries in the past 18 months, along with hand surgery and facial surgery. The guy's been operated on more than Darth Vader at this point. But while we've never seen this exact type of athlete before, you can go back through the NBA's history and see freaks of nature who never even came close to Westbrook's success. 
The key to translating all of Westbrook's potential into metric absurdity and eye-dropping performance is something that, for as much of a proponent as I am of analytics, it still cannot come close to capturing. It's mental. It's in his media-petulant, fashion-oriented, angry, funny, brain. Because Westbrook's greatest attribute on the court, beyond his skill, vision, power, and athleticism, is his relentlessness. 
Let's start with the big highlight from Wednesday night. After the Sixers jetted out front thanks to an insane night from Isaiah Canaan no one will remember (8-of-13 from 3-point-range), Westbrook helped the Thunder go on an absurd run, including this full-court, coast-to-coast total nuclear hammer. He goes the length of the court in the span of a Vine, for crying out loud. But watch how when he gets the ball there's nothing but aggression. He's able to read how to avoid the defenders as he goes. In the process, Westbrook passes all five Sixers defenders to get to the rim, outrunning three of them in a press. 
Westbrook has no off switch, that's a big part of this, and it's what separates him from a lot of his contemporaries. As crazy as that dunk above is, watch Westbrook's relentlessness here. He misses a layup, in large part because the Sixers defense actually made good efforts to attack him, but he was still so successful all night, you can't blame him for trying. But their efforts to force the miss are so wild, it allows him to grab the board and score. Westbrook celebrates, but watch here: he doesn't stop. He manages the steal, then makes the extra effort to save the ball. And after making that extra effort, he then attacks again... and scores again! WHAT IS THIS PERSON.
Westbrook's smarter than he's given credit for. He takes advantage of whatever the defense gives him. That's the secret to why he shoots so much. If you're going to not stop the ball in transition, as the poor Sixers didn't at all Wednesday night, he's going to make you pay. The Sixers are actually a really good defensive group, which most people don't know. They're 13th in points allowed per possession. But watch what happens when no one stops the ball (because Westbrook is sprinting at them like a freaking cannonball) and what happens when he sees his lane: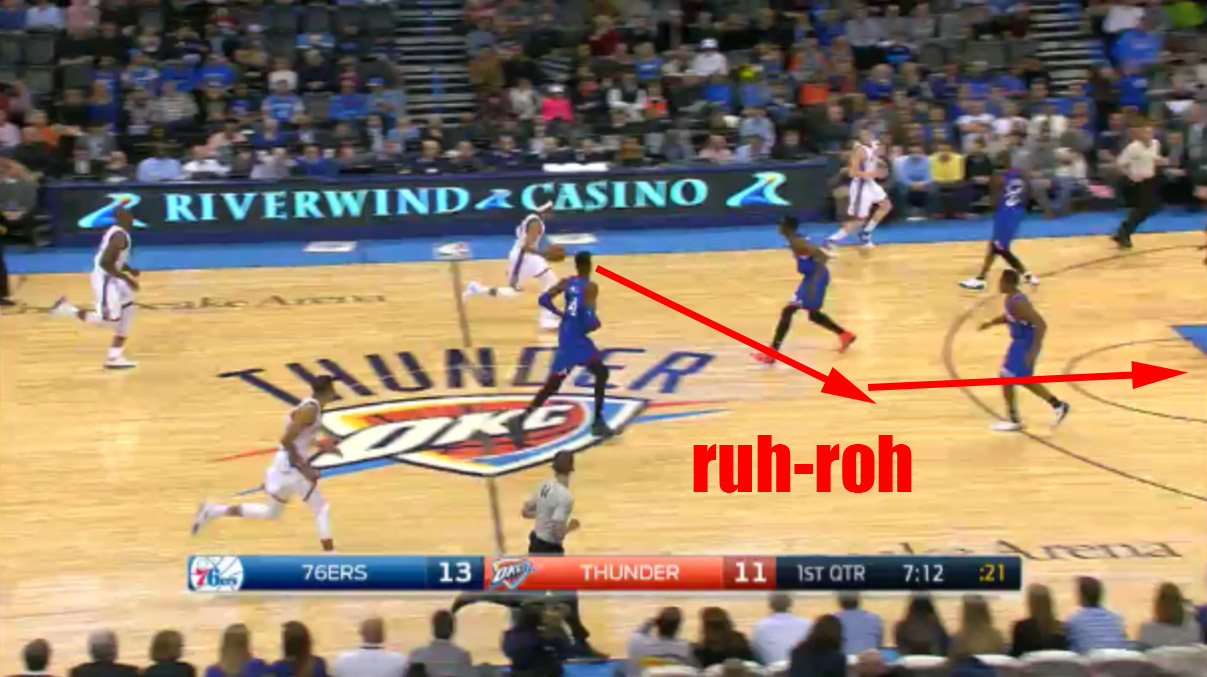 But this all frames Westbrook as a gunner, relentlessly forcing up shots. And while his per-game FGA numbers are nuts during this stretch, again, it's because he's consistently finding himself with opportunities, because no one can stop him. He's not heaving up ISO elbow jumpers after holding the ball for 20 seconds like Carmelo Anthony or heaving up contested 30-foot threes fading away. He's finding spots, and sometimes they fall and sometimes they don't, but for the most part, they're good looks. And you don't get to four-straight triple-doubles without being willing to pass.
Even in his passing situations, though, he's relentless. Look how quick he finds the corner shooter here.
And maybe no play really frames his ridiculous skillset as well as this. He out-jumps a closing defender after reversing direction on a high-bounce loose ball, then immediately has the vision to find the open shooter.
(Important note: Westbrook's assists per 36 minutes go up to 9.9 with Morrow on the floor; that number goes up to an absolutely guano-insane 14.4 assists per 36 minutes in the last five games. Westbrook trusts Morrow to knock them down, and that leads to more passes, which leads to more assists. That's an underrated component here.)
This is all to say that Westbrook's play is just as unbelievably phenomenally brilliant as his numbers would indicate and as the highlights show. But it's also a testament not only to his ability, but that mindset, to constantly attack. Westbrook sometimes is criticized for holding the Thunder back with that approach when Kevin Durant is on the floor. But with OKC still fighting just to make the playoffs in a year that's gone so awry in so many ways, you wan this killer robot on your side. 
You need this killer robot on your side. 
The former Clipper apparently had some tricks up his sleeve after a chippy game

The Rockets were apparently looking for Austin Rivers and Blake Griffin after a chippy gam...

If they don't meet in the Finals again, let's appreciate every one of the 27 matchups since...
D-Wade picked up the steal and got creative on the fast break as the Cavs headed into half...

Despite the embarrassing hiccup, the youngest Ball had himself a pretty great day on the c...

The players were both ejected in the closing seconds, then continued their discussion off the...