WATCH: Jimmy Butler scores career-high 53 in win over 76ers
Chicago needed the best it could get from its superstar, and they got it Thursday night as Jimmy Buckets went for 53 points.
Jimmy Butler has been putting the Chicago Bulls on his back all season, helping out a team that can go for long stretches looking largely inept and willing them to a win with his scoring and playmaking. He went above and beyond Thursday, scoring 53 points as the Bulls charged back from down 24 to beat the 76ers in overtime in Philadelphia. 
It was yet another game where Butler flat-out put the Bulls on his back and carried them. At one point Butler was outscoring the rest of the Bulls roster. Butler got to the line for 25 free throws, a crazy amount, but then, you don't want to see him drawing fouls. You want buckets. 
He got buckets. 
It was a career high for Butler, who continues to look like not only the Bulls' best player, but one of the top 10 players in the league. His big night matched the highest scoring output of the year from any player -- Stephen Curry's 53-point explosion vs. the Pelicans earlier this season. 
Butler's defense puts him on another level from pure offensive players, and his versatility in tough-shot making is simply breathtaking. It's not a good sign that the Bulls need this kind of performance night after night after night from Butler just to survive, even against teams like the Sixers.
But it is great to see Butler and what he's able to do. He's among the very best tough-shot-makers in the league.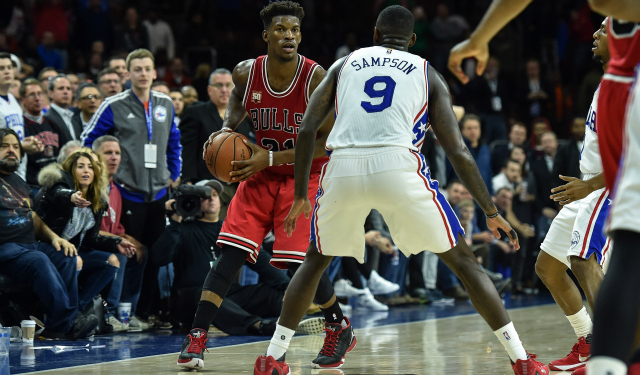 It seems The King is unhappy after being hearing about the point man's request to be dealt

Irving wants to play on his terms, and may be willing to throw away winning with James to do...

Can the former MVP be a healthy contributor to the reigning East champs amid organizational...
Lillard made the comments in regards to the Kyrie Irving situation

Rose reportedly agreed to a one-year deal with the Cavs

Fredette starred for the Shanghai Sharks last season