WATCH: Stephen Curry makes 11 3-pointers for 51 points against Wizards
Warriors superstar Stephen Curry continues to do the impossible.
• 2 min read
In the end, Stephen Curry scored 51 points on just 28 shots, and you felt like he could have scored more.
Against the Washington Wizards on Wednesday, the Golden State Warriors superstar made 11 3-pointers, tying his career high and the franchise record. You don't normally say this about NBA records, but it's now a matter of when and not if Curry will break the all-time mark of 12 3s in a game shared by Kobe Bryant and Donyell Marshall.
Early on, it felt like it would inevitably happen Wednesday at Verizon Center.
Curry didn't even take a shot on Golden State's first six possessions. His 25-point first quarter took nine minutes, five seconds. In that span, he took 10 shots and missed just one. Three-pointers accounted for seven of those makes and eight of those attempts. Somehow, not a single one seemed forced. The Warriors were riding the hot hand, sure, but none of Curry's teammates would dare call him selfish. When you can make the sort of shots he does, what would a heat check even look like? 
Maybe Curry was due for another scoring explosion. It had been more than a week, after all, since he had scored more than 23 points in a game. Golden State played Sunday in New York, so Curry had a few days to think about going 5-for-17 for 13 points. In all likelihood, Washington -- a team that struggles defensively against normal teams with normal players -- never had a chance.
The Warriors entered Wednesday winners of 44 out of 48 games, and they were coming off a 21-point victory over the Knicks. The Wizards hadn't seen this team since last March, when Golden State handed them a 107-76 loss. Curry had an easy 24 points in 28 minutes that time. He and his team have gotten so much better since then. 
There was a stretch in the third quarter where the Wizards had hope. Golden State led by just three points with a little less than four minutes to go. Then came a 10-0 run that took less than a minute, including two 3-pointers from the MVP. Washington hung around in the fourth, forcing Curry to actually stay on the court, but there wasn't any doubt about the end result.
The win was Golden State's eighth in a row. It is the longest current winning streak in the NBA, but it barely registers in the Warriors' world after they started the season 24-0. For Curry and company, this kind of excellence is ordinary.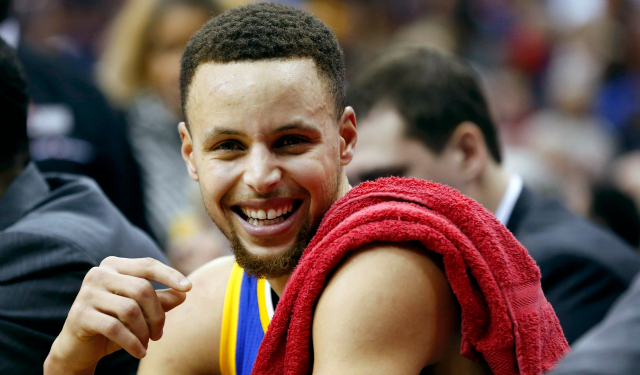 The former Clipper apparently had some tricks up his sleeve after a chippy game

The Rockets were apparently looking for Austin Rivers and Blake Griffin after a chippy gam...

If they don't meet in the Finals again, let's appreciate every one of the 27 matchups since...
D-Wade picked up the steal and got creative on the fast break as the Cavs headed into half...

Despite the embarrassing hiccup, the youngest Ball had himself a pretty great day on the c...

The players were both ejected in the closing seconds, then continued their discussion off the...