Wesley Matthews Q&A: Who's overpaid now?
When Wesley Matthews signed a five-year, $34 million offer sheet with the Portland Trail Blazers in 2010, "overpaid" was the word most often associated with it. So who's overpaid now?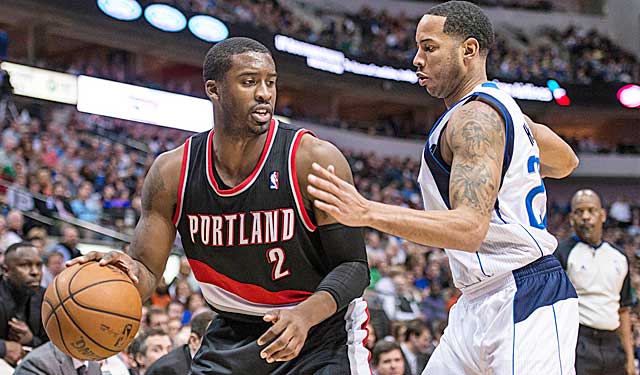 More NBA: Aldridge open to long-term deal | Latest news
NEW YORK -- In his fifth season, Wesley Matthews is coming into his NBA prime. Suddenly, that five-year, $34 million offer sheet he signed with the Trail Blazers in the pre-lockout, free-agent party times of July 2010 doesn't look so outrageous.
If anything, a 27-year-old shooting guard who is worthy of All-Star consideration on the books for $6.9 million this season and $7.2 million next season is a bargain. His scoring (16.7) and rebounding (4.0) averages are at career-high levels, as is his 3-point percentage (.417). If you prefer advanced stats, Matthews is a top-10 shooting guard in the league based on player-efficiency rating.
Matthews' history is rich, but his future is even brighter. He signed with Utah as an undrafted free agent out of Marquette in 2009, and was so impressive that the Blazers snatched him up as a restricted free agent with that head-turning, head-scratching offer sheet. Who's scratching their heads now?
He's estranged from his father, former NBA player Wes Matthews, but they've recently begun trying to repair their relationship. Once thing Wesley Matthews doesn't have to repair is his reputation. Despite the fact that he was left off the All-Star ballot and couldn't penetrate the reserve selection process with so many superb guards in the Western Conference, Matthews is getting noticed. He's also become the voice of the locker room and a leader on and off the court -- although teammates LaMarcus Aldridge and Damian Lillard get most of the public attention.
As the Trail Blazers (34-14) visited New York this week during a four-game road trip, Matthews spoke with CBSSports.com about his season, his motivation and his future.
Question: Despite the fact that you didn't get the All-Star recognition, what is it like to get the recognition of your peers in the league?
Answer: It feels good. Of course I would love All-Star recognition; who doesn't? But I'm happy for our guys that were selected and I'll just continue to do my thing, just trying to get better every single day and take advantage of every opportunity that I have.
Q: Is it a matter of more opportunities or did you bring something new to the table this year in terms of your game or your conditioning?
A: You've got to just put in the work. I'm a gym rat. I work all the time. Just that work and being another year in the league, understanding the league, understanding the game more. And in my second year in this offense, I'm just starting to find my way.
Q: Speaking of the offense, your coach (Terry Stotts) is about as good as it gets in the NBA as far as an offensive coach. How has it been to learn from him and how much has he helped your game?
A: He means a lot. He gives you freedom. He's a player's coach but he understands that the players are the ones who make the plays. You can have all the plays and schemes you want, but the players are going to be the ones to make the plays out there. We're going to do what we see fit at the time, and he gives us that freedom and that confidence to do that.
Q: This stretch that you're in now, you've hit a little bit of a bump in the road.
A: We knew that was going to happen. Luckily we built ourselves a good cushion. We're not content with falling back on that at all. We've got to continue to get better, continue to work. We'll get through this. Every team has a slump.
Q: You kind of play with a chip on your shoulder anyway, like you have something to prove. But is that even more so now when you've been left off the All-Star team?
A: You already know the answer to that.
Q: How does that play into your preparation and your mindset when you go out and play?
A: It's not even proving anybody wrong, it's proving those that believe in me right. Being undrafted, being overlooked coming out of high school, I was overlooked in college and always had that edge. I was like that bratty kid who had to learn how to grow up and that's how I continue to play.
Q: As far as your contract, do you ever go back and look at the articles that said they overpaid you? Because right now, that contract is looking pretty good.
A: I'm underpaid now, right? No, not yet. This career and this life are too short and I try to live in every single moment. When it's all said and done, I'll take time to reminisce.
Trump rescinded Curry's invitation to the White House after Curry said he wasn't interested...

Silver said he was hoping Warriors would get chance to share their views directly with the...

Along with the Thunder, those were the three teams most involved in the Anthony trade talk...
LeBron said he was frustrated by the President's recent actions

A look at the various actors and elements in the latest sensational blockbuster trade in the...

Blockbuster deal doesn't change the Thunder's projected finish in the West