West tops East in 2013 NBA All-Star Game
The Western Conference All-Stars won the All-Star Game. They will celebrate by doing nothing.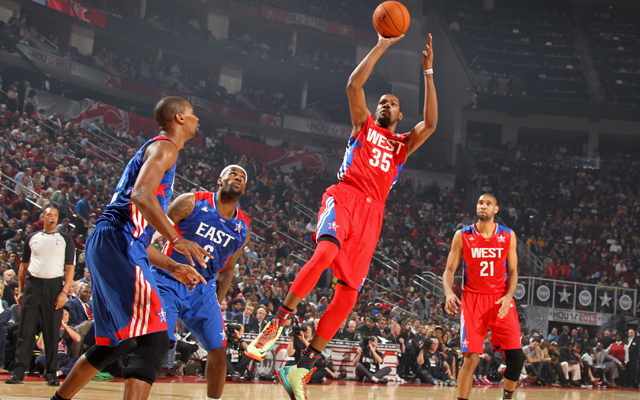 Fun and games.
(Getty Images)
The Western Conference All-Stars beat the East 143-138 on Sunday in the 2013 NBA All-Star Game. In a highlight-filled exhibition worthy of the stars involved, the loaded West maintained a lead the entire game, mostly behind MVP Chris Paul's 20-point, 15-assist, 4-steals performance. Notably, Kobe Bryant turned up the Heat late, shutting down LeBron James, including one massive block when the East tried to make a run. 
The show featured pretty awful musical performances to open, a decent halftime show, pretty good effort offensively and the usual poor defense. 
The West was just too loaded. Kevin Durant added 30 points, James Harden 15, and Russell Westbrook 14. 
Carmelo Anthony lead the East with 26 points, as Dwyane Wade added 21 points and Paul George 17. James finished with 19 points, 3 rebounds, 5 assists, and 4 turnovers. 
The West were considered heavy favorites and showed why with a deeper array of offensive talent better suited to the light-hearted exhibition. 
Markieff Morris was already in line to miss the start of camp due to a pending assault cas...

The 76ers should hopefully get a lot of play out of their young guys this season

Okafor's been on and off the trade block for over a year and doesn't seem to be in Philly's...
Fisher is the fourth NBA player to compete for the Mirror Ball trophy on the show

Barkley commends the NBA, sarcastically, for extending the season and reducing back-to-back...

Enes Kanter isn't seeing much comedy in the Kevin Durant social media situation