Western Conference Quarterly Report: Spreading the wealth
The quarter mark of the NBA season is here and it's time to take quick inventory of how each team in the West is doing:
by

Eye on Basketball staff

• 7 min read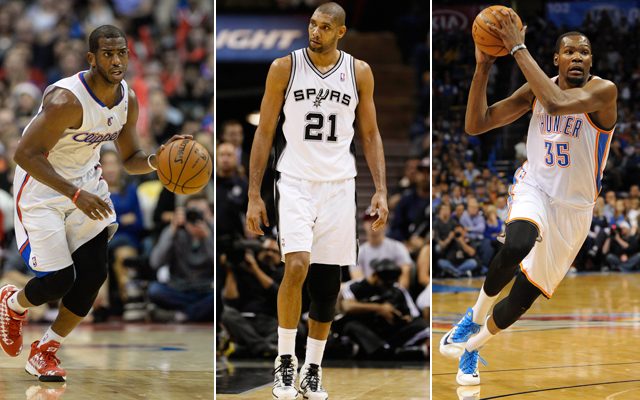 The quarter mark of the NBA season is here and it's time to take quick inventory of how each team in the West is doing: 
PACIFIC DIVISION
by Matt Moore 
Sacramento Kings : D+
I mean, they're better, I think. They seem like they're better, but the results just aren't there. Isaiah Thomas shouldn't have had to fight so hard for minutes, the offense still has times where it looks unstructured. But DeMarcus Cousins seems to have bought in, they bought low on Derrick Williams , and the Rudy Gay trade is bold, if nothing else. Front office is still remaking things, but at some point it would be good to see tangible results. 
Los Angeles Lakers : B+
I mean, the roster is essentially as bad as we thought it would be, individually. But collectively, they really had some things going before the injuries started to pile up. They play with energy, they move the ball, they take and make a lot of shots. The defense is a disaster, but we knew that coming in. They've had a lot of pleasant surprises like Xavier Henry , Jodie Meeks , and Jordan Hill . But Pau Gasol has disappointed, Steve Nash hasn't played, and Kobe just now got back and is still adjusting. They haven't been bad, at all. It's been nice. 
Golden State Warriors B
They looked like legitimate title contenders when they had Andre Iguodala. When he went down, they fell apart defensively. Recent exciting wins over the Mavericks and Raptors disguise the fact that they needed comeback efforts at home. The David Lee question still hangs and Iguodala's reintegration remains the biggest key for them. If they go back to how they played before, they'll be a dominant team in the Western Conference. If not... this team's going to have to figure out some answers. 
Still an exceptionally dangerous team every night. 
Phoenix Suns : A+
This team is supposed to be tanking, and instead, is three games over .500, and has taken it to some really good Western Conference teams. The Suns fight every game. Markieff and Marcus Morris have been revelations. Goran Dragic and Eric Bledsoe have played extremely well together. Jeff Hornacek has been great. They're not any powerhouse but they are one of the most fun teams to watch and have come together surprisingly well for a club in its position. You almost wonder if it's too well considering their needs for a big draft.
Los Angeles Clippers : C
They have the best record in the division. And that's great. But this team had championship expectations and instead they look extremely pedestrian. Their defense has climbed up in the statistical ranks, but they never play like a lockdown defense for stretches. Meanwhile the offense has been good and consistent, but hasn't seemed remarkably improved from last year, when they were playoff solvable. The Redick injury complicates some of this. Maybe it's not fair to ask for style points at 15-8, but that's what their preseason expectations were.
NORTHWEST DIVISION
by Royce Young
Oklahoma City Thunder : A+
A number of questions about them coming in to the season, most notably being "When will they get Russell Westbrook back and can they survive until then?" Well, they got him back three games in, and they've established themselves as maybe the team to beat in the West again. They're 17-4, and on a stretch of winning 11 of 12, with the lone loss being a tight loss on the second night of a back-to-back in Portland. They've beaten some really good teams, including the Clippers, the Spurs, the Nuggets, the Mavericks, the Golden State Warriors , and completely obliterated the Indiana Pacers . You can't answer every question before Christmas, but with a healthy Westbrook and maybe more depth than they've ever had, they're really, really good.
Portland Trail Blazers : A+
Whenever you get to say things like, "the best start in the history of the franchise," then it's been a pretty good beginning to the season so far. After a quality offseason, the consensus was the Blazers were better, possibly even improved enough to push for the postseason. But the best record in the West after a month? Not even the most optimistic Blazer fan could've seen this coming.
Minnesota Timberwolves : B-
An 11-11 start isn't all that horrible for the Wolves, but considering they were 6-3 before losing eight of their last 13, it feels like they should be doing better. With Kevin Love playing well, Kevin Martin scoring, Ricky Rubio dicing and Rick Adelman running the show, this team is better than .500. It's even hard to figure why they aren't winning more. They're in the top 11 in both offensive and defensive rating, yet have had issues closing games well, especially against good teams. If a few tight losses would've went their way, they could easily be more like 14-8, but that's often the difference between an average team and a good one.
Denver Nuggets : B+
Most -- myself very included -- felt like the Nuggets were set to take a major step back from the 57-win team from last season. With no Andre Iguodala , no George Karl and Danilo Gallinari out for a while, seeing them win more than 40 games was difficult. But Brian Shaw has showed his coaching chops leading the Nuggets to a solid 13-8 record as Ty Lawson blossoms into a true star point guard. They've had to deal with some injuries and tough breaks so far, but continue to press on. Fully healthy, this looks like a quality playoff team, which seemed pretty unlikely back in October.
Utah Jazz : D
They started the season 0-8, and then fell to 1-14. So if you're bright-sidin' here, that means they're 4-5 in their last nine games. The Jazz have some young talent, but when you're counting on guys on rookie contracts, you're going to deal with severe growing pains. They shelled out big money for Derrick Favors and he's been OK, while Gordon Hayward has been pretty inconsistent in his contract year. But while they're easily the West's worst team, being bad is a good plan for them anyway. Land one of this draft's big names to go with this talented youthful group and you've got yourselves quite a framework.
SOUTHWEST DIVISION
by Zach Harper
San Antonio Spurs : A+
I'm not sure what the Spurs are out here trying to prove, but it feels like something is different about them with the start of the season. It's not that they have never started off hot before. They're an institution of winning at this point when talking about any sport. They're a fetish of basketball execution with the second highest field goal percentage in the league and the third highest 3-point percentage. The attack is as balanced as ever. They're blowing teams out. And they don't seem to be intentionally pacing themselves at all right now. They're just so good that it comes naturally with taking fourth quarters off because they're up by so much.
Houston Rockets : A-
The Houston Rockets certainly haven't looked like title contenders but I'm not sure it's realistic to think that would be the case so early in the season. When you add a major piece, like they did with Dwight Howard , there are almost always going to be some growing pains as new teammates get used to playing with such a player. In the meantime, we've seen great contributions out of Omri Casspi and Terrence Jones . James Harden has been really good but not great (foot injury?) and if they can move Omer Asik and his pouting for a key rotation player, we may see this team go on a huge surge in the next couple quarters of the season.
Dallas Mavericks : B
I'm not sure you can ask more out of Monta Ellis at this point. He's complemented Dirk Nowitzki quite nicely and provided steady, consistent offense. Nowitzki has been killing teams from all over the floor without overextending himself and risking any health or injury possibilities. They haven't received what they hoped to get out of Samuel Dalembert , but who ever does get what they need out of him on the court? The key for the Mavs moving forward will be getting Vince Carter on track offensively and figuring out the backup point guard situation. Devin Harris ' return could sort out a confused bevy of options.
New Orleans Pelicans : B
It was all starting to go so well. Anthony Davis was destroying the league and Ryan Anderson returned to provide the perfect complement to everybody you can pair him with on offense. Eric Gordon and Jrue Holiday have played pretty stellar basketball for new teammates in the same backcourt and Tyreke Evans has shown us some flashes. Then Davis had to go and break his hand, keeping him out for roughly a month of the season. Maybe he'll come back and still be able to continue his play but in the super competitive Western Conference, will that give them enough time to secure a playoff spot?
Memphis Grizzlies : B-
Marc Gasol went down with the MCL sprain. Zach Randolph is banged up. Quincy Pondexter is done for the season. The team really doesn't have shooters they can rely on. And yet, they're still hanging around and causing enough of a ruckus to stay afloat. In the same way you question whether or not the Pelicans will have enough time to make good on playoff aspirations when Davis returns, it's hard not to feel that way about the Grizzlies and Gasol. Things are good enough to remain optimistic about them pulling through the injuries, thanks to Kosta Koufos and Jon Leuer contributing the way they are, but it's also almost bleak enough to wonder if the front office should consider trading Z-Bo and reload. 
Nerlens Noel is now being represented by Rich Paul of Klutch Sports

Steve Kerr opens up about his back issues and more

OJ Mayo, banned from the NBA for positive drug test, is considering playing overseas
The King? 'LeBron, it turns out, is Aquaman,' or so the account via Dwyane Wade's wife goe...

From Penny to Thunder Dan to Pistol Pete to Agent Zero, guys who would be better in 2017

Griffin said recently he thinks it's more likely that LeBron James goes to New York than L...