Western Conference three-quarter report: Last chance here
We are three quarters of the way through the 2013-14 NBA season and it's time to grade out how each team in the West is doing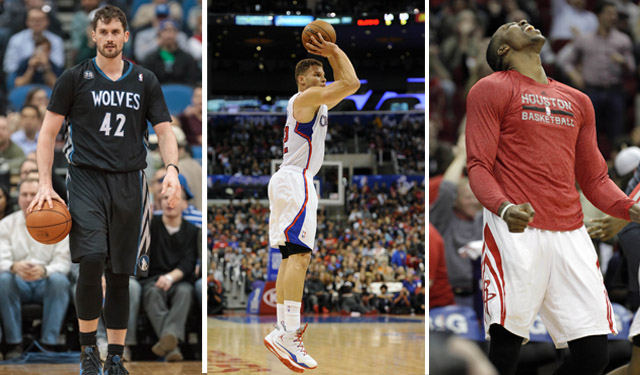 We are three quarters of the way through the 2013-14 NBA season and it's time to grade out how each team in the West is doing:
NORTHWEST DIVISION
By Royce Young
Oklahoma City Thunder : B 
(First quarter grade: A+, midseason grade: A)
The Thunder somehow went from three games behind the Spurs for the top spot in the West, to as many as three games up, despite not having Russell Westbrook for all of January and almost all of February. But since he's returned, there has been a swoon, as they've dropped five of their eight games since the All-Star break. Their typically stellar defense has slipped, and while Kevin Durant has mostly maintained his magnificent statistical touch, and Westbrook fit back into stuffing statsheets in no time, the Thunder haven't been winning and now find themselves back in second place currently in the West.
Denver Nuggets : D
(First quarter grade: B+, midseason grade: C)
Injuries have destroyed them and any chance they had at making a surprise push for the postseason. Without Ty Lawson for a long period, without JaVale McGee for most of the season, without Danilo Gallinari for any of the season, the Nuggets have fallen well outside of the postseason chase and slumped well under .500. Not the season some anticipated from them, especially when they were 24-23 on Feb. 5. Since, 3-13.
Utah Jazz : C- 
(First quarter grade: D, midseason grade: B-) 
The Jazz started horribly, then they kind of got a little better, and now they're back to being really bad. They're 6-10 since Feb. 1, and within that is a three-game winning streak mixed in, along with two three-game losing streaks and one five-game skid. They've been up and down, showing positive signs, then taking steps back. Not a horrific season by any stretch, and they've avoided embarrassment after starting 1-14. This is a rebuilding team, and with that in mind, and the fact they're playing a lot of youth, it hasn't been all that bad. 
Portland Trail Blazers : B-
(First quarter grade: A+, midseason grade: A)
They're hanging on, it seems. From a firm top two spot, to now fifth in the West, the Blazers have slipped back to the middle of the pack. They're still exceeding expectations, but they're 9-8 since Feb. 1. Their depth has always been the issue they've battled, and in the marathon of the NBA season may have caught up to them some. But their starting five is legit. While they may finish without homecourt advantage in the postseason, this is still a very good team.
Minnesota Timberwolves : D+
(First quarter grade: B-, midseason grade: C-)
And the award for biggest disappointment goes to the 2013-14 Wolves. A team with so much potential and promise, built around an offensive maestro's system in Rick Adelman with premier players like Kevin Love , Kevin Martin , Ricky Rubio and Nikola Pekovic , and yet they're at .500 and five games out of a postseason spot. Their main issue all season long has been winning close games -- they have a margin of victory of +3.8 -- and while they've played better of late, the window of opportunity has probably passed. 
PACIFIC DIVISION
By Matt Moore
Los Angeles Clippers : A
(First quarter grade: C, midseason grade: B-)
Blake Griffin made himself into an MVP candidate and the Clippers got on an absolute tear, in large part without Chris Paul this quarter. It was a fantastic job by a team with a lot of question marks. The defense still isn't where it needs to be but they've definitely upgraded from "good playoff team" to "legitimately dangerous."
Golden State Warriors : B+
(First quarter grade: B, midseason grade: A)
They still have more warts than the fanbase and ownership were expecting, they still coast at home a little too often, and they still seem a little inconsistent with their lineups. But the Warriors are a really good team. We probably need to stop asking for more of them and just see if their specific combination of players can be a better playoff team than it is a regular season squad, full or not. 
Phoenix Suns : B-
(First quarter grade: A+, midseason grade: A++) 
They went 8-9 since February 1st, but many of those losses have been to good teams. They also put shiners on the Indiana Pacers and some other quality teams in that stretch. They seem to be running out of gas; the question will be whether the return of Eric Bledsoe is enough to carry them to a playoff spot It was all fun ad games earlier, now the pressure's on and things get tough. 
Los Angeles Lakers : F+
(First quarter grade: B+, midseason grade: D)
Kendall Marshall, Kent Bazemore , Jodie Meeks , Pau Gasol ,and Robert Sacre .  What has happened to this franchise? (Besides injuries, PS, get well soon, Mamba!)
Sacramento Kings : D
(First quarter grade: D+, midseason report: C-) 
They're just not good. They're not awful, like they have been in the past. You could argue they're kind of bad fun, but they have a little too much talent to get credit for that. I'm seriously out of ideas for how to get this team to be competitive, outside of "move them to the Eastern Conference." 

SOUTHWEST DIVISION
By Zach Harper 
San Antonio Spurs : A 
(First quarter grade: A+, midseason grade: A)
They hold the top record in the NBA at the three-quarter mark of the season and are finally healthy after getting Danny Green , Kawhi Leonard , and Tiago Splitter all back from injury. So what's next for Gregg Popovich and the Spurs? It's simply their job to maintain the health and schemes of the team, and make sure they're playing their best ball of the season when mid-April comes around.
Houston Rockets : A
(First quarter grade: A-, midseason grade: A-)
The Rockets have quietly established themselves as one of the best teams in the NBA and they're currently battling with the Clippers for the 3-seed in the West. Dwight Howard has rejuvenated his impact on the court and he's worked his way back into the conversation for third best player in the league. They're still trying to make sure their role players are ready to step up in the postseason but this team is humming right now.
Dallas Mavericks : A-
(First quarter grade: B, midseason grade: B+) 
For a while, it looked like the Mavericks' defensive woahs may cause them to slide out of the playoff picture in the West. But Dirk Nowitzki , Rick Carlisle's coaching, and the veterans on this team have been just good enough on defense and stellar on offense. Their outside attack is hard to beat right now, and they've been playing better as the season gets tighter and they're challenged more for their playoff spot.
Memphis Grizzlies : B+
(First quarter grade: B-, midseason grade: B)
After the Suns' loss to the Clippers, the Grizzlies find themselves in the playoff picture with the 8-seed. Even with all of the injuries to key players, a new coach this season, and a bench that has been in flux and not always possessing a proper backup point guard, the Grizzlies have still had the grit to grind out victories. Mike Conley continues to be one of the most underappreciated players in this league and has been spectacular with his play this season.
New Orleans Pelicans : F+
(First quarter grade: B, midseason grade: C+) 
There have just been too many injuries for this team to maintain a truly competitive spirit.  Anthony Davis has been great in his second season, but the Ryan Anderson and Jrue Holiday injuries just weren't easy to account for and the play on the court suffered. They swung for the playoffs and missed, but not for a lack of talent.
You can view the Eastern Conference three-quarter grades here.
Wade opted in to his $24 million player option earlier this summer

Barkley spoke to the NFL Today crew about the response the president received in his home...

The restricted free agent has a deal in place that will keep him with the Bulls after a st...
James' support continues his trend of social activism on social media

The newly-acquired All-Star thinks the addition of Anthony boosts the Thunder in the NBA's...

The Knicks were asking for the house in discussions for Carmelo Anthony