What five means for Tim Duncan
The impenetrable fortress of Duncan is poised to raise another banner. A look at what it means for us, and how we'll never know what it means for him.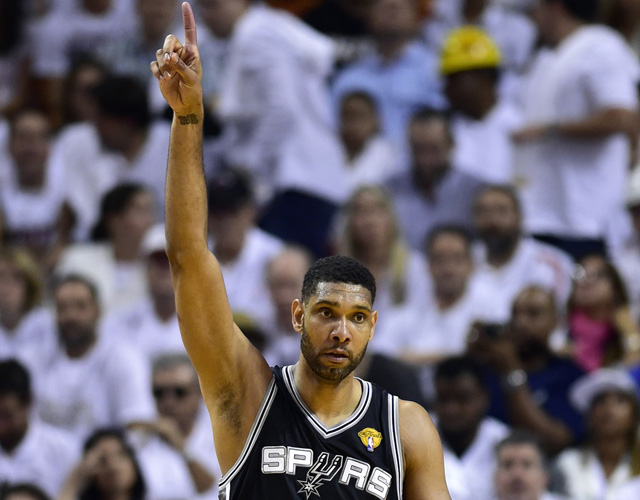 More postseason coverage: Playoff schedule, results | Latest news, notes
Sunday morning, Tim Duncan will get up and do what he does every game day. He'll wear the same clothes he always does, drive the same route to the Spurs' practice facility for shootaround. He won't talk to the media, just like he never does. He will shoot turnaround hook shots and shoot free throws.
He'll go home and do whatever it is that he does on the afternoons before games. He'll drive his car to the arena. He'll go through his same pregame routine. He'll return to the locker room. He won't speak with reporters, again. He'll put on his jersey.
And then Tim Duncan will, in all likelihood, take another step in the ever-expanding staircase of greatness that his career has become and add his fifth title. The title will mean something to him. What, like so much of the above, I can't tell you. No one can. The man is an onyx prism to the outside world. The Spurs' entire culture is built around something akin to an intelligence organization. AT&T Center is the one arena where I'm genuinely worried that if I wander into the wrong room or hallway, they're going to put me in some sort of detention area and I'll never see the light of day. There will probably be snakes and the AC won't work.
And Duncan is an extension of that. NBA players arrive at the arena in stylish threads and designer suits. In large part, that comes from the players' reclaiming control over their culture in the wake of David Stern's dress code. Tim Duncan doesn't care. He looks like he shops at J.C. Penney once a year, buys all his clothes using gift cards from his kids and opens a new shirt every six months or so. Postgame, there are no pocket squares, no designer socks. Sometimes he wears sweatpants.
Duncan is unreadable, he is indecipherable, the uncrackable safe buried under rubble at the bottom of the ocean. You're not getting at him, and if you do, you're not getting in. And even then, it's not because of some deep, mysterious personality. He's locked away, but he's also -- from every indication -- simply not that complex. There is no sunken treasure.
But that fifth ring that now sits just one win away in a series in which Duncan's Spurs have outright dominated the superstar-laden Heat means a lot for how fans, analysts, former players, fellow players, peers, pundits and the rest of the world will see Duncan. Not because of the number, but because of the year inscribed on its side and the way in which Duncan earned it.
Duncan and Kobe Bryant came into the bright sunshine of the NBA solar system at the same time. Duncan's Spurs and Bryant's Lakers (led in large degree by Shaquille O'Neal at the time), battled for a half-decade. Duncan won four titles while Bryant seethed after the disappointment of 2004 and the subsequent breakup of the superteam. That's part of what made the fourth and fifth title so special to Bryant. There was the contest with O'Neal first and foremost. But tying and passing Duncan was a relief to Bryant.
But Duncan is set to tie Bryant. If you care to count the rings, for anyone who was still up in the air as to who has had the better career, Duncan is about to end the argument. For many, Duncan's place in NBA history has already been carved in the league's tree. He's already the best power forward of all time by most standards. Does one more title change that much?
It does, but not for the result. For the process. Duncan's last Finals MVP was in 2005, his last title in 2007. An eight year span with four titles between 1999 and 2007 was already an unbelievable stretch of true contention and dominance. That was already unbelievable.
That was seven years ago. Seven. Duncan is averaging 16 points and 11 rebounds in these Finals as part of one of the greatest offenses we've ever seen, and doing it at age 38. He's a good five years past when his prime was supposed to have ended and he's about to lead the Spurs to another title. And this isn't some "aging star remains on the team and provides guidance." Duncan is still tearing teams apart with his bare hands, even if he barely makes a sound doing it.
Duncan has never finished with a PER below 20. He has never finished with a shooting percentage below 48 percent. He has done all this while also being one of the finest defensive players during his time in the league.
He is complete.
That's so important here, I have to say it again.
He is complete.
We're never going to see players again the likes of which we have in these Finals, even with its result seemingly lacking in drama. We'll never see a shooter like Ray Allen again, a point guard like Tony Parker, a playmaker like Manu Ginobili, a combination of talent like Miami, an offense like San Antonio's.
LeBron we'll save for another day. He's had his day, he'll have his again. This is about Duncan.
And neither you nor I will ever witness a player like this ever again. The fundamental quality of his play so reminiscent of Russell. His footwork and touch comparable to that of Shaq, while his grace strikes you like that of Chamberlain. The defense smothering, the turnaround bankshot unguardable, the passing sublime, the commitment unquestionable, the leadership unassailable, the excellence unsurpassed.
For 16 years.
That's what this ring changes, whether it takes him Game 5 in San Antonio or Game 6 in Miami, or, as unlikely as it seems, Game 7 in San Antonio. Like most of Duncan's career, it is inevitable. His greatness is silent, eternal and awesome.
That this fifth title will likely push Duncan into the top-five conversation all-time for many, including me, won't mean anything to Duncan. To be sure, this one matters. He came back from too much this season, from too much heartbreak, played with too much intensity and resolve to doubt how much this means to him. So much of the Spurs' success is simply a product of their process. You do things the right way, and good things come. But this is different. It matters to him, that much is evident.
Why?
I have no idea. No one really knows. He'll cherish this moment, this season, this accomplishment. He'll know what it means to him, and those teammates and that gruff-as-hell coach of his. But no matter what he says in the press conference or what the cameras catch, they won't shine inside that opaque cube he keeps himself inside. And really, I've come to realize our mistake in wanting him to give that to us.
After all, he's already given us so much.
Warriors' forward doesn't understand the reasoning behind the all-too-common double technical...

Hardaway Jr. gave a 'safe' call like he was an umpire in baseball

Barnes hits the trey with less than a second left to lift Mavericks to dramatic 95-94 vict...
Kevin Durant was once again back in Oklahoma City

Gregg Popovich has never seen an injury lead to the issues that Kawhi Leonard has been fac...

Kobe Bryant, of course, had his 81-point game against Rose and the Raptors back in 2006