What happened on LeBron James' game-winning layup in Game 1?
With 2.2 seconds left and up one, pretty much the last thing the Pacers should be allowing is a layup. And somehow, that's what they did.
Up 102-101 with 2.2 seconds left, all the Pacers had to do was force a jumper. That's it. If LeBron James or Ray Allen or Chris Bosh hits it, you tip your cap and live with it. 
Instead, the Pacers did the worst thing imaginable. They gave the best player in the whole wide world, a four-time MVP and defending champion, a clean layup to win the game. 
Inexplicable. Unacceptable. 
All the focus is on Frank Vogel's head-scratching decision to sit down Roy Hibbert on the final possession, but the most simple, straightforward fix is that Paul George can't overplay and let LeBron get by him. Still, there were a lot of factors at play, even in just 2.2 seconds, so let's look at exactly what happened here.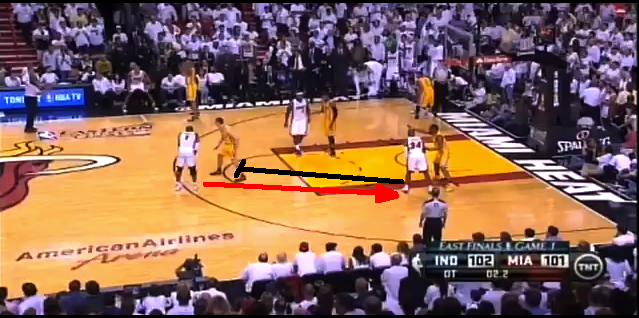 Here's the initial setup for the Heat. Shane Battier inbounds with David West on him. Ray Allen is on the block, obviously set to screen and then run to a wing or corner for a catch-and-shoot. And LeBron is roaming at the free throw line, basically isolated. If Hibbert's on the floor here, he's almost assuredly on Chris Bosh, 24 feet from the basket.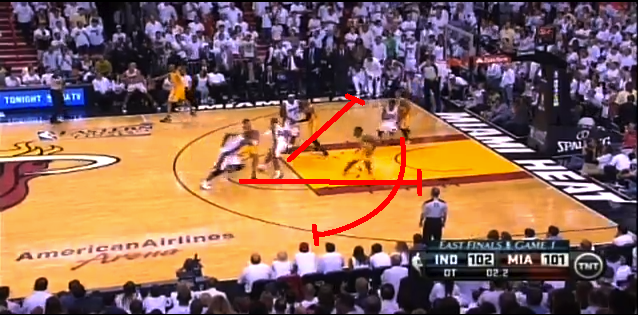 Ball goes to Battier and the play is on. As expected, Allen comes to set a faux screen on Bosh's man, and then flares to the wing. Zach Lowe of Grantland brings up a perfect point: If you're going to sit Hibbert to switch all screens, then why have Tyler Hansbrough on the court? The Heat run a simple action with Allen screening on Hansbrough then heading to the corner. The Pacers switch and now Hansbrough's chasing Allen and Sam Young is on Chris Bosh. If you're switching everything, you're anticipating an action almost identical to this. Why not use Lance Stephenson or someone there?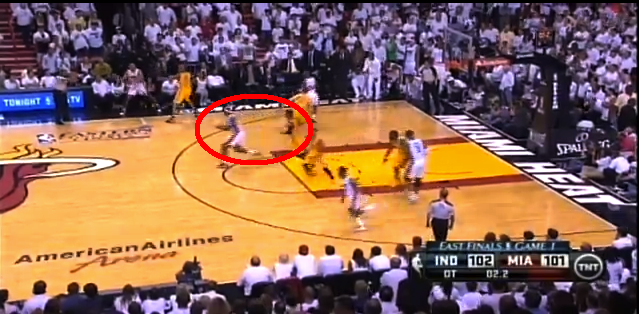 The play the Heat run is all about proper timing. After Bosh goes to the block and sort of rubs Norris Cole's man, LeBron pops for the inbounds pass. Now LeBron's got the ball 20 feet from the basket with two seconds left. It's a really quality design from Erik Spoelstra and as he said postgame, everyone on the floor was "live." The play was basically get it to LeBron and let the best player in the world make a good play.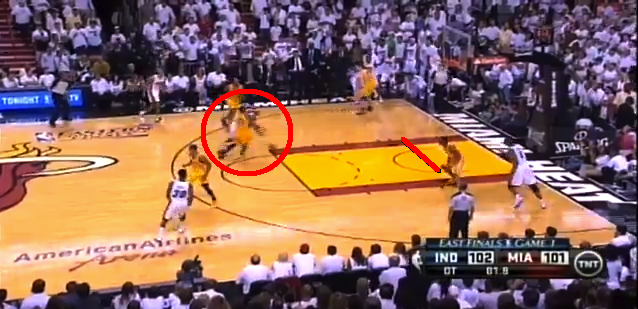 George overplays a hair and LeBron has a clear path to the bucket. Here's what's really bad about the play, though: Sam Young either didn't care, or he wasn't aware of the situation enough to know he's got to react much quicker in help than he did. In fact, he didn't even help. He took a little fake step at LeBron that accomplished nothing, and that's it. He didn't jump to contest, he didn't foul LeBron to oblivion and make him win the game at the line, he didn't do anything. 
Hibbert or no Hibbert, LeBron simply can't get that look. George overplayed, but the help has to be there. If Young collapses, it forces LeBron to dish, which means Bosh has to catch, gather and go up himself. Seeing as LeBron barely beat the buzzer himself, that might've been the difference. Again, there's 2.2 seconds left here, people. That's not enough time to do much more than exactly what LeBron did. 
All Young needed to do was literally take two steps to his right and he's potentially in position to take a charge.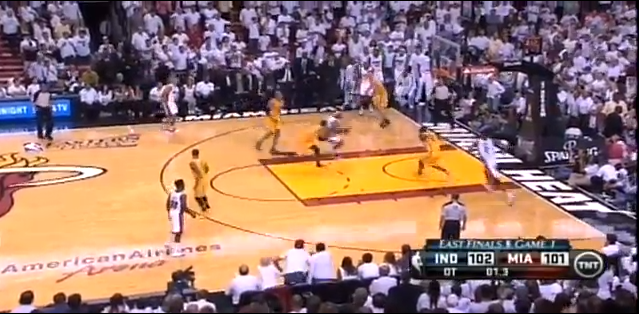 Look at that picture. If you hadn't seen the outcome of the play, you're thinking Young is about to leap and contest LeBron's shot, right? Well, he didn't. For some reason. If anything, Young needs to tackle LeBron and make him win the game at the free throw line. But just like the 18,000 people in the arena, he stood and watched the ball drop through. 
Now, let's talk about where Hibbert would've been had he been on the floor. Would he have even mattered? Since Hansbrough switched on Allen, Hibbert would've been in the corner watching anyway, right? That depends. The simple fix it to just stuff Hibbert in the middle of the paint with his arms spread wide and switch every screen everywhere else. The message is clear there: You're not getting anything easy at the rim. 
That means that potentially Bosh or Allen or LeBron get a decent open jumper to win. But isn't that what you were setting your defense for anyway? The last thing in the world you want to allow is an easy drive to the rim, and having Hibbert in the game eliminates that completely. You might allow a decent look from 18 feet to win.
But you live with that. You can't live with a game-winning layup. 
A look at the context of the schedule and who plays who when, and how far they travel during...

Durant took on rapper Lil Dicky and actually might have lost

A report that James would once again be leaving Cleveland made the rounds on Wednesday
Known for his 'take that for data' rant, the Grizzlies coach touched on a number of important...

Wade's days with the Chicago Bulls appear to be numbered

Misty Suri will reportedly keep his job with the New Orleans Pelicans