What? Heat fans want LeBron to thank them after winning two titles?
LeBron James doesn't owe Miami fans a thank you (although he gave them one on Instagram). Two NBA titles in four years was plenty.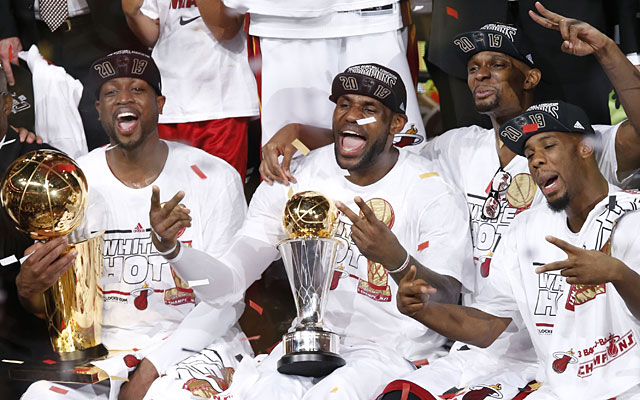 More Offseason Analysis: Updating Free Agency news | Free Agent tracker
The latest LeBron story could get no dumber than the final hours of his indecision, when some media filled the vacuum of information with anonymous sources who knew nothing and others (like me) filled it with speculation about the phrase "La Familia" on LeBron's twitter page and the photo of an empty LeBron jersey -- a jersey from his days in Cleveland -- that buddy Mike Miller posted on Instagram.
Was he staying in Miami? Going to Cleveland? What did any of it mean?
It meant the story could get no dumber.
And it didn't. Not for two weeks, maybe more -- until this week, when we dumbed it down further by debating whether LeBron had properly thanked the fans of Miami. So here I am, venturing into a topic that has been dumbed to death, hoping to inject a little bit of cold-blooded common sense. Here it goes:
LeBron doesn't owe Miami fans a thing.
Not a damn thing.
Here's what Miami fans got from LeBron: A reason to feel better than everyone else, smarter as fans and superior as a fan base, because they had LeBron and we didn't. They went to four straight NBA Finals, and they won two of them, and we didn't. While the narrative outside South Florida was that LeBron had gamed the system in an unseemly way for such a superstar, Miami looked deeper and appreciated LeBron's unselfishness and nobility for taking less money to chase a title with his buddies Dwyane Wade and Chris Bosh, because isn't that what sports are all about? Sacrificing money, chasing titles, hanging with your buds? LeBron turned sports into a beer commercial, and the people of Miami loved him for it, and they loved themselves for it.
Good for you, Miami. He was yours, and he allowed you to feel what I suspect every fan base in every sport, certainly in every pro sport, wants more than anything: the chance to feel superior. And he gave you that chance for four years.
And that's not enough?
Now you want him to thank you?
You want him to thank you?
You know how this story took off, of course. It took off where so many stupid storylines launch these days: on a radio show that panders to the home crowd. At its best sports-talk radio is informative and entertaining. At its worst, it's mean-spirited and loathsome. In the middle are pandering shows that strive above all else to make the home folks happy, because happy people are listening people. It's smart business. Transparent, but smart business.
But understand how this whole thing started. After LeBron's first-person essay ran on Sports Illustrated.com on July 11, Miami fans noticed that he hadn't used any of his 950 words to say these four: "Thank you, Miami fans." And some of them got mad. They burned his jersey. They sprayed a blob of paint where his face had been on a mural near American Airlines Arena. They got on Twitter and pouted.
This wasn't every single Miami fan. Wasn't even most of them. It was a vocal minority, and they were loud, and they got the attention of a radio station that debated the topic on air and then took pandering homerism to whole new levels by reaching out to two northeast Ohio newspapers for the cost of running a full-page ad that would mock LeBron for not thanking Miami fans.
Never mind that LeBron, hours after announcing his return to Cleveland, had posted on his Instagram account -- to his 6.5 million followers -- a picture of him standing on a table at American Airlines Arena, celebrating with Heat fans, with the following message superimposed onto that image:
Thanks for the memories.
Wasn't enough, apparently. Three weeks later -- several days after the radio stunt -- the latter portion of a column in the Miami Herald noted that "he never said thanks" and delved on the subject of whether LeBron owed Miami fans another a note of gratitude.
In a word, no. Two words? Hell no.
More words? Fine. Here come more words, and this is for every fan base, not just the group of Heat fans who were offended that LeBron didn't thank them (more than once). This is for all of us everywhere, me in Cincinnati and you wherever you are, who run the risk of being tricked into believing it's a true partnership between pro athletes in town and the fan base that cheers for them. Most of the time, it's not. It's capitalism. There are exceptions, legacy athletes like Derek Jeter in New York, Tom Brady in New England. Jordan in Chicago. Kobe in Los Angeles.
But most times, when the athlete isn't in a particular city simply because that's the team that drafted him, he chose to be there for reasons that are very much business: Because that's the team that offered him the most money, or the best chance to play (which leads to better individual statistics, which leads to more money), or the best chance to win (which leads to prestige and endorsements and more money). Or some combination of those three.
If along the way the athlete thrills the city and wins titles and connects with the area and makes all those fans in every other city jealous, well, you win! Fans of the athlete in question -- in this case, Heat fans -- you won big. For four years you had the biggest draw in sports, in any sport, playing in your city and chest-thumping your jersey and winning titles and pumping up the Miami area in tangible and intangible ways.
And on top of that, you want him to thank you?
LeBron doesn't owe Miami fans his gratitude. Nor do they owe him theirs. What they experienced for four years was a mutually beneficial relationship. What it was, was business.
And what it is, is over.
The Knicks forward is a bucket-getter in the truest sense of the term

On the TNT broadcast, even Shaq finally admitted that he likes Joel Embiid's game

The Warriors new Nike classic uniforms will be revealed Thursday
Joel Embiid doesn't want to call what the 76ers are doing a minutes restriction

The Mavs played a tribute video to the American flag prior to their opening game on Wednes...

The Suns stink, but this was cool!