What Kevin Love trade means for the Cavaliers on the floor
With Kevin Love reportedly heading to the Cleveland Cavaliers, what does this team look like on the floor with their new parts?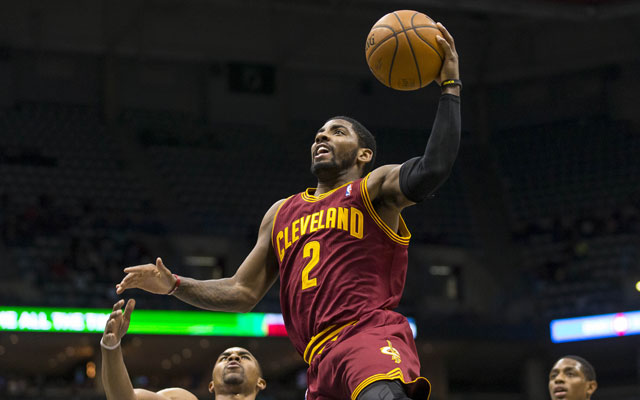 More on Kevin Love trade: Cavs, T-wolves reach agreement | Not binding until Aug. 23 
With the Cleveland Cavaliers reportedly agreeing to a trade with the Minnesota Timberwolves, the acquisition of Kevin Love for Andrew Wiggins, Anthony Bennett, and a first round pick thrusts Cleveland toward the top of the title hunt. When LeBron James signed back with the Cavaliers, there was talk about growing together and hopefully getting to a championship level. That patience will be thrown out the window with bringing Love to the roster for the No. 1 pick in a loaded 2014 draft class.
The Cavs are bringing in arguably the best power forward in the league and a guy many consider to be a top 10 player. He's never made it to the playoffs in his years with the Timberwolves, but he's really only had one roster actually good enough to make that playoff push. In 2013-14, his team failed in late-game situations and trailed off down the stretch once they were all but mathematically eliminated from the 8-seed in the West. It was the only real opportunity the Wolves had of making the playoffs under Love because it was the first time he had a decent amount of talent surrounding him in a deep conference. 
What does adding Love bring to the Cavaliers? Aside from a bevy of puns for headline-makers to throw into newspapers and online articles, you're adding one of the most dynamic scoring big men in the NBA and one of the best rebounders, if not the best rebounder. Let's take a look at what this could mean for the Cavs on the floor.
The Offense
LeBron James is going to be the focal point of any offense he's in, as he should be. With his recent success of four straight NBA Finals appearances and two championships with the Miami Heat, it's natural to start filling in the players around LeBron on those teams with the players surrounding him on this Cavs' team. Love would fit into the Chris Bosh role on offense, but in a much more heavily utilized role. Bosh was a pick-and-pop master with James, providing an incredible safety valve on drive-and-kicks as well. 
The difference between Bosh and Love in the pick-and-pop role is that Love's range isn't working on extending out to 3-point range. He's already out there and thriving from that distance. He's a career 36.2 percent shooter and set the Wolves' franchise record for 3-pointers made in a season with 190 in 2013-14. He made 37.6 percent of his 3-point attempts. He's shot at least 37.2 percent from downtown in three of the last four seasons with over 200 attempts in those three seasons. The only season he didn't was in 2012-13 when he played just 18 games due to multiple broken hand injuries.
Love shot a lower percentage (36.6 percent) on pick-and-pop jumpers than Bosh (38.8 percent), but scored much more efficiently because of Love's ability to draw fouls. Bosh made it to the free throw line 5.5 percent of the time on pick-and-pop plays that resulted in a shot attempt, a trip to the line, or a turnover. Love gets to the free throw line 12.4 percent of the time in these situations. In fact, Love's free throw rate is one of the highest in the NBA. He got to the line nearly 2.5 times more often than Bosh did last season, granted in a much more scoring-focused role than what he'll play next to James.
How Love and Kyrie Irving coexist will also be interesting. Love and Ricky Rubio did quite well together on the court last season. While Irving isn't the playmaker for others that Rubio is, he's exponentially a better scorer, which could mean the Cavs aren't just relegated to spacing the floor with James and Love on pick-and-pop plays. Irving and Love can run a two-man game as well as Uncle Drew and Old Man Wes do in those Pepsi Max commercials. Irving could be in a similar role as Wade was with James, but we also have to remember this is under David Blatt and not Erik Spoelstra. The offensive system could and will likely be different.
Love, James, and Irving can all run pick-and-roll/pop plays with each other at any time on the court. They can involve the other two players out there quite a bit. And they'll have a legitimate post presence in Love to go inside. His passing ability makes a kick-out pass to Irving, Dion Waiters, or Mike Miller an instant threat for points. He can hit cutters moving to the basket. He can get to the free throw line (happened 19.4 percent of the time on post-ups) from the post, and he's a very good scorer out of the post with a turnaround jumper or a half-hook over his left shoulder.
Offensively, the Cavs should be able to put up a top 5 scoring efficiency in the NBA right away. They have three go-to scorers and two of the best passing forwards in the league. And they've brought in decent shooters to stretch the floor. It will take a little time to gel with new star players under a new coach, but the offense is unlikely to be a problem. 
The Defense
The defense for the Cavaliers will be a constant work in progress. They have players who can potentially be good defenders and the presence of LeBron won't allow for the younger guys to take possessions off on that end of the floor. Guys with reputations for being non-defensive guys (Love and Irving) will have to commit more than they ever have in the past. Irving was often hidden on the opposing team's worst offensive wing and still struggled to put up an acceptable resistance to whomever he was guarding.
Love has been one of the easier big men to score against during his career. The 2013-14 season was his best effort in terms of his individual defense and his team defense. He was in position a lot more often than he was given credit for and the Wolves' defense was slightly better (0.1 points per 100 possessions) with him on the floor. However, he has a tendency not to foul inside and while that can be viewed as a positive thing because you're not giving up easy free throw attempts, he does just let the player go up without much shot contesting. When he's in position, he does a solid job of helping and keeping position. When he's not in position, he does a poor job of consistently figuring out how to make the best defensive play happen.
Where Love does help his team is ending possessions on missed shots. He's been one of the top rebounders in the league since he entered it and his rebounding, along with the rebounding of either Varejao or Tristan Thompson and LeBron will help the team end possessions. However, he has to improve a lot in terms of staying strict within the team concept on defense. That's where Varejao comes in.
Varejao's health could make or break the Cavs' interior defense this season. They've reportedly added Shawn Marion, who will help on the wing and with most forwards, but they don't have a real shot-blocking presence inside. Love will never be that for them, but Varejao's impeccable help defense could make rim protection unnecessary. Defending with Irving, Love, and Waiters on the floor at the same time could be tricky, and LeBron likely won't be allowed to play free safety as often as he hopes.
Blatt is a phenomenal international coach though and has been credited as a clever defensive coach in past ventures. He and LeBron will have a great chance to work together to make the defense passable in the first season. However, the Cavs will need to bring in another role player or two to make it work and they may not have that chance until the summer of 2015. 
Wade opted in to his $24 million player option earlier this summer

Barkley spoke to the NFL Today crew about the response the president received in his home...

The restricted free agent has a deal in place that will keep him with the Bulls after a st...
James' support continues his trend of social activism on social media

The newly-acquired All-Star thinks the addition of Anthony boosts the Thunder in the NBA's...

The Knicks were asking for the house in discussions for Carmelo Anthony