When Kobe Bryant gives the word, the long road back will begin
As Kobe Bryant underwent surgery Saturday to repair his ruptured left Achilles' tendon, his longtime trainer, Tim Grover, already was at work -- preparing a recovery plan and waiting for Bryant's word that this isn't the end, but the beginning of a comeback.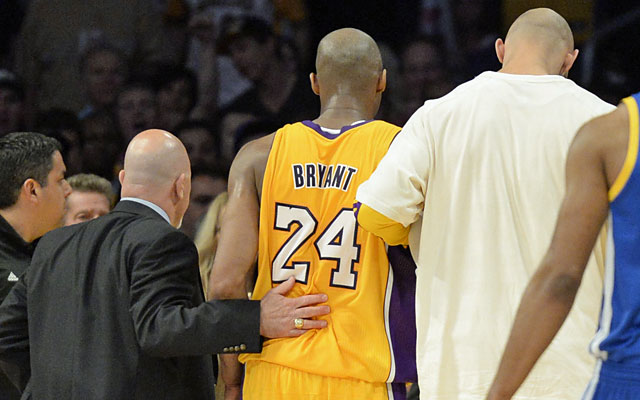 EL SEGUNDO, Calif. -- As Kobe Bryant underwent surgery Saturday to repair his ruptured left Achilles tendon, his longtime trainer, Tim Grover, already was at work -- preparing a recovery plan and waiting for Bryant's word that this isn't the end, but the beginning of a comeback.
To no one's surprise, Bryant didn't want to wait even a full day before hitting the operating table at Kerlan-Jobe Orthopaedic Clinic after completely tearing the tendon Friday night in a 118-116 victory against the Golden State Warriors. The next decision for Bryant will be whether he has the will, the mental strength, to fight a six-to-nine-month battle and make it back onto the court next season at age 35.
"It started as soon as he went down yesterday," Grover said on the phone Saturday. "I literally have not slept, doing my research on it and making my different contacts and getting all my resources together and so forth. Whenever he says, 'Go,' I'm ready."
More on Kobe Bryant
Related links
Bryant's body finally broke down under the brunt of 17 years and this torturous stint of 47- and 48-minute nights as he tried to carry the Lakers into the playoffs. He was genuinely conflicted Friday night about whether he had enough mental energy left in the tank to confront this enemy. In fact, he'd already spoken openly several times this season about whether he had the strength to continue the kind of maniacal training and preparation that would be necessary to push his career beyond next season, the last year on his contract.
Overnight, the formerly tech-averse Bryant went to Facebook and posted a lengthy, conflicted rant in which he confronted his basketball mortality but also vowed to fight.
"Maybe I should break out the rocking chair and reminisce on the career that was," Bryant wrote. "Maybe this is how my book ends. Maybe Father Time has defeated me … Then again, maybe not!"
Grover spoke with Bryant on Friday night after the injury, and as of then, he said his star pupil was all in -- "fully on board" with waging this fight. But the road will be long, slow and grueling. Full recovery will not take kindly to Bryant's insistence on pushing through pain, ignoring normal human timetables and doing the impossible. His sewn-together tendon will be a lot tougher than those who allowed him to push himself to such incredible limits over these past few weeks.
"We'll have to see," Grover said. "It's not an easy process. It's not an impossible process; it's been done many times before, and I believe he can be as well as he was before. But it's definitely a long, tedious process."
Speaking with Lakers GM Mitch Kupchak on Saturday morning before surgery, Bryant said his goal is to return for the start of the 2013-14 season. That would mark a 6 1/2-month timetable since the injury -- not impossible, but not likely. Gary Vitti, the Lakers' longtime athletic trainer, said recovery from an Achilles' tendon tear should not be accelerated, as Bryant no doubt will want to do.
"You don't want to lengthen the tendon too soon because then that destroys the repair," Vitti said. "So it's a very delicate process of getting strength and the length back into the tendon without overloading it too soon."
Put a different way, Grover said Bryant basically is going to have to learn how to walk again. Like a toddler.
"They've got to break up all the scar tissue, get it moving again and get it strong enough just to basically stand and walk on and get his gait working in the right way so he's stepping moving forward," Grover said. "It's like learning how to walk all over again.
"The main battle is going to be a mental battle, whether he wants to fight to get this thing done -- which knowing Kobe is not going to be an issue," Grover said. "… The physical, I'm almost 100 percent sure it'll come. I know how strong he is mentally. We wrote the blueprint on this thing about how to think and get through it. We'll see."
The blueprint is Grover's new book, "Relentless," in which he reveals the training methods and psychological warfare that helped him propel two of the greatest competitors in NBA history, Michael Jordan and Bryant, to greatness. When it comes to Bryant, recovering from a catastrophic injury was never part of the blueprint. Nobody -- least of all Bryant -- thought it would ever happen to him.
In a moment of reflection at his locker at the Rose Garden in Portland on Wednesday night, Bryant spoke about the run of bad luck with injuries the Lakers have had this season. He spoke of the need to continue playing -- every minute, every game if necessary -- to get the Lakers into the playoffs.
"A lot of it was just bad fortune, because we'd find a good rhythm and then we'd have another injury," Bryant told CBSSports.com that night, after scoring 47 points in 48 minutes on the second night of a back-to-back -- one of the great masterpieces of his career. "Now you've got to find another style that you're playing. Now you're comfortable doing that and another player goes down. Then you find something else that you can do, and then we bring another player back, so now we've got to find ourselves again. It's nonstop."
Bryant just never thought the wheel would stop on him, that the next one to go down would be No. 24. Nobody did.
"I went over and visited over at Kerlan-Jobe, about an hour-and-a-half ago, and he was in great spirits," Kupchak said after the Lakers practiced -- without Bryant -- in preparation for another crucial game Sunday against the Spurs. "He actually gave a message to me to pass on to the guys on the team, most of which I can't share with you right here. But it was a positive message, as you might imagine, very motivational. His spirits were good. … He's proactive in all ways. You wouldn't expect him to wait a week or two, and certainly last night when I got the phone call that he wanted to do it today, I wasn't surprised."
Neither was Grover, who is doing is homework, tweaking the blueprint and waiting for the word "go" from Kobe Bryant.
"This is not something that I can decide for him -- his parents, his family or the Lakers," Grover said. "This is something he's got to sit back an decide, 'Yeah, I'm going to go through this.' And if he's in that right frame of mind and decides to do it, then he will."
Wade opted in to his $24 million player option earlier this summer

Barkley spoke to the NFL Today crew about the response the president received in his home...

The restricted free agent has a deal in place that will keep him with the Bulls after a st...
James' support continues his trend of social activism on social media

The newly-acquired All-Star thinks the addition of Anthony boosts the Thunder in the NBA's...

The Knicks were asking for the house in discussions for Carmelo Anthony