Where does Mike D'Antoni go after resigning from Lakers?
A look at the future of the offensive guru who has flamed out in two different big-name spots.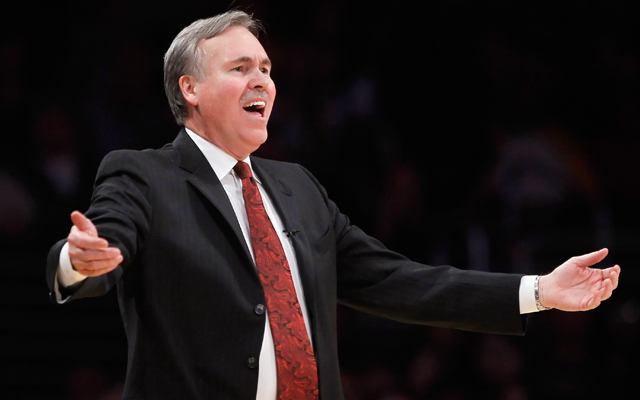 More NBA: Season Awards | Grades: East | Grades: West | Seasons in Review
With Mike D'Antoni's resignation Wednesday night from the most prestigious coaching job in the NBA with the Los Angeles Lakers, there has been a substantial shift in the landscape of the league (as if the last week hasn't brought about enough vibrations). Ken Berger of CBSSports.com has laid out where the Lakers go from here. But what about D'Antoni, the offensive guru that has now flamed out in less than two years in both New York and Los Angeles?
First off, let's set this table. You can believe Mike D'Antoni is a bad coach, but you're ignoring the fact that he developed one of the greatest offensive teams of all time in the mid-2000's in Phoenix, and helped the Knicks resurgence along substantially before the Melo trade. You can believe he's a great coach but you're overlooking how truly dreadful his defenses have historically been and his inability to get star players (Carmelo Anthony, Dwight Howard, maybe Kobe Bryant it can be argued) to buy in. That's a big part of coaching in the NBA. So like a lot of good basketball minds, it comes down to this: D'Antoni needs the right fit, where he can take low expectations and rise above, not high pressure, high expectations settings and try to reach lofty heights. You can believe you can never win a title with Mike D'Antoni, but you can't believe you won't win a lot of games with the right talent and a healthy roster.
Let's take a look at his options. 
College Days
A lot of the hubub about D'Antoni moving on from the Lakers had to do with the rumors D'Antoni would be taking the job at Marshall University. And he did... but not that D'Antoni. His brother, Dan D'Antoni was hired by Marshall last week. So that's out. 
Would D'Antoni want another college job? After dealing with the headache of Dwight Howard, Kobe Bryant, and Carmelo Anthony, you can easily imagine D'Antoni embracing the less-star-driven system in college where coaches have not only more autonomy, but substantially more job security if they are successful. 
But would his system translate? That's where it becomes doubtful. College players are rarely great shooters, and you need to be able to shoot for D'Antoni's system to work. Defensively, it might benefit him since the offensive execution is so much lower for other teams, it might mitigate his lack of emphasis at that end. The ball movement could help, and more college teams are using pick and roll, so that element could be incorporated. 
Mostly, though, his mantra of how the ball finds energy and how movement is vital could bring huge rewards. It's late in the coaching search for this season, but if D'Antoni wanted to take some time off, this could be a great option next season. 
Back to the NBA Grind
Let's say he wants to go back to work immediately. He's being set free at the right time. Three jobs opened up in the last month (Utah, New York -- though that's clearly not happening -- and Minnesota) and others are still being decided or have interim coach situations. The pickings aren't terrific for D'Antoni, yet. A few of the scenarios: 
Detroit Pistons: This one is on surface, the best fit. Mostly from the perspective of "it can't get any worse." D'Antoni needs a team with talent that doesn't seem great, to make them great, not a superstar team like LA or New York. This fits. He could work magic with Brandon Jennings, as all point guards thrive under D'Antoni. He could get Josh Smith out in transition more, and while the three-big combo is awkward for D"Antoni (and he might not like Greg Monroe's game much), the pick and roll game with Andre Drummond would be incredible. Throw in the potential to develop Kentavious Caldwell-Pope as a shooter and the possibility of having some say in basketball ops under a new regime, and this fits pretty great. 
Utah Jazz: Probably not happening based on the fact that GM Dennis Lindsay is a Spurs disciple and it's hard to see them going outside the Pop tree for a coach. But if they were interested, it would be a good fit. Trey Burke would flourish under D'Antoni, they have cap space, athletic bigs, and a quieter media situation. If D'Antoni wants stability, this situation works pretty well. 
Minnesota Timberwolves: Another intriguing option. The up and down game would work well with their personnel, Kevin Love would enjoy the offensive creativity, Ricky Rubio would thrive, and D'Antoni's schemes provide spacing to make even poor shooters better. It doesn't solve their defensive issues, but it also might be so much fun for Love to play in that system it might not matter. 
Other possible options. The New Orleans Pelicans have a great roster, and would likely thrive offensively with D'Antoni, but they really don't want to waste the defensive potential of that squad with D'Antoni, particularly Anthony Davis. Additionally, GM Dell Demps is a Spurs guy and there has yet to be any indication that Monty Williams will be fired. 
The Washington Wizards are a great fit, but considering Randy Wittman has just earned the franchise's first playoff series victory in a good, long time, notoriously loyal owner Ted Leonsis is likely to extend Wittman until the end of time. 
There's been no indication that D'Antoni would be interested in a job overseas, but he does have substantial experience in Euroleague play.
Rest Mode
D'Antoni's best option might be to take a year off. Get healthy, unwind, relax, do some TV work and wait for the right situation to come his way. He seemed pretty happy being off until the Lakers job came available. The big key for D'Antoni should be to find a team without megastars that he can mold, a team with low expectations so he can get back to surprising people with how good his teams can be rather than flailing under the weight of expectations. He also needs to learn to bite the bullet on playing non-veterans and developing a young team. He has a lot of potential with a super-athletic team but always resists that. 
Oh, and a good idea for him in his year off? Writing a book about what went on with the Lakers. That alone would make him a huge name again. 
The 13 finalists will find out if they have been selected on March 31

Casey, who has spent six years coaching in Canada, doesn't understand why the gun laws are...

Galin Dragiev is SportsLine's No 1. NBA expert and locked in a pick for Team LeBron vs. Team...
Boston is the only team with multiple All-Stars and multiple Rising Stars

The Mavericks rookie enters the dunk contest with a chip on his shoulder

Beal still scores a ton but he also is running Washington's offense with Wall out