Where does the Pistons' roster go with Stan Van Gundy in charge?
With reports that Stan Van Gundy has taken over the coaching and personnel duties with the Detroit Pistons, where will we see this roster go?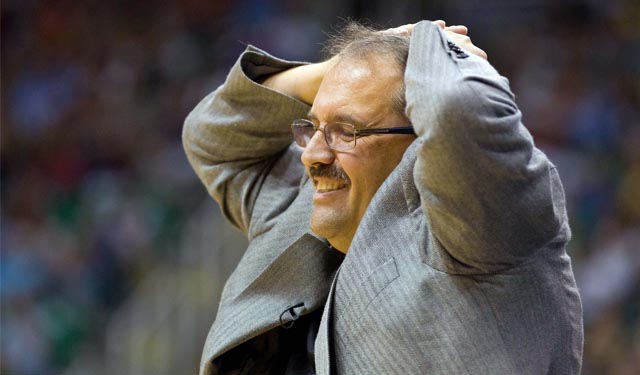 More postseason coverage: Playoff schedule, results | Latest news, notes
With reports that Stan Van Gundy is set to take over the coaching and personnel decision-making of the Detroit Pistons for the next five years, thoughts of one of the best coaches in the NBA transforming a disappointing and possibly underachieving roster into something potentially elite are fascinating. When Van Gundy was coaching the Orlando Magic, he seemed ahead of the curve on a lot of offensive and defensive principles prevalent today.
How does he put together a roster in Detroit that will begin to replicate the success he had in Orlando? In Van Gundy's five years with the Magic, they made the playoffs every season and compiled a record of 259-135. In five playoff appearances they made the NBA Finals once, the Conference finals once, the second round once, and were twice eliminated in the first round for a playoff record of 31-28.
While Van Gundy doesn't have championship rings to flash for his new team, he does have the clout of being a playoff coach taking over a franchise that hasn't made the playoffs since 2009. So how does he get them back to the playoffs and make them competitive in the postseason? What current pieces are must-haves and which guys are expendable?
Assuming Van Gundy wants to keep rolling with his same system of work from his Magic days, having two interior big men on the court at the same time seems to be an unlikely scenario. Andre Drummond will be 21 years old when next season begins and the comparisons with young Dwight Howard are apt. They were both in their second NBA season at the age of 20 and Drummond's numbers are actually better in a few areas. It doesn't mean Drummond is the next Howard, but Van Gundy knows how to develop a big man of similar athleticism and skills.
After that, it gets a bit tricky. Van Gundy is saddled with Josh Smith earning $40 million over the next three seasons and Greg Monroe will be a restricted free agent this summer after not agreeing to a contract extension this past offseason. If we're going off of past roster and lineup constructions of Van Gundy in Orlando, Monroe would be sign-and-trade bait (a little tricky because he's a restricted free agency) this summer. Unless he can develop a 3-point shot, he doesn't exactly fit into the stretch-4 position Van Gundy was so good at utilizing. 
When Van Gundy coached the Miami Heat with Shaquille O'Neal on the roster, they used much more traditional lineups with a true power forward, but Drummond is no Shaq. Assuming Monroe gets moved this summer or is allowed to sign somewhere else without matching (giving up that talent without compensation would be hard to swallow), the natural small-ball progression would be putting Josh Smith back as the stretch-4. The only problem with that is few players have taken as many threes in their career and had worse accuracy than Smith. Could you then just keep Smith at the small forward position and make him a playmaking forward like we saw with Hedo Turkoglu?
Charlie Villanueva and Rodney Stuckey are free agents this summer and there isn't a need to retain them under the new coach. If they decline the team option on Chauncey Billups, the Pistons could be in good salary-cap position even if they decide to match Monroe and figure out fitting him in or moving him later on. The rest of the roster is where this gets interesting for future growth.
Van Gundy is going to want guys who can shoot from downtown and move the ball. Of the existing members on the roster with a contract for next season, Kyle Singler, Jonas Jerebko (not a career shooter but he was over 40 percent this season), Kentavious Caldwell-Pope and Luigi Datome should all stick around. They have the ability to stretch the floor and are versatile enough to give the coach plenty of wing and 2-4 combinations. 
The Pistons were the second-worst 3-point shooting team in the NBA this season at 32.1 percent. Van Gundy's Orlando teams never shot less than 36.6 percent from downtown nor did they ever finish outside the top 10 in 3-point accuracy. Maximizing good outside shots, especially with their current forward and point guard situation, will be the key to how quickly they reverse course in this part of the game.
How the Brandon Jennings situation plays out for Van Gundy could dictate just how quickly he can turn things around for the Pistons. The point guard clearly is talented, but his decision-making leaves a lot to be desired. Jameer Nelson flourished under the Pistons' new coach because his decision-making was shaped in a way that maximized his talents and the team's ability to utilize those talents. Will Jennings be open to SVG's critical but apt coaching?
Jennings has two years left on his deal, which means he wouldn't be that hard to move if it doesn't work out with Van Gundy next season. But turning Jennings into a better version of Nelson could turn this Pistons team into a real problem in the East. Getting Jennings and Smith to take fewer outside shots just for the hell of it and make more plays for the team will be the difference between making things work right away or needing to overhaul the roster. His ability to drive the team concept into these individuals will be key.
The results speak for themselves too. When he took over the Magic in 2007, Van Gundy inherited the 22nd-best offense in the NBA and the seventh-best defense. In his first season Orlando improved to sixth in offense and fifth in defense. A season later the Magic remained a top-10 offense (eighth) while becoming the best defensive team in the league. In 2009-10 they had the second-best offense and defense. 
Other than Van Gundy's final season in Orlando in which Dwight Howard was battling a nagging back injury, his teams outside of Epcot never finished outside the top 10 in offense or defense. His final year there, the Magic finished 14th in both offense and defense. Considering the Pistons were 19th in offense and 26th in defense but have talented players on both ends of the floor, a huge jump right away wouldn't be out of the question and should probably be expected.
The Pistons have made an incredible signing to change their culture. How holdovers adapt to the new ways of their coach and embrace a successful model will be interesting to watch.
Another day, another social media beef for Embiid

We have all the latest scores, highlights and news from Wednesday's NBA games

Thomas spent a day with a 10-year-old girl whose family is also new to Cleveland
Barkley did not hold back with his opinion of the Big Baller Brand patriarch

LaVar Ball also made it clear he thinks his sons are being placed in 'a great situation'

The Thunder are just 12-14 on the season, despite the addition of Paul George and Carmelo...