Where has Kyrie Irving's impact gone for the Cleveland Cavaliers?
Kyrie Irving used to be the bright spot for a bad Cleveland Cavaliers' team. This season, they're surprisingly better with him off the court.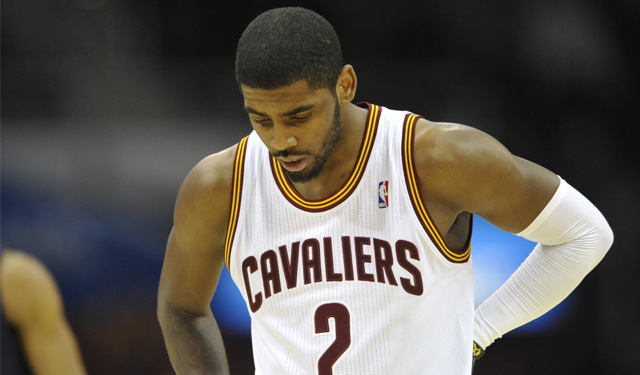 Since You Know Who took his talents to a nicer climate and a better team, Kyrie Irving has been the lone bright spot in a rough rebuilding process in Cleveland. The Cleveland Cavaliers landed the first pick in the NBA draft in 2011, took Irving with the top selection despite not possessing a ton of college evidence, and haven't looked back since. Irving has used his impressive handle, slick body control, and deft shooting touch to show all the makings of having their next franchise player moving forward.
He was nearly a unanimous Rookie of the Year selection in 2011-12, an All-Star reserve in his sophomore season, and looked to be poised to give the Cavs a chance at making the playoffs in a weak Eastern Conference this season. While the Cavaliers are in the playoff hunt three games behind the 8-seed with a 16-29 record and Irving is averaging 21.5 points and 6.2 assists, his team hasn't been quite the same with him on the court as they are with him off the court.
For the first in Irving's career, the Cavs have technically been better when he's not in the game than when he's on the court. The team has always been bad during this stretch regardless of whether or not Irving has his shooting shirt on or not. However, during his first two seasons the Cavs were significantly better with him on the court (4.6 points per 100 possessions better as a rookie, 2.1 points his second season). That's not the case over the first three months of the 2013-14 season.
Through the first 45 games of this season, the Cavs have a net rating of -4.8 points per 100 possessions in the 726 minutes Irving hasn't been on the court. When he's on the court, that net rating worsens to -6.2 points per 100 possessions in his 1,474 minutes of play.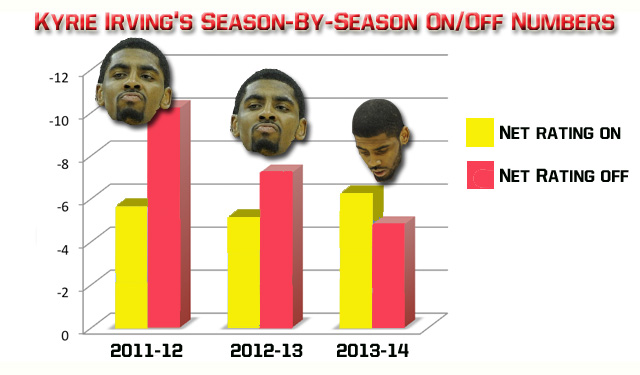 There are plenty of reasons for why this is the case that are both in his control and out of his control. First and foremost, this is a very bad Cavs team. They're 24th in offensive rating and 17th in defensive rating. The first season remix under Mike Brown has been both frustrating and progressive. While a team of seemingly solid offensive options hasn't been able to produce offensively, the team has sort of grasped the defensive concepts of Brown's philosophy. A team that was the fourth worst defensive team in the NBA last season under Byron Scott has become fairly middle of the road.
The problem has been on offense and offense is where Irving is supposed to make his mark. This has been a down year for Irving offensively. While his scoring average is only slightly down while his assist-to-turnover ratio has improved, his scoring efficiency has taken a dip for the second straight season. As a dynamic and historically efficient rookie, Irving put up shooting percentages of 46.9 percent from the field, 39.9 percent from 3-point range, and 87.2 percent from the free throw line. Those percentages dipped slightly to 45.2/39.1/85.5 last season, but that's nothing terribly significant in terms of a drop.
This season, Irving is down to 42.8/36.5/84.6 and it's had an impact on how the team performs offensively. With him on the floor, the Cavs put up an offensive rating of 100.3, which is down from the 102.6 they put up with him last season. He's seen a drop-off in where he hits shots across the board. His percentage in the restricted area is down slightly, his midrange jumper is hitting about four percent less frequently this season, and both the corner three and the above-the-break three are down for Irving (although he doesn't take a lot of corner threes in general).
Oddly enough, he's been a terrible catch-and-shoot guy this season. The catch-and-shoot makes up about 18 percent of his shot attempts and he's making only 36.4 percent of those shots. On catch-and-shoot 3-pointers, he's making just 32.6 percent of his 2.1 attempts per game. 
Is it simply a matter of the defense keying in on Irving's attack and making sure he has a harder time of scoring? Irving is usually a killer in isolation and it's helped make the Cavs' offense more efficient. Last season, 29.1 percent of Irving's offensive possessions that ended in free throw attempts, a shot, or a turnover were isolation. He destroyed defenses with 1.03 points per possession (seventh in the NBA) and shot 46.6 percent from the field (42.5 percent from three).
This season, Irving's isolation possessions and effectiveness have dropped drastically. He's down to just 17.1 percent of his possessions coming in isolation and is scoring 0.85 points per isolation possession. His shooting in these situations has dropped 35.7 percent from the field and 33.3 percent from three. Could it simply be a new offensive system has taken the ball out of his hands more and he doesn't have the same rhythm as in previous years?
Whatever the reason is, Irving is having a down season and it's greatly affected his team's ability to be as competitive in a weak conference as they should be. There are more problems than just that with the Cavs but considering he's the new franchise player for Cleveland, it's something that's potentially alarming.
The good news is we have seen a bit of a change with the Cavs and Irving's impact on the court in the month of January. December was the low point in which the Cavs were actually a positive with him out of the game and a big negative with him in the game. While the month of January still has them as a losing team with him on the court, we've seen a big swing in how the team plays compared to the first two months.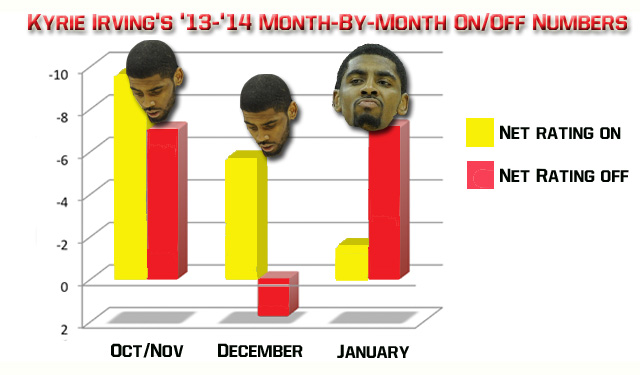 There are four reasons that jump right out at you immediately when you look at their January.
1. Andrew Bynum is gone
The risk of bringing Bynum's career back from the ICU was low but it also didn't come to fruition at all. They're no longer wasting 20 minutes per game on Bynum, in which they were typically really bad with him on the floor. I have no idea if he was a drain on the team and locker room off the court but he certainly was on the court (-3.9 off, -11.8 on). 
2. Less Earl Clark... much less
As Mike Brown has played Earl Clark fewer and fewer minutes with each passing month, the Cavs have seemed to improve. Being a pseudo stretch-4 that couldn't stretch a rubber band hasn't been a plus for Clark's impact on the Cavs and they're much better this season when he sits (-3.8) than when he plays (-10.3).
3. C.J. Miles is playing more
C.J. Miles is the only player on the Cavs this season with a positive net rating. At a +2.2 per 100, Miles has been the guy making secondary plays and knocking down shots from the outside to help provide some stretchiness to the offense. His minutes have increased every month and he's up to 24.0 minutes per game in January. He's responded with 12.9 points per game and is shooting 47.0 percent from the field and 44.8 percent from downtown. 
4. Kyrie Irving's usage has gone down
Irving has struggled to make shots this season so giving him less to do has helped salvage a couple more possessions. Once he dipped below 30.0 percent usage (29.6 in December, 25.9 in January) on the season, his scoring efficiency increased. It doesn't mean this is a good long-term plan for the Cavs but it's allowed Irving to reset his game a little bit and look for his groove again.
Ultimately, Irving will be fine. He's incredibly talented and has a bright future as a big-time player in this league. It's just a little disappointing that we didn't get another leap out of him in his third season and instead saw a bit of a regression. It's not totally alarming but it is confusing as to how all of a sudden the team was technically better without him for the first two seasons of a big season for this franchise.
Two of the league's young, up-and-coming squads will square off on Tuesday in Minneapolis

Kawhi Leonard is set to make his season debut for the Spurs

Lonzo Ball will make his Madison Square Garden debut
Leonard, who hasn't played this season due to a quad injury, may return with more skills than...

James, who adjusted his shooting mechanics, is on par with Steph Curry's all-time great 2015-16...

Jordan Bell had himself a night against Portland