Where were Nets closers in Game 4?
The Nets have seemingly been equipped for tight playoff games, with veteran closers all over the floor. But they didn't show up in Game 4.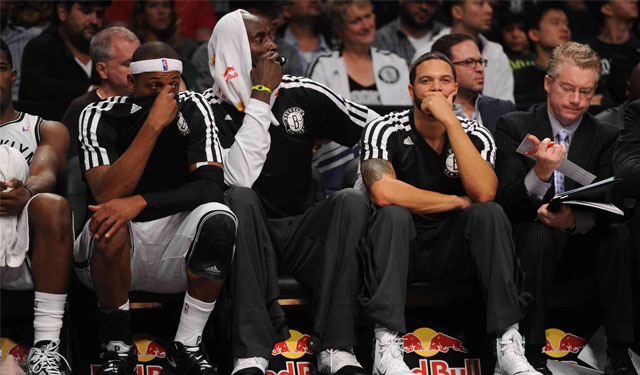 More postseason coverage: Playoff schedule, results | Latest news, notes
When the Nets were assembled with a big splash last summer, the idea was having a veteran, ready-built playoff team. With Joe Johnson and Deron Williams already in place, the addition of postseason-tested fixtures Kevin Garnett and Paul Pierce would make the Nets one tough team. 
In Game 3 against the Raptors, those closers closed. Williams was fantastic and Johnson was dagger ready. In Game 1, it was Pierce who threw darts in crunchtime. 
But in Game 4, with an open door to seize complete control of the series against the young Raptors, the Nets didn't make a bucket over the final 6:12 of the game, and were held scoreless the final 4:58. The Nets produced 12 total points in the fourth, hitting just 3 of 17 from the field, with Johnson and Garnett not taking a single shot between them, Williams going 0 of 4 and Pierce going 1 of 3. 
Here are the Nets final eight possessions:
- Deron Williams misses a deep 3
- Paul Pierce misses a contested jumper
- Joe Johnson turnover
- Kevin Garnett offensive foul on a bad screen
- Paul Pierce offensive foul
- Deron Williams misses another deep 3
- Shaun Livingston misses a layup off an offensive rebound
- Deron Williams misses a final deep 3
It was bad offense, but offense that was structured around those closing veterans taking over and making shots. It was 79-78 in the Nets' favor when they started their barren stretch, and while their offensive ineptitude produced nothing, the Raptors just picked away, hitting free throws, knocking down a 3, and getting a dagger 10-foot jumper from Kyle Lowry. 
In those final five minutes, it was the Raptors who got big shots from big players. That's how the Nets built themselves for the postseason, but in a Game 4 where the opportunity was there to put a stranglehold on the series, those closers left the door open one too many times.
But credit where it's due. The Raptors are led by a defensive-minded coach in Dwane Casey, and it's no accident the Nets scored only 79 points on 87 possessions. That's an anemic offensive efficiency of 91.1. The Raptors switched, rotated and helped all over the floor, forcing those contested jumpers late in the shot clock. 
And as a result gained control of home-court advantage once again. It's back across the border for Game 5, and after earning a split in Brooklyn and surviving the vets in crunchtime, the Raptors didn't just even up the series -- they grabbed momentum, and more importantly, belief.
A dive into the NBA history books for every result from every NBA All-Star Game

The 76ers guard is in hot water after a controversial video surfaced showing him using a racial...

LeBron James earned his third career All-Star Game MVP award
With LeBron James and Stephen Curry as team captains, this was actually an entertaining basketball...

The old teammates worked their magic one more time

Here's how to watch Team Stephen vs. Team LeBron in the 2018 NBA All-Star Game