Which teams are going to be the biggest players in free agency?
Which teams are set to be the biggest free agency players, and what do those teams need?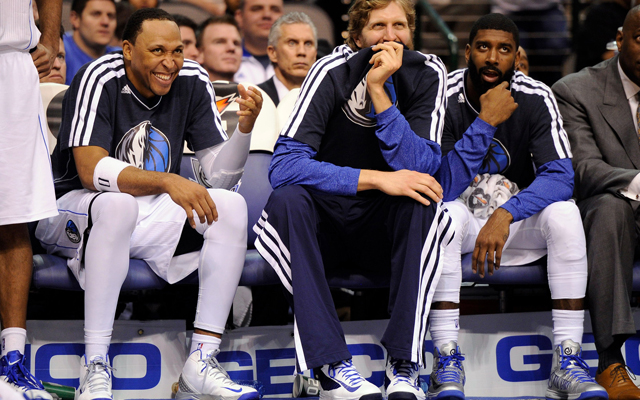 NBA Free Agency 2013: Free Agent Tracker | Trades | Latest rumors and news
Just three days until the free agency moratorium period begins, which means that you can now go from speculating about the draft to speculating about which veteran players are available. 
But here's the catch about this offseason: You know that big, bad luxury tax thing everyone has been talking about for the last year? It actually starts this summer. For every dollar you're over the tax threshold (likely to be set at around $71.6), it's $1.50 up to $5 million over, then it's $1.75 for the next $5 million, $2.50 for the next, $3.25 for the next and finally $3.75 for anything $20 million over -- and then another 50 cents for every dollar over that. 
Point is, it's harsh and very punitive if you go way over. Some teams are basically ignoring it entirely -- like the Brooklyn Nets. (Hello, $80 million tax bill.) But most teams are keenly aware of the numbers and are shaping their rosters in accordance with it. 
As the league transitions into free agency, with a bunch of teams having obvious needs and a quality market to be picked from, which teams are set to be the biggest players on the market? (All salary info via the indispensible Sham Sports.)
(Note: Salary commitments includes the projection that each team will sign its first-round draft pick.) 
ATLANTA HAWKS
Salary commitment for 2013-14: $23,497,415
Projected cap space: About $34 million, potentially
The Hawks have the chance to completely restructure their roster. They have room to essentially pay out two max level deals, or close to. They can go three directions with this summer: 1) Sign a couple players to get to the league's minimum salary requirements and embark on a slow, incremental rebuild; 2) Go for the home run and try to sign Dwight Howard and/or Chris Paul (not happening) or 3) Re-sign a few of their own players (Kyle Korver, Josh Smith) and keep on keeping on. 
It doesn't seem likely that the Hawks will re-sign Smith, which means they'll have a substantial hole to fill in their frontcourt. They drafted Dennis Schroder, who provides depth in their backcourt and could be a replacement for Jeff Teague if he's lost in restricted free agency. Lucas Nogueira is an interesting big man prospect but probably not someone who is ready to contribute immediately. 
The Hawks began a transition, it seemed, last season by dealing Joe Johnson and miraculously offloading his contract, and moving Marvin Williams to Utah. They're set to be one of the biggest players in the open market this summer, but it's more of a question if they actually want to be. If they whiff on Howard and Paul (which they will), do they go to a Plan B and blow the cap space elsewhere, or do they regroup and try to maintain flexibility and keep options open so they can try again later?
CHARLOTTE BOBCATS
Salary commitments for 2013-14: $41,077,306
Project cap space: Almost $22 million, but that depends on a few factors
The Bobcats could potentially be a player this summer, but the bulk of their cap space depends largely on what Ben Gordon does with his player option ($13.2 million). Gordon has already said he anticipates returning to the Bobcats, which obviously makes sense because he's not seeing that kind of money anywhere on the open market. 
So really, the Bobcats have more like $9 million in cap space. 
They have needs all over while actually not having any. They've tried to build through the draft, and while they've filled out a number of positions, they don't actually seem any better suited for the future. 
Gerald Henderson is headed for restricted free agency, so if he leaves, that's a big hole at shooting guard. They drafted Cody Zeller, who will play inside with Bismack Biyombo and Byron Mullens, but they still could use a quality veteran, especially if they want to start turning the corner. A potential option? How about Carl Landry, who just opted out in Golden State. Pay him $6 million and you might have yourself a quality power forward to help your young guys along. 
DALLAS MAVERICKS
Salary commitments for 2013-14: $42,994,093
Project cap space: About $14 million
The Mavericks did everything they could to save money at the draft by trading down from No. 13 to No. 18 for Shane Larkin, which saved about $600,000. 
Between cap holds and other contracts, the Mavs will only find themselves with about $14 million in cap space. But they could create more by renouncing a player like Darren Collison (about $5 million) and assuming Mayo signs elsewhere, that's a little more. The problem for the Mavs is Shawn Marion's $9 million final year, something they're probably desperately trying to move. If they want a crack at Howard, they're going to have to shuffle some pieces, but it can be done. 
Even if that effort fails, they're going to have money to use on the open market. They have needs in a number of different areas -- center, shooting guard, small forward -- and have to decide if it's time to start pulling back toward a rebuild or revamping for one more run with Dirk. 
DETROIT PISTONS
Salary commitments for 2013-14: $35,045,558
Project cap space: Close to $30 million
If the Pistons use the amnesty on Charlie Villanueva -- which they should -- they could free up close to $30 million in cap space. They only have 11 players under contract next season, counting their new draft pick, but a couple of those aren't guaranteed. The most they're paying any player would be $8.5 to Villanueva, who, again, they could get rid of, and Rodney Stuckey, who isn't guaranteed. 
The Pistons aren't likely to spend big on the open market -- Joe Dumars recently said as much -- because they're going to need cap space in the future to re-sign Brandon Knight, Andre Drummond and Greg Monroe. Still, they could open up the checkbook for something like $10 million of that and go pick up a couple contributors, or even re-sign Jose Calderon. 
HOUSTON ROCKETS
Salary commitments for 2013-14: $54,951,158
Project cap space: About $16 million
Their payroll is kind of a mess. A ton of non-guaranteed players, a ton of options, a ton of cap space while actually not looking like any cap space. They're trying to move players like Thomas Robinson out to create even more in order to make their run at Dwight Howard. 
The Rockets aren't exercising options on Francisco Garcia, and aren't guaranteeing Aaron Brooks, Carlos Delfino, James Anderson or Tim Ohlbrecht. So while they have something like $54 million committed in salary next season, they actually have around $16 million in cap space. 
What the Rockets don't have is enough to give Howard a max, though they're going to be closer -- and they'll be even closer if they can move Robinson. If they fail on Howard, then they'll have to turn their attention to re-signing some of those cheap players -- or picking up a couple of guys on the open market. 
But all their chips are in the Howard basket. And by the way it looks now, they've got a great shot. 
LOS ANGELES CLIPPERS
Salary commitments for 2013-14: $45,688,124
Project cap space: None
In their ideal world, they don't have any cap space. Chris Paul re-signs and their summer is over. Since it's almost assured that Paul will stay in town with Doc Rivers coming in, forget about the Clippers. 
LOS ANGELES LAKERS
Salary commitments for 2013-14: $79,631,035
Project cap space: None
The Lakers have no cap space, no real money to spend on the open market. But they might be the most important team in terms of free agency this summer. They have their amnesty provision in pocket and could conceivably use it on Pau Gasol, Kobe Bryant or Metta World Peace. 
And, of course, there's the Dwight Howard thing. The Lakers seem to hold the cards there, and if they're unable to re-sign him, the shape of this summer's signings gets completely altered, and so do the Lakers' future plans. 
MILWAUKEE BUCKS
Salary commitments for 2013-14: $42,055,523
Project cap space: About $18 million, potentially
The Bucks have big offseason questions. The first two are what to do with Monta Ellis and whether or not to match offers made to Brandon Jennings. J.J. Redick is unrestricted, as is Samuel Dalembert and Mike Dunleavy. Potentially, the Bucks could be heavy spenders on the market, and there's already talk about them being interested in J.R. Smith or O.J. Mayo. 
They still have their amnesty and could use that on Drew Gooden to wipe off $6.8 million owed next season and the next. So if it all breaks their way and they choose not to re-sign or match, the Bucks could have a pretty good pile of space to play with this summer. They could obviously use that to bring back some pieces like Ellis or Jennings, or they could hit the open market and see what they find. 
NEW ORLEANS PELICANS
Salary commitments for 2013-14: $49,993,307
Project cap space: About $8 million
By bringing on Jrue Holiday and his $40 million extension, the Pelicans ate away most of the cap space they had. They still have about $8 million of it left but may want to use some of that on re-signing Al-Farouq Aminu. 
The Pelicans have a few spots they need to fill out -- they only have six players under contract, guaranteed -- so whether it's bringing back a few non-guaranteed guys or going out on the open market -- they need bench help, and a small forward -- they're going to spend a little.
PHILADELPHIA 76ers
Salary commitments for 2013-14: $40,695,380
Project cap space: Potentially about $18 million
With Jrue Holiday's big extension coming off the books and assuming Andrew Bynum signs somewhere to free the Sixers of his more than $17 million cap hold, Philly has something like $18 million in cap space to use. But they don't seem all that keen on using it as they're apparently embarking on a youth movement. 
Plus, there's the burning question about whether they're going to re-sign Royal Ivey. 
PORTLAND TRAIL BLAZERS
Salary commitments for 2013-14: $44,640,165
Project cap space: About $12 million
Headed into next season, the Blazers currently only have nine players under contract. So they're going to have to spend somewhere on something. They have a few of their own coming off the books, and the biggest issue they had last season was a comically weak bench. 
With close to $12 million to spend, the Blazers could be major players to restock and retool as a Western contender. That's assuming Damian Lillard keeps growing, that C.J. McCollum fits in and that LaMarcus Aldridge doesn't go AWOL. 
SACRAMENTO KINGS
Salary commitments for 2013-14: $42,019,855
Project cap space: Potentially $16 million, but maybe none
The Kings are under new management, so they have a different outlook. And while, officially, they don't have any cap space, they could be headed for about $16 million of it if the chips fall in place. If Tyreke Evans signs elsewhere (a restricted free agent) and they use the amnesty on say, John Salmons, now you're talking about money to spend.
With Ben McLemore incoming and DeMarcus Cousins just waiting to explode if he can get his act together, the Kings could be a decent player on the open market. The question is if they want to spend that now or wait until later. Holding on and maintaining financial flexibility is probably in their best interest at this point. 
UTAH JAZZ
Salary commitments for 2013-14: $26,333,581
Project cap space: About $28 million
Very quietly, the Jazz could be the biggest players on the market. They have almost $30 million in cap space. The only players officially under contract next season are Marvin Williams, Derrick Favors, Enes Kanter, Gordon Hayward, Alec Burks, Jeremy Evans and Trey Burke. 
Al Jefferson, Mo Williams and Paul Millsap are all free agents. The Jazz aren't set to be contenders for Howard, but players like O.J. Mayo, J.J. Redick, Nikola Pekovic (restricted), Josh Smith, Kevin Martin and Tiago Splitter (restricted) could all be in play. The Jazz have lots of options here and could make a splash with a number of players. They could go big (Smith) or they could break it up and sign three or four rotation players. 
A report last week indicated Charlotte is looking to move Walker, along with one of its hefty...

Barea responds by claiming that none of Wall's teammates like him; the Wizards continue to...

Cousins finished with 44 points, 24 rebounds, and 10 assists
Love left Saturday's game, which the Cavs lost 148-124, due to illness

Kidd was fired by the Bucks on Monday afternoon

We've got all the scores, highlights and news from an NBA Monday