Who can save the Washington Wizards?
The Wizards are very bad.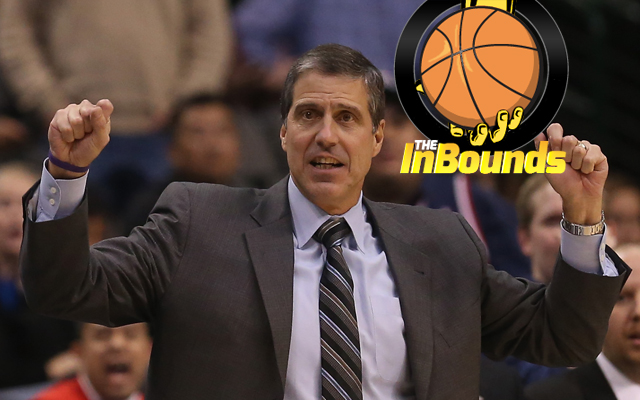 Randy Wittman is getting desperate.
(Getty Images)
The Inbounds focuses on one element, thought, question or joke in the league. It appears daily Monday through Friday on CBSSports.com.
Can Randy Wittman save the Wizards?

Can Ernie Grunfeld?

Can Ted Leonsis?
Can John Wall?

Can God Hisownself?

When the Charlotte Bobcats set the NBA mark for futility last season with the lowest winning percentage in league history, it was a team that had no expectations and no payroll. The Bobcats tanked from the start. That was the plan, and they were rewarded with -- wait, no. They lost the lottery, because it is cruel and vindictive. But the point remains.

If you have low expectations, you haven't really lost all that much.

But the winless Wizards? They have much higher hopes.

The idea began last spring, when longtime GM Ernie Grunfeld would trade out the knucklehead core of Nick Young and JaVale McGee for Nene and cap space. The Wizards were done being silly. They were going to be serious and have veterans who could bring in a winning culture.

They boosted that idea by trading Rashard Lewis for Trevor Ariza and Emeka Okafor. They took on salary for veterans who were not stars, but the idea was that, along with Wall and Nene, they would be respectable. The playoffs weren't even out of the question.

Whoops.

Yes, Wall hasn't played a game this season with an injury to his left knee that is expected to sideline him for eight weeks. And yes, Nene has missed all but two games (though his injury situation was a huge concern when he was acquired and has continued to be an issue to no one's surprise.) But the Wizards are independently awful. And they're spiralling toward a start that is too deep a hole for them to pull out.

The roster is split between not-ready-for-primetime-players and veterans who were never worthy of the contracts they signed. So to review, Leonsis spent the summer giving out big money to a general manager who can't build a roster, a coach who can't get a win and a roster that built a culture anything close to what they want.

The Wizards scapegoated McGee and Young to a large extent, along with Andray Blatche, who has blasted the Wizards' organization this week. But the Wizards weren't wrong to move on. Blatche was genuinely horrible in manner and play after signing the five-year, $35 million deal several years ago (which the Wizards will be paying another installment on in six days, lucky them). Young and McGee were enraptured with their own play and not on getting wins or sacrificing.

The idea to erase things was good. The plan for what to replace it with was not.

The Wizards are paying good money for players who can't produce. What's worse, they're establishing a system in which players are set up to fail. In other cities, Bradley Beal would have been brought along slowly, integrated into a system where all he has to do is take open jumpers. Maybe he would have struggled, but he wouldn't be trying to shake the opponent's second-best defender at times.

The bench is full of players who don't deserve time, and the starters should be coming off the bench making marginal money. Instead, the Wizards have the salary construct of a low-seed playoff team. If you're building a team in the NBA, a good plan is to look at this model and then do the opposite.

The Wizards face Portland at home on Wednesday night in what might be their best chance to avoid an 0-18 start, which would match the 2009-10 Nets for the worst in NBA history. After Portland, Miami will face the Knicks, Heat, Hawks and Warriors -- all of whom are over .500 -- before they play New Orleans, on the road.

At what point is it enough? Randy Wittman's going to take the fall for this, an interim coach who was given a tough situation and made it slightly worse. But Grunfeld could survive, despite all reason. It's hard to point to anything that Wittman has done to create this. The players aren't playing well. A better system might cover a few of the holes. But Grunfeld, as he has consistently during his tenure, has built a boat with giant cannonball-size holes in it. You eventually have to look at who build the boat, not who sailed it. 

Wizards fans are asking Leonsis -- who, by all accounts is an active, engaged owner willing to spend -- about what he's going to do about this.

It's not that the plan was bad; it just didn't work out. And if there had been a history of success to fall back on, you could justify it. Instead, you have bad piled on bad piled on bad, and it's hard to see how to turn it around.

Maybe you can't. Maybe this is just how it is. At this point, everyone's out of answers. Players, coaches, management, ownership. The roster's bad, the coaching's bad, the injury situation is bad, and the record is bad, bad, bad. 

God save the Wizards.
The Thunder are just 12-14 on the season, despite the addition of Paul George and Carmelo...

The then-Heat teammates squared off during the 2011 ECF, but Erik Spoelstra put a stop to the...

SportsLine's Mike McClure, a DFS pro with more than $1M in winnings, gives optimal lineup...
Stephen Oh has his finger on the pulse of the Rockets and just made a pick for Wednesday night's...

Gasol doesn't seem opposed to the idea of a midseason trade

The Ball brothers better put their heads down and focus on basketball, according to Billy...