Who rules New York? A question asked, but not answered by Brooklyn Nets PG Deron Williams
On media day Monday, Nets star Deron Williams asked -- but wouldn't answer -- the question on everyone's mind now that he's in Brooklyn with a playoff-ready roster: "Who has the best team in New York?"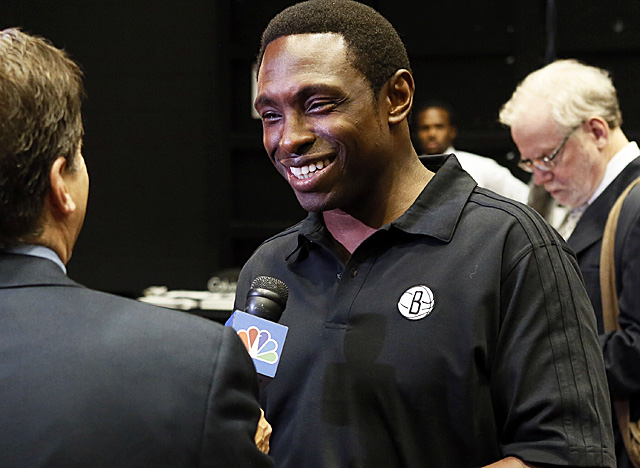 Avery Johnson, entering his third year coaching the Nets, says they're not a championship team yet. (AP)
NEW YORK -- Deron Williams had chosen to be here, had signed up to be the face, voice and leader of this basketball experiment in the borough of Brooklyn. And, on media day, he did not shy away from the question on everyone's mind.
In fact, he plopped down in a front-row seat during coach Avery Johnson's news conference and asked the question no one else would.
"I think what everybody wants to know," Williams asked his coach Monday at Barclays Center, "is, 'Who has the best team in New York?'"
It was a half-serious, half-tongue-in-cheek moment for Williams, a somewhat media averse superstar in the past whose role changes dramatically with this franchise's cosmic shift from Newark, N.J., to the intersection of Atlantic and Flatbush avenues -- a mere subway ride from Madison Square Garden.
Johnson, whose shoulders now bear the weight of a clear playoff team rather than a rebuilding roster of nomads, dodged the question, of course. And when Williams had his question tossed right back to him during his own media session, another point guard did what point guards do best.
He passed. 
"I'm not going to get into that, either," Williams said. "It's a question we're asked a lot, and it's definitely going to be hyped up all year. It's definitely a rivalry we want. I think it's good for basketball and good for New York, but we're interested in trying to win a championship and trying to make the playoffs first."
In a long-awaited and spectacular (though rough-around-the-exterior) building, this was the first step in what promises to be a fascinating duel for supremacy in the second NBA market to host two teams on its metropolitan soil. While Johnson's answer was the correct one -- "It's not about having the best team in New York," he said -- the season that begins for both teams a month from Monday when the Nets host the Knicks will be framed, reframed and framed again as just that.
In recent years, the Knicks have owned New York for all the wrong reasons -- ineptitude, salacious headlines, chaotic coaching and front-office changes. Now, not only do the Knicks and Nets occupy the same city, they also have comparable talent. Regardless of which borough they call home, both teams will be doing exactly what everyone else in the East will be doing, and doing a better job of it than most -- chasing the Heat.
What that leads to, who knows? There would be no clues as the two teams held dueling media day sessions Monday -- the Knicks at their suburban, Westchester County practice facility and the Nets at Barclays. The latter venue choice was solely symbolic, as the Nets will continue to practice in New Jersey until their new arena offers suitable training facilities.
"Where we are now, the goal is to win the championship," Johnson said. "I couldn't say that about the team the last two years."
Oddly enough, the blueprint for Williams and the task in front of him in changing the culture of a franchise has nothing to do with the star-laden rivals who play on Seventh Avenue. The better comparison would be what happened nearly 10 months ago, when Williams' friend and foe Chris Paul was traded to the Clippers. 
Far more so than the Nets, who unlike the Knicks actually competed in consecutive NBA Finals during most of our lifetimes, the Clippers were the clear second-class citizens to the championship-decorated Lakers at Staples Center. Paul, one of the most dynamic stars in the league, changed that almost instantly -- and subsequently has attracted supporting talent and persuaded Blake Griffin to make a long-term commitment despite the organization's mostly comical history of ineptitude.
"Actually, I never really thought of it that way," Williams said. "That never really came to my mind, but it's kind of similar, I guess. The Knicks are the team that most people are fans of in this city, and hopefully we can change that a little bit. But there was definitely a buzz about the Clippers in L.A. when he went there -- maybe not so much now that Dwight Howard is there, but they're still a great team in the Clippers. We're kind of similar. We're kind of in a similar boat. We're kind of a new, revamped team with some great pieces, and only time will tell how big this thing can really be."
And so the Brooklyn basketball experiment has come a long way, but it's still essentially what it's always been: a wait-and-see proposition. It's been that way since at least December 2010, when then-Nugget Carmelo Anthony -- being pursued on the trade market by both the Knicks and Nets -- openly wondered whether they would ever be true rivals, or if the dynamic would simply be "a Lakers-Clippers type of situation."
"We shall see," Anthony said back then -- two months before he would be traded to the Knicks and Williams from Utah to New Jersey. "Man, I think that's what a lot of people are waiting for, for that team to move to Brooklyn and see how it's going to turn out. ... I'm one of the guys that are waiting to see how that's going to turn out."
In a way, the wait is over. But the answer still eludes all parties involved.
Larry Hartstein has his finger on the pulse of Kings basketball and just released a play for...

One reported proposal has seeds 7-10 playing for the final two spots in each conference

The longtime Maverick says he's disappointed by all the negative news surrounding his beloved...
Larry Hartstein has nailed 17 of his last 22 NBA against the spread picks and locked in a play...

The NBA is reportedly entertaining the notion of a play-in tournament for the postseason

Cuban has had multiple interviews since the investigative report on the organization surfaced...