Who's going to feel the pressure in 2013-14?
LeBron James has (mostly) removed himself from the hot seat with back-to-back championships, but he's still LeBron and the spotlight is still on him. But who is set to feel the pressure this season?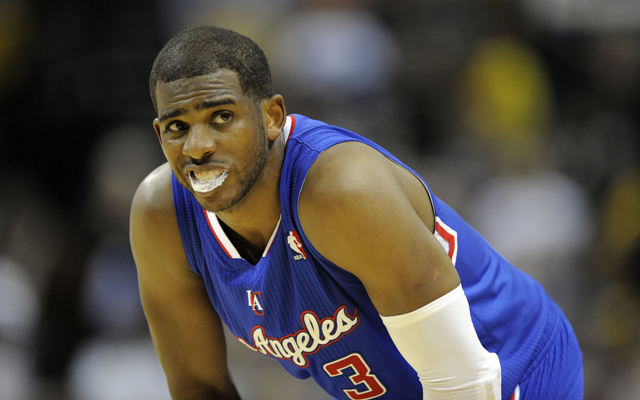 With a second straight championship, it seems the pressure cooker LeBron James has operated in the last five seasons has finally started to simmer. He's validated his decision to go to Miami. He's gone from perceived choker to finishing two straight NBA Finals almost on his own. He's gone from having every postseason missteps shoved under the microscope to now being given the benefit of the doubt because, come on, he's LeBron. 
So it would seem, the pressure is finally off LeBron James, who chasing only his legacy. And if the remaining task for your career is getting into a conversation with Michael Jordan, I think you're doing pretty well. If he retired today, LeBron would be considered one of the five or six greatest players ever. No one is questioning him anymore. The appreciation for LeBron is finally universal, it seems. 
A torch is being passed, of sorts. LeBron is handing off the pressure cooker to someone else who will soon feel the wrath and ire of the masses if they don't succeed. So, who's it gonna be? 
The easy answer is Kevin Durant, the player who appears to be the closest thing to an equal to LeBron. With a Finals appearance already and a handful of MVP runner-ups, Durant at 25 is reaching the stage in his career where LeBron was a few years ago. Yeah, you're amazing and all, but where da rings at? Durant has the added pressure this season of having to navigate the first month or so without his running buddy Russell Westbrook, but still, Durant seems to still be in the honeymoon phase. There's less attention on his shortcomings so far for three reasons: 1) he's still really young; 2) there's really no shame in losing to LeBron and 3) there's a pretty consensus feeling his time will eventually come. 
The player I'm looking at? Chris Paul
Consider: Playoff wins for Russell Westbrook: 26. Playoff wins for CP3: 16. And that's with three more seasons. Westbrook's been to the NBA Finals and two Western Conference finals. Paul's never been past the second round.
Oversimplified facts that excludes a lot of variables? Sure. You can justify that however you want by noting Westbrook has Durant, that Paul played on mediocre teams in New Orleans or that he was great while his teammates weren't. But if Paul truly is the elite player we all say he is -- we ranked him No. 3 in the league -- then shouldn't he be doing better than that? Actually, that's not the right question to ask. Maybe it's just, why do we let him get away with it? 
In the NBA, you're defined as much by what you've won as how often you've lost. LeBron was crushed for years for being an other-worldly talent who wasn't winning. If Paul is the de facto best point guard in the world -- there are no valid arguments against -- then why isn't he held to a similar standard? Paul's a magician of offense and respected as basketball royalty. Media members and fans drool over his command of the half-court, the way he engineers crisp offense from seemingly nothing. It's all deserved. CP3 is spectacular. But again, he's never sniffed anything past the second round.
Has he had great teammates? Not especially. But it's not like he's been dragging around dead weight into the postseason. The 2008 Hornets were solid, built around David West, Tyson Chandler and Peja Stojakovic. His past two Clippers teams featured a fellow All-Star in Blake Griffin, with high-quality role players. 
He's 28, in his prime and this is the best team he's been on. Basketball purists swoon over Paul because it's so wonderful and effortless and efficient and smart and terrific, but his goal is to win. And when you haven't had the high-profile failings like LeBron, or to a lesser extent, Durant, then the mass majority doesn't remember you for that. 
Consider: CP3 has been pretty great in the postseason despite his team's failures. In the Clippers' six-game elimination last postseason to Memphis, CP3 averaged 22.8 points and 6.3 assists. For his career, he averages 20.9 points and 9.5 assists in the postseason. He's been excellent. He just hasn't won. I'm not endorsing the ridiculous "RINGZZZ" argument so many do, but the question remains: If Chris Paul is so elite, shouldn't he be winning more?
There are a lot of good reasons he hasn't and excellent play excuses most of it, but with the Western Conference appearing to be as open as ever, and the Clippers considered favorites in some circles, the excuses are running thin for CP3. He's got Doc Rivers as his coach now, so no more blaming Vinny Del Negro's incompetency. He's got a rounded, deep roster around him with shooters, scorers and interior players, so no more blaming bad teammates. The pressure is on Paul this season to win, because eventually, he's going to stop getting the benefit of the doubt. 
Oh, who am I kidding? A three-game losing streak in February and it'll all be about LeBron all over again. Forget it.
Dwight Howard apparently wasn't well liked by some of his Hawks teammates

Kyrie Irving created a movement -- but even he had no way of knowing the damage he could d...

Parsons, a Magic fan growing up, says his situation in Memphis with the injuries and big contract...
The Kings' big man says he was wrongfully arrested in August for possessing marijuana with...

George appeared to show some frustration with the Pacers following the trade to OKC

It's worth wondering whether or not Wade will be in the Cavs' starting lineup