Why Andrew Wiggins' early tourney exit doesn't limit his potential
A look at the Kansas forward and his final game vs. Stanford before a possible drafting.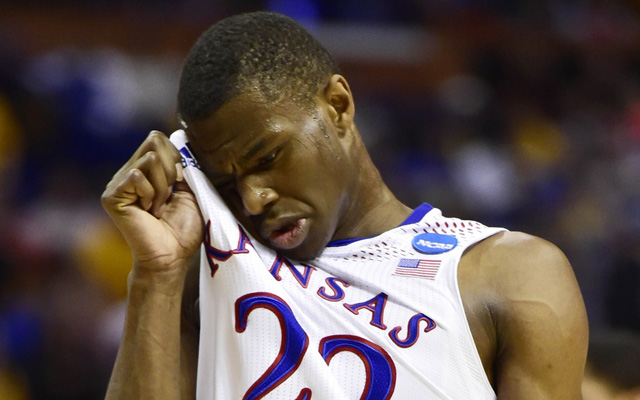 More NBA draft: Thursday stock watch | Weekend Prospects | Jabari Parker
Andrew Wiggins lost. 
In a round-of-32 game against upstart Stanford, Andrew Wiggins, who many feel is the best pick in the draft, finished with six field goal attempts, four points, four turnovers, one assist, and a very big anchor around his neck. 
Let me sum up the narratives that immediately, and I mean, immediately erupted in the media after the game. And not just from pundits who love to make a name for themselves, either. Former players, coaches, lots of folks. 
"Andrew Wiggins needs to stay another year because clearly he is not ready for the NBA because in a guard-heavy system under a coach who has consistently shown that he does better developing underrated talent than pushing the limits of a top-end prospect, he failed to advance past two rounds in one-and-done tournament at age 19." 
Welcome to 2014, where everything is dead before it begins. 
Let's take a moment and step away from Narrativeville, Population: Cranky Old Dudes. 
Maybe you're new here, and you're wondering "What's so special about the kid? He only shot six times, and he was a non-factor in a loss. Why is everyone so excited about him?"
Well, here's a good place to start. 
That's a block, full-court sprint and alley-oop finish from a leap from the second stripe in five seconds. Athleticism can be overrated, especially in the draft. But elite athleticism like that is the foundation of a capable NBA All-Star. The skilled guys are usually, not always, but usually guys who had an athletic bedrock and built their abilities around it. Wiggins has that bedrock and plenty of work started on the abilities side of it, too.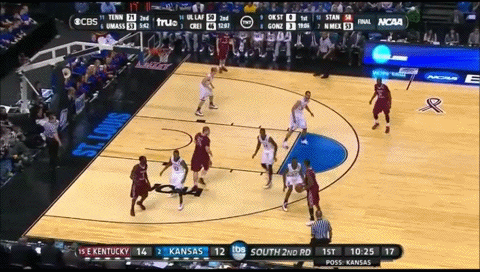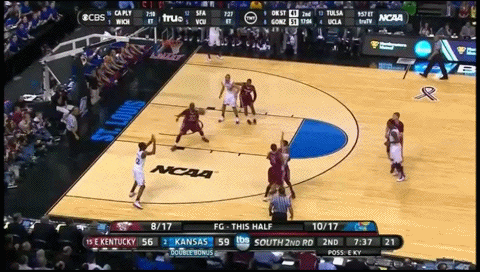 So then what happened? 
Look, I'm not here to outright defend Andrew Wiggins. Throughout the season, he was cast with the label of being too passive. He would drift. Some 19 year-olds come in and have the mental makeup to tell older, more established guys "I want the ball, give it to me, I've got this." Others have to work their way into it. And maybe Wiggins will struggle with the same problem in a locker room full of older guys in the NBA. 
But we hammer Carmelo Anthony for not playing a team game, for playing too much isolation, for being a black hole, and then we blame Andrew Wiggins because he tried to work within the set of the offense? 
Bill Self is arguably the best coach in college basketball. You live in Kansas City for two years, you learn how incredible of a coach he is. He gets through to the kids, he builds them as a team, he wins game after game after game, conference title after conference title. 
Former KU forward Darrell Arthur said this week that playing for Bill Self helps make guys better pros long-term because of what they learn at KU. I think that's absolutely true. They learn a deeper, more fundamental understanding of how to succeed in team basketball, how to be a professional, how to conduct themselves. 
But the fact remains that top talent recruits have not only been rare a KU, when they've played under Self their draft stock has plummeted. His system is conducive to winning games, to winning titles. It's not the best for showcasing talent, especially not on the wing. 
I went back through KU's possessions in the second half of the loss to Stanford expecting to find that Wiggins really was too passive. That he deserves the blame for not forcing the issue. The evidence paints a different picture. 
(Tangent: Can we maybe take a second and recognize that maybe, just maybe, Stanford just played better? They rebounded well, they executed a zone against a team that couldn't stretch the floor, and they made plays. Sometimes this stuff happens. Sometimes the other guys are just better and it doesn't have to be a reflection on one player's entire career. This is the crux of my point.)
This was the one that stuck out to me the most. Wiggins nabs the offensive rebound. He's covered by two guys. Is he supposed to force it up there? He kicks it out and the offense resets. He tries to get the ball back, he's ready, he's calling for the ball. 
Nope. Nothing. Sorry. Meanwhile, the possession ends in a highly contested layup attempt over two bigger players. 
Here, a teammate literally has to tell his point guard by pointing to get him the ball. Wiggins winds up drawing a foul.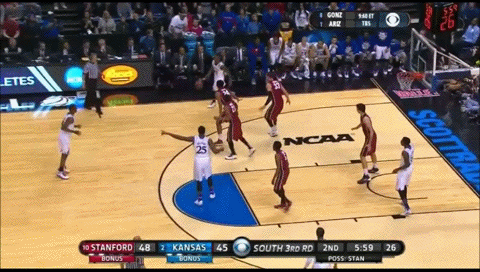 This was an awful possession for Wiggins. He takes the ball and just tries to create too much through the zone, getting stripped and the resulting tie-up has a Stanford possession arrow.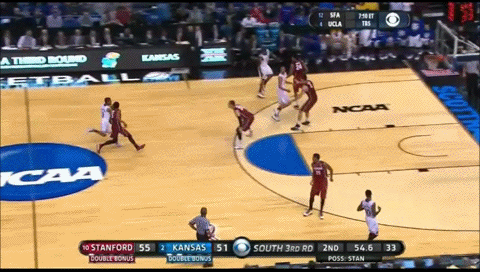 Wiggins spreads the floor here, finds a seam and puts up a quality shot. He doesn't airball, he doesn't badly miss. He just rims out. Basketball.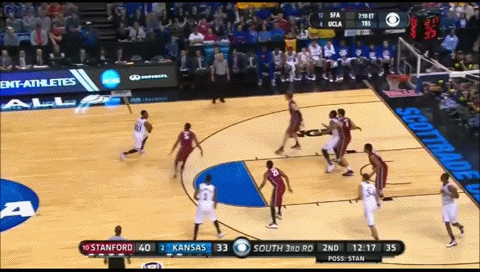 There's a steal and Wiggins bolts to the rim. He has a lob opportunity. The move to try and find the open outside shooter might be the smart one... if the shooter shoots. He doesn't.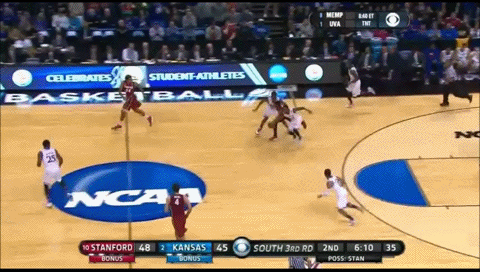 This is not the play of a player who lacks leadership or motivation. There are legit reasons to lean towards one of the other prospects. But before we bury Wiggins under overhyped labels, maybe consider how we got here and why we shouldn't overreact to a single game. After all, Rock Chalk and all that. 
James Harden is expected to return for this national TV contest between the Timberwolves and...

Philly and Boston are matching up again after the Sixers' second-half collapse in London

Kris Dunn somehow took a chunk of the Bulls court out with his teeth, but didn't lose any in...
The fallout from the Rockets-Clippers tussle continues; no Clippers were disciplined

DH12 is picked for free throws after a teammate gets ejected. He makes both, and lets Scott...

Bell was injured defending a Robin Lopez dunk and had to be taken off the floor in a wheel...