Why are the Pistons pursuing Josh Smith and Andre Iguodala again?
The Pistons need to chill out, not pursue Josh Smith or Andre Iguodala in free agency and let their team develop.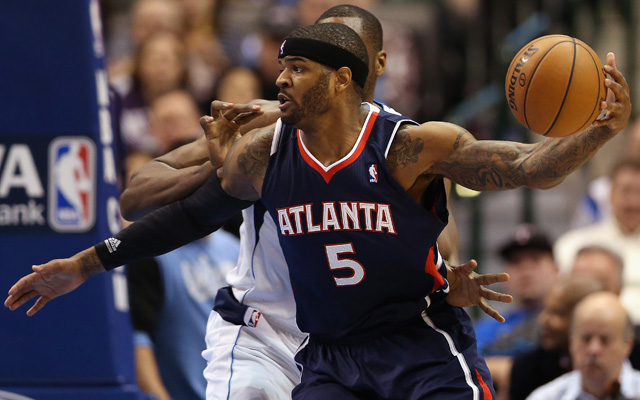 Since NBA free agency began, the Detroit Pistons have been linked to a plethora of star small forwards. A gaggle. Myriad, even.
The headliners are Josh Smith and Andre Iguodala, neither of whom is a "pure" small forward. Iguodala most often plays the shooting guard position as he did last season in Denver, and Smith often moved down to power forward in Atlanta with Al Horford.
But they're pretty much small forwards. They're interesting examples, though. The traditional small forward is a slasher who can shoot from the outside, rebound a little bit and is the bridge between the backcourt and the frontcourt while the point guard handles the ball. The new model, however, is a perimeter-based ball-handler whose athleticism allows him to create his own shot off the dribble and a passing skill to distribute to teammates.
Oh, and they need to shoot 3s. Which is funny, because neither Smith nor Iguodala can hit from the perimeter.
Here's the only way that you can interpret what Detroit's trying to do here: When you have a young roster like they have, you want it to grow. But you also don't want it to fall apart. If you don't start winning, all you eventually have is a bunch of players who once seemed like a good combination but never went anywhere. Having Brandon Knight, Kentavious Caldwell-Pope, Greg Monroe and Andre Drummond is great, but you have to do something with them, and Monroe's already been wasted for two seasons.
So they're trying to accelerate the process. A wing would tie the room together, so to speak, and take some pressure off their guards to score and their bigs to rebound.
But there's an issue here. Smith and Iguodala are the thing on the table that makes the good meal taste great. It doesn't make the meal. You can't have that as the main serving. You'll either: A) get sick, or B) hate it and never want to eat it again.
Smith needs structure, order and high expectations. He has always played in Atlanta, where the general idea was "Oh, hey. We're not bad! Neat!" He needs a very strong system and a consistent floor leader to keep him tuned in and away from mid-range shots. He needs someone to drive the best out of him. A young and up-and-coming team on a max contract is not a great place for him.
Iguodala defers way too often. He's good enough to be the primary defender and the core of the system as well as the team leader. But you need so much around him offensively that it creates a confusing hierarchy. You can't give him the ball and let him go to work, but he's too good not to play like an elite player on both sides.
So while Detroit's motivation and idea is pretty good, its execution here needs to be careful. You can't rush a rebuilding project. Their instability at head coach, combined with the God-awful decisions to re-sign Tayshaun Prince and Rodney Stuckey, mean that they've been set back. But they can't just skip ahead. There's no cutting in line. You have to stick with it.
Four years ago, the year before LeBron James and a huge free agency class was set to enter the market, the Pistons entered free agency flush with cap space. They chose to splurge on the options available that summer instead of wait. The result was massive contracts for Ben Gordon and Charlie Villanueva. At the time, those didn't sound as bad as they do now.
But that's the point. They never sound as bad at the time as they do later.
It's 2013, and James and a big free agency class are set to enter free agency next year. Can the Pistons avoid their temptation to try to skip ahead and stay with the process? Their decision on the wing could determine if they get stuck in purgatory again.
We've got all the scores, highlights and news for Thursday night

The Sixers big man got his first All-Star selection -- and maybe some revenge -- on Thursd...

It appears some players are not entirely taking the All-Star voting process seriously
There were some weird discrepancies between the fan, media and player votes

LeBron and Steph will be the captains for the 2018 NBA All-Star Game

Arron Afflalo was involved in an altercation with Timberwolves big man Nemanja Bjelica on...