Why Danny Granger is unlikely to be traded
A look at the impact of trading Granger on the future of keeping Lance Stephenson for the Pacers.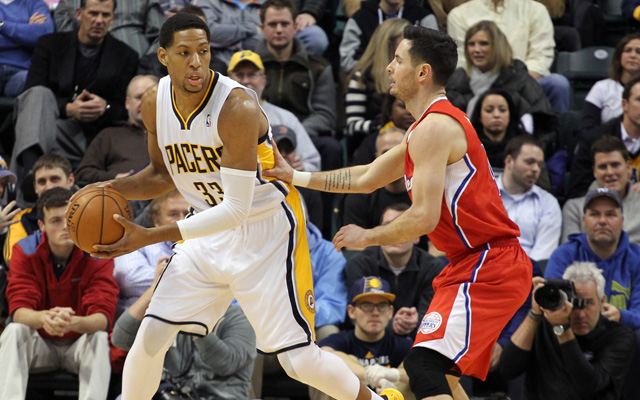 Danny Granger was a huge question mark coming into the season. He'd missed almost the entirety of the past two seasons with knee injuries. If he was healthy, he could be a major boon to Indiana's scoring depth, something they badly needed. If not, he was a $14 million expiring contract to be used on the trade market. 
Everone has their own favorite Danny Granger trade idea. Mine involves former Indiana University star Eric Gordon going to Indy in exchange for Granger, giving the Pacers a scorer who can create his own shot (something the Pacers badly needed last year) and giving the Pelicans another talented frontcourt scorer and cap relief. It hasn't been so much a question of if Granger would be traded, but where. 
But Pacers blog 8 Points 9 Seconds has a great piece breaking down why that's not going to happen. It starts with a discussion of a possible trade involving Jamal Crawford from the Clippers, and uses it as an example of why it won't happen. 
There's one problem with the trade, though: It puts the Clippers around 7.3 million over the luxury tax and they'd need to add a player(s) earning that much this season to the trade.

But just for the heck of it let's say that trade works out for both teams. The Pacers have still got a big problem.

Lance Stephenson's contract runs out this offseason and, as of now, the Pacers will be paying around $65 million in total payroll for the 2014-15 season, according to Shamsports. The estimated luxury tax threshold next season is $75 million. Now add in Jamal Crawford's $5 million salary for next year to the Pacers' payroll and that will put them at around $70 million, leaving them only around $5 million under the luxury tax. That's not going to be anywhere near enough to sign Lance next year — and with the way Lance has been playing recently, even being $10 million under the tax line will be cutting it close.

So in other words there are only two ways the Pacers can trade Granger: Either give up on re-signing Stephenson next season already (and go all in on this season) or try to find a team that has a player the Pacers could use this season, with an expiring contract to trade for.
via Danny Granger Trade | 8 Points, 9 Seconds.
Stephenson has basically created an impossible position for the Pacers with his improvement. The Pacers, with their market, revenue, and TV deal, are not going to pay the tax. This is from last summer, but it's unlikely that even if Indiana were to win the title things would change: 
Larry Bird on free agency: "We will not go into the tax for any reason."

— Scott Agness (@ScottAgness) July 1, 2013
So if they're not going above, that pretty much means they have to keep all available space open (i.e. taking on no more salary beyond this season) and may have to even cut a little, depending on what deal Stephenson gets. Stephenson's not a restricted free agent this summer, he's unrestricted, and based on the number of triple-doubles he's collecting along with his difference-maker D and playmaking, he's going to get some pretty high offers. 
But beyond the future implications, there's a really good reason not to move Granger. This is the best team in the league. They're on pace for homecourt vs. Miami. They have the depth with Granger to find scoring options if one player doesn't have it. In short: it ain't broke, don't fix it. Make the run with this team. You never know how future decisions are going to play out, how title windows can close. Indiana has every reason to feel optimistic with Paul George and Roy Hibbert around for the future, but until you are forced into a decision, you don't mess with this. There's "always looking to improve our team" and then there's tinkering yourself into the scrap heap. 
Now, Granger could still get moved. If a team really did fall in love with the idea of Granger and was willing to send back less money or players available to be waived next year who could help this season, Indy might pull the trigger. But the big takeaway remains: there's too much risk involved in trading Granger at this point. Not because of Granger, but because of Stephenson. 
Granger is averaging 8.8 points and 3.5 rebounds on 37 percent shooting this season for Indiana. Now watch him get traded this week. 
LeBron had 29 points, 11 rebounds, and 10 assists in the Cavs' 109-100 win over the Jazz

The montage showed Carmelo's best Knicks moments before playing the Thunder game

KCP can't leave California for 25 days due to the terms of his pleading guilty to a misdemeanor...
Keep it right here for all of the news, notes, scores and highlights from around the leagu...

LeBron tried to keep what he said a secret, but one mic on the court picked it up

SportsLine's Mike McClure, a DFS pro with more than $1M in winnings, gives optimal lineup...