Why isn't Cavs' No. 1 pick Bennett in D-League, where he belongs?
Among the topics buzzing around the D-League Showcase is why No. 1 pick Anthony Bennett of the Cleveland Cavaliers isn't here to get a real chance to develop his game.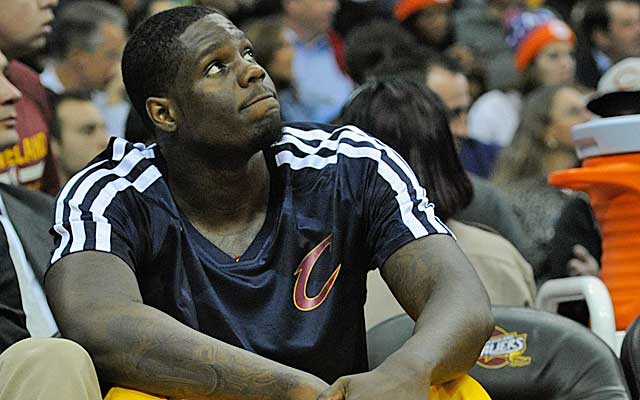 More NBA: Bulls waive freshly acquired Bynum | How does Deng fit Cavs?
RENO -- Under the watchful eye of NBA scouts and general managers, players are showcasing their talents this week in hopes of landing a 10-day contract -- or more -- at the D-League Showcase.
Among them are players who've already earned a spot in the NBA through the draft, including 2013 first-round picks Shabazz Muhammad and Rudy Gobert. Muhammad, the 14th pick on assignment from Minnesota, had 24 points and seven rebounds on Tuesday in the Iowa Energy's 133-121 victory over the Bakersfield Jam. Gobert, the 27th pick on assignment from Utah, had 11 points and 12 rebounds.
Seven second-round picks are competing in the Showcase as NBA teams (and agents, by the way) have become more open to using the feeder league as a true developmental tool. In all, nine first-round picks from the 2013 draft and 13 second-rounders have appeared in the D-League this season.
Assignment stints can give players a chance to have structure, practice time and meaningful, competitive minutes that elude them for now at the NBA level. The Celtics' Rajon Rondo has even asked for a D-League assignment to accelerate his return from a torn ACL.
But one player who fits at least some of the criteria for a D-League stint is notably absent from this week's festivities in Reno: No. 1 overall pick Anthony Bennett.
Bennett, enduring an abysmal start to his NBA career in Cleveland, continues to toil sparingly -- and mostly unsuccessfully -- in the Cavs' rotation. Bennett has scored seven baskets since Christmas, including a 1-of-6 performance in 16 minutes of a 111-93 victory over Philadelphia on Tuesday night.
Among the topics swirling around team executives gathered in Reno is why the Cavs elected not to assign Bennett to the D-League to get some confidence and experience. Their other first-round pick, Sergey Karasev (19th overall), has done several stints with the Cavs' D-League affiliate in Canton.
"He's a young guy, but every day he gets a little bit better," said Cavs coach Mike Brown, believed to have been instrumental in the team's stunning decision to take Bennett with the No. 1 pick. "At times, you see glimpses of his potential."
The most obvious reason for not subjecting Bennett to a D-League stint is the embarrassment factor. No top overall pick has ever competed in the D-League; the highest-drafted player to appear in a D-League game was 2009 No. 2 pick Hasheem Thabeet. But other top picks have toiled in the development league, including Shaun Livingston (No. 4 in 2004), Johnny Flynn (No. 6 in 2009) and Joe Alexander (No. 8 in 2008). Alexander is here in Reno, coincidentally, with the Santa Cruz Warriors, but is injured.
The point is, couldn't Bennett, 20, benefit from a developmental stint in a league where he could get consistent practice reps and meaningful minutes? Especially now, when the Cavs' acquisition of Luol Deng in Monday night's trade with Chicago presumably will push Bennett even further onto the fringe of the Cavs' rotation?
If half the battle with highly valued draft picks is developing them to their full potential, why not use all the tools in your bag? The D-League has come a long way as an accepted venue for legitimate player development. The question of what to do with Anthony Bennett perhaps represents the next frontier.
Porzingis is questionable for Carmelo Anthony's return to MSG on Saturday

The Spurs and Rockets will renew their in-state rivalry on Friday night

Anthony will play at Madison Square Garden on Saturday for the first time since being trad...
SportsLine's Mike McClure, a DFS pro with more than $1M in winnings, gives optimal lineup...

The Cavaliers won the much-anticipated matchup, 121-112

Two of the league's most interesting teams will meet on national TV on Friday night