Why Kobe Bryant deal is worth it for the Lakers, and then some
The Lakers signed Kobe Bryant to a two-year, $48.5 million extension on Monday, and the five-time champion is worth every penny -- and then some.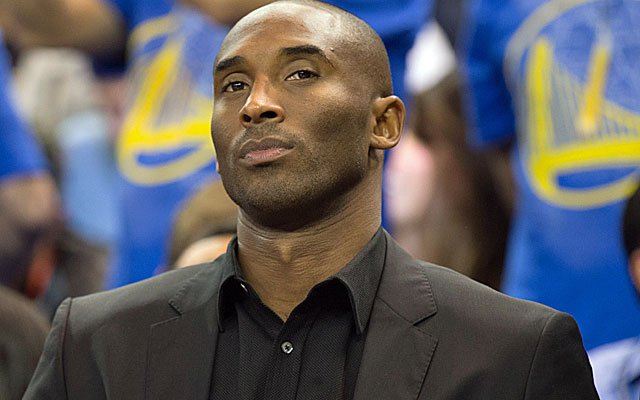 Kobe Bryant is 35, has logged the second-most minutes among all active NBA players and has yet to return to game action after his Achilles' tendon snapped this past April. So of course, the Lakers signed him to a two-year, $48.5 million extension on Monday.
Uh, what?
Understand a couple of things. At this stage of Bryant's career, as one of the greatest players ever, he has earned a certain stature and pay grade in the NBA. He has won five championships for the Lakers and made the organization countless hundreds of millions of dollars during his 17-year career. 
So a portion of what Bryant will be paid over the next two seasons amounts to a sort of lifetime achievement award. Having entered the NBA just before the league successfully put a cap on maximum individual player salaries, it can be argued that if Bryant were paid what he was truly worth over the past decade-plus, the Lakers would owe him another $250 million -- at least.
I'm not an accountant or economist, so that's simply a guess. But just to give you an idea, Forbes estimated earlier this year that the Miami Heat were worth $364 million before LeBron James arrived and are now worth $625 million. The publication estimates that the Lakers are one of two teams in the NBA (the other being the New York Knicks) worth $1 billion. If you don't think a significant portion of that is due to Kobe Bryant, I've got a bridge in Brooklyn to sell you. (For a couple of knishes, a cheesecake and a marble rye, I'll throw in the basketball team that plays there.)
So while Bryant remains the highest-paid player in the league, he also remains something else in the era of compressed player salaries and artificially limited individual maxes: underpaid.
Whether Bryant is overpaid when his salary is viewed through the prism of the 2011 collective bargaining agreement and its massive luxury-tax penalties is a different sort of debate. What's indisputable, though, is that Bryant is taking a pay cut from the maximum the Lakers could have paid him. Under the rules, Bryant was entitled to 107.5 percent of his previous year's salary in this extension. Since he makes $30.5 million this season, Bryant's salary ceiling (subject to negotiation, of course) was $32.8 million for the 2014-15 season.
By agreeing to a '14-'15 salary of $23.5 million and a '15-'16 salary of $25 million (the collectively bargained 7.5 percent raise), Bryant is accounting for the expected decline in production for a player his age while also opening up cap room for the Lakers to spend over the next two free-agent summers. With only Bryant and Steve Nash ($9.7 million) on the books next season, the Lakers will have room for a max free-agent with about $12 million to spare. (More room would open up if the Lakers were to waive Nash and "stretch" his remaining obligation over the next three seasons).
As of now, only Bryant is on the Lakers' books for the '15-'16 season.
Here's another point that is relevant to the discussion of whether Bryant is worth all this money at this stage of his career. Once it was revealed that Bryant's agent, Rob Pelinka, and the Lakers were discussing a contract extension, you could have gone to Las Vegas (and then to the bank) with the following prediction: that extension was going to be signed before Bryant logged a single minute of game action in his return from Achilles rehab. Bryant returned to practice recently and proved that, if nothing else, his leg is sound. But there was no way a five-time champion and franchise money-maker such as Bryant was going to risk coming back from a serious injury without assurances beyond this season.
Kobe doesn't do lame duck, in other words, nor should he. 
As the Lakers lick their wounds from Dwight Howard's departure and prepare for the inevitable post-Bryant era, Bryant himself remains the team's biggest draw. In fact, there's only one way Bryant won't remain the Lakers' biggest draw after they've completed their free-agent shopping next summer, and that would be if they signed LeBron. 
That's a farfetched idea, but the Lakers will have massive amounts of cap room next summer even with Bryant's extension on the books. (Even if they hadn't re-signed Bryant now, their space would've been clogged up by the cap hold associated with Bryant's free-agent status. His new salary actually limits that burden.) And when it comes time to go shopping for a max player to fill the void that Howard left behind, the idea of chasing a championship with Bryant and then taking the keys to the kingdom from him will be high on the list of what the Lakers will be selling.
So in the grand scheme of things, the Lakers didn't pay Bryant what he's worth -- not even close. A serious argument can be made that he's actually been worth far more.
If you've learned anything about Bryant, you know he's still chasing greatness, still chasing that sixth championship. He will give the Lakers everything he has, even if that everything is diminished -- and even if the salary figure next to his name seems outlandish when viewed in the context of a much more restrictive salary structure than the one that was in place when Bryant came into the league.
Kobe Bryant has made a lot of people a lot of money, and he'll continue to make some more for himself. Debating whether he's worth $48.5 million over the next two seasons misses the point that he's been worth so much more than that for so long.
Warriors' forward doesn't understand the reasoning behind the all-too-common double technical...

Hardaway Jr. gave a 'safe' call like he was an umpire in baseball

Barnes hits the trey with less than a second left to lift Mavericks to dramatic 95-94 vict...
Kevin Durant was once again back in Oklahoma City

Gregg Popovich has never seen an injury lead to the issues that Kawhi Leonard has been fac...

Kobe Bryant, of course, had his 81-point game against Rose and the Raptors back in 2006