Why not bring Lionel Hollins back to Memphis?
With turmoil in the front office and on the bench, why wouldn't the Memphis Grizzlies do something logical for once -- rehire coach Lionel Hollins?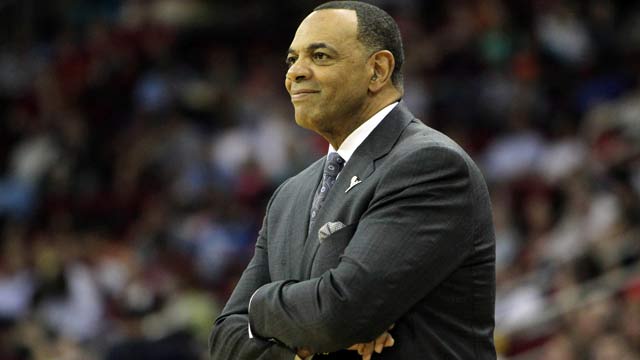 More on Memphis: Report: Grizzlies want pick for Joerger | CEO Levien out

As the NBA offseason coaching and front office carousel spins, nowhere does it spin more curiously than Memphis.
This week, the team abruptly announced that CEO Jason Levien and assistant GM Stu Lash were leaving the organization. Levien, a former agent who was an executive with the Sacramento Kings before playing a role in the ownership transfer of the Philadelphia 76ers, had grown more distant from Grizzlies managing owner Robert Pera in recent months. The decision to remove Levien and Lash, another former agent, clearly was a repudiation of their leadership.
What about the franchise turning a profit last year for the first time in its existence, according to a person familiar with the team's financials? What about the Grizzlies being named the best organization in professional sports by ESPN The Magazine? Whoopsy. The Grizzlies are in turmoil again, with Chris Wallace summoned to serve as interim GM after a two-year exile and coach Dave Joerger being granted permission to interview with the Minnesota Timberwolves.
Wallace told the Memphis Commercial-Appeal that he hasn't been to the team's offices in nearly a year after being stiff-armed aside with the rise of Levien, Lash and John Hollinger. Welcome back, Chris!
The biggest decision that Levien and Lash made during their two-year run atop the Grizzlies' basketball operations was getting rid of coach Lionel Hollins after a 56-win season that culminated in trip to the Western Conference finals in 2012-13. (Yes, that was an even bigger decision than trading Rudy Gay.)
Hollins has spoken publicly on several occasions about the raw deal he got when all that went down. After all, Hollins led the Grizzlies to three straight playoff appearances and had the team in the top 10 in the NBA in defensive rating in each of those seasons -- including No. 2 in '12-'13, when Memphis lost to the Spurs in the conference finals.
The Grizzlies won 50 games this season and were seventh in defensive rating under Joerger. But if you ask the players -- and Pera did, when according to USA Today, he conducted postseason exit interviews himself instead of having Levien and Joerger do it -- they didn't start thriving until they switched back to Hollins' schemes.
So here's a serious question, or actually, several of them rolled into one: If the guy who hired Hollins in the first place is back ... if two of the guys who ran him off are gone (Hollinger is still tentatively on board) ... and if the owner who oversaw all of this nonsense has allowed the coach who replaced Hollins to pursue another job ... then why not do something logical for once?
Why not bring Hollins back?
It probably won't happen, but only because it would make too much sense -- and nothing the Grizzlies do makes sense. Assuming Zach Randolph either opts in or re-signs, the team will have essentially the same roster it did when Hollins left. What the team needs more than anything is stability, and teaming Wallace and Hollins again before the window closes on the current roster would provide a much needed dose of it.
Hollins has been in the mix for several openings this offseason, and was next in line for an interview with Golden State when the Warriors closed the deal with Steve Kerr. He's on Cleveland's short list, and he interviewed with Minnesota a few weeks ago. Ironically, he could get that job if compensation talks between the Timberwolves and Grizzlies over Joerger fall apart.
One of the problems, clearly, is that nobody can figure out what in the name of Memphis barbecue the Grizzlies are doing. Will Wallace -- who was pushed aside in favor of the new guys who didn't re-sign his coach and promoted a new one -- get his permanent job back and hire the next coach? Will Pera seek a new top basketball executive, who in turn would want to hire his own coach -- probably someone who had nothing to do with all of this?
Nobody knows. But the one thing we do know is that the core of the roster, under contract for next season, would welcome Hollins back with open arms. And unless Pera is planning to trade everybody, tear the roster down to the studs and start over, why wouldn't he at least consider it?
Why couldn't the Grizzlies do something that makes sense for once?
Green helped KD through the tricky situation but not without enjoying his teammate's blund...

Vonleh reportedly suffered a shoulder strain during a pick-up game at the team's facility

OKC and Westbrook have until October 16 to agree to the deal
The league is implementing the 'Zaza Rule' and 'Harden Rule' in 2017 geared toward player...

Thunder GM Sam Presti went on to say the procedure on the MVP's right knee was "nothing se...

Hayward credited the Cavs guard as a big reason why he chose Boston in free agency