Why the East should not provide the Heat 'a window'
If the Miami Heat's Big 3 are going to wait to give Pat Riley time to sign a supporting cast, why shouldn't the league aggressively go after those targets?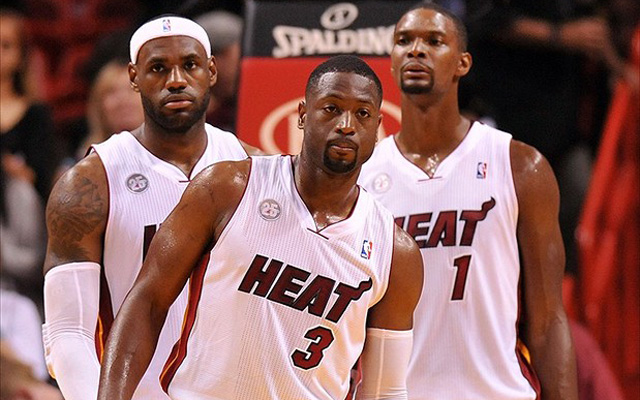 More Offseason Analysis: Coaching changes, news | Free Agency | Draft | Rumors
So the Heat have it all worked out. The Miami Big Three/Triad of LeBron James, Dwyane Wade and Chris Bosh have reportedly 'settled on numbers' for how much they want from the Miami Heat in free agency, and are going to hold off signing to provide Pat Riley with a "window" in which to improve the roster.
A source told Yahoo Sports that the Heat are "buying time" for Pat Riley to pull off his master plan, whatever that may be, given the admittedly "small" amount of cap space the Heat will have. One bigger issue here: If you and I know that they're buying time for him, then every other team has known this for at least a little while. Which is bad for Miami.
See, typically, when a big player is on the market, there's a domino effect that gets put in place. Everyone will wait to see what the star player or players will do, to keep their options open, which limits deals other teams can make and causes agents to want to wait for whoever had their Plan A fall apart with cap space to spare. But knowing that James, Wade and Bosh are going to return to Miami, why woud you sit back and let the Heat get out in front while you wait for the inevitable?
If you're an Eastern Conference competitor with cap space -- think the Bulls or Hawks -- why wouldn't you start aggressively ramping up your efforts for the noted Heat targets like Kyle Lowry (expected to re-sign in Toronto), Marcin Gortat, Trevor Ariza (both expected to re-sign in Washington), or Marvin Williams, even if you're just bumping up the offers a little? Yes, you'll have some free agents that want to see if the four-time East champs have a spot open on the wagon, but agents risk the market drying up just as much as teams risk their options going away by waiting.
In other words, after Carmelo Anthony decides where he wants to go, other teams should swarm to attack the Heat's free agents. This is some game theory stuff, where essentially every team in the Eastern Conference, and really the league, benefits by diminishing a Miami reward. Nearly every viable option will have more money to spend than the Heat, and that might trump the number of years Miami can offer, allowing more money for shorter deals.
I'm not suggesting that they do anything crazy, like give Ariza four years, $56 million or anything. I'm simply stating that the best possible outcome for the entire Eastern Conference, considering the absolute absence of a significant "second best team in the East" given Indiana's instability and the Lance Stephenson situation, is to press hard to limit what Miami can do.
Miami is making a calculated move that it can upgrade the roster with limited cap space despite James taking the max while retaining the Big Three. The East would do well to respond by using its assets to combat that. Ironically, critics would call that collusion and tampering.
Mirotic and Portis combined for 49 points as the Bulls won their fifth straight game, beating...

Gobert, who missed 11 games earlier this season with a knee injury, will have an MRI

Get all the latest scores, news and highlights from Friday's NBA games
Porzingis is questionable for Carmelo Anthony's return to MSG on Saturday

The Spurs and Rockets will renew their in-state rivalry on Friday night

Anthony will play at Madison Square Garden on Saturday for the first time since being trad...