Why the Rockets should stop posting up Dwight Howard
Rockets big man should learn to love the pick and roll more.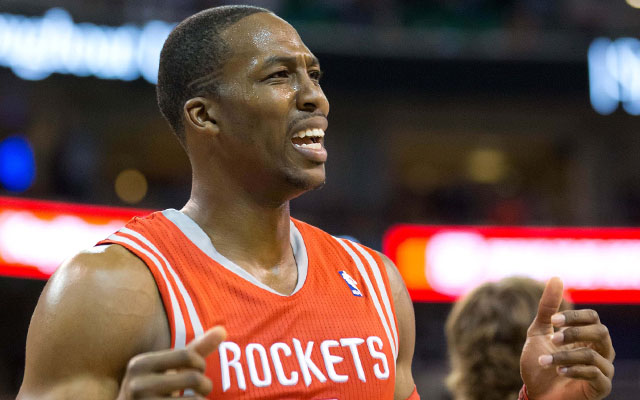 NBA Reddit brings us this piece of info on Rockets center Dwight Howard's season in the post, as of Saturday, January 18th.
Even with Dwight's post game's recent resurgence, it's still plain as day that posting him up is a bad play. Among the plethora of evidence that show this, here's one that really sticks out. His PPP (Points Per Possession) on post-ups is still only 0.75 (source: Synergy). The Rockets' post-ups as a team are also 0.75, which is not surprising considering that Howard accounts for 78% of Houston's post up plays. What you might find surprising is that Houston's opponents score 0.84 PPP on post-ups. That's right, the very team who's talking about posting up more is actually much worse at it than the teams it defends against! Maybe Howard should worry less about posting up and more about defending it. 

In fact, the Rockets' offense is significantly better than their opponents' in every type of play (0.96 vs 0.87), except post-ups and isolations (0.78 vs 0.83). Unfortunately, these types of plays combine for 22% of their possessions.
via Hilarious but sad Howard post-up stat. : nba.
For fun, here are the other major play sets the Rockets run for Howard from Sunday, January 19th. 

Houston ranks 29th in the league in points per possession in the post. Now, maybe this is a matchup issue. Against the Blazers Monday night, Howard scored 15 points on 14 possessions in the post, and that was against a very good defensive center in Robin Lopez.  You can also argue that the problem is post entry passes, with the Rockets' shorter guards struggling to get him the ball when he establishes position. Not getting the ball when he does have an advantage would cause his numbers to go down. 
But now you've entered into "trying to fix something that's broken instead of workin on what works already" land. The pick and roll with James Harden or Jeremy Lin is devastating, as we showed you early in the season. Why not run that more? 
These are the questions we've asked for two years, as Howard complained about post touched in LA last year. Maybe this is something Howard feels needs to be addressed, but at the same time, Howard's been pretty quiet in terms of compaints. He learned his lesson last year. This is less about Howard's feelings on the subject and more about the Rockets' gameplan. The Rockets just aren't very good in the post with Dwight Howard. 
LBJ, CP3 and other players around the league show support for Steph Curry and the Warriors...

George is on potential contender in OKC and Pacers can move on to a new era. Everybody's happy,...

Donald Trump didn't appreciate Curry's comments and responded on Twitter
Trail Blazers guards Damian Lillard and C.J. McCollum have been pushing for Anthony to join...

Anthony reportedly gave the Knicks an expanded list of teams he'd waive his no-trade clause...

The Suns will also receive a second-round pick in the deal