Will longer break put the fun back in All-Star weekend?
In recent years, the NBA's showcase event has been overshadowed by endless speculation about the trade deadline. By adding some much needed breathing room with a longer All-Star break, the fun might be restored.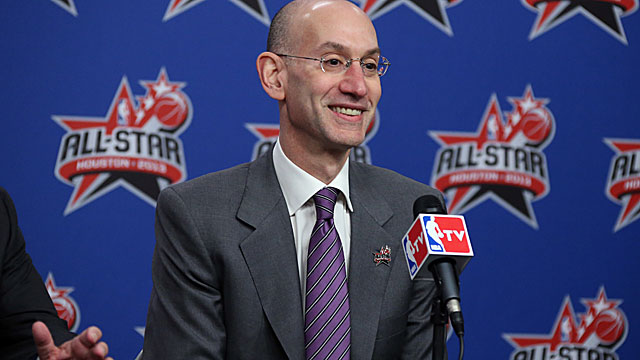 In releasing the schedule for the 2014-15 season, the NBA followed through on Adam Silver's promise to consider a longer All-Star break in response to a request from LeBron James and other stars.
Considering that the NBA season now runs from the opening of training camps in October, straight through the Finals in late June -- and for many players well into the summer with Summer League and international obligations -- it's a welcome change. Weary stars whose All-Star weekend schedules are packed with league, personal and promotional obligations will now get some actual recovery time before the grind resumes. In theory, more rested players (and coaches) will result in a better post-All-Star product.
Each team will have a minimum of seven days between games with the new format, with the majority of the league not resuming play until the Friday after the 2015 All-Star Game at Madison Square Garden on Sunday, Feb. 15. The trade deadline will be Feb. 19, so it won't be much of a break for team executives (or, selfishly, for media) working feverishly on trades. But at least players won't face the distraction of suiting up for teams that are about to trade them.
How did the NBA accommodate the change? The season doesn't begin any sooner or end any later than usual, so there can only be one answer: more back-to-backs. According to schedule data obtained by CBSSports.com, each team will play an average of 0.6 more back-to-backs next season than in 2013-14.
In the past four 82-game seasons (excluding lockout-shortened 2011-12), the league has gradually reduced the number of back-to-backs -- from an average of 20.1 per team in 2009-10 to 18.7 last season. In 2014-15, teams will play an average of 19.3 back-to-backs -- a figure that is comparable to the 19.2 average in '12-'13 but still less than the two full seasons before that.
Could such a slight increase in back-to-backs raise injury risk? Limiting wear-and-tear and overuse injuries was one of the key goals in reducing the number of back-to-backs over the past few seasons. But it's difficult to argue that less than one additional back-to-back on average per team would have any significant impact on injuries -- as long as the back-to-backs are evenly distributed.
Silver is open to other scheduling changes as he enters his first full season as commissioner, and this one is by no means written in stone going forward. But from the standpoint of letting the league put on a better All-Star weekend show, with the focus on the game instead of the trade deadline, this should be a positive change.
From Amar'e Stoudemire to Chris Paul, from Carmelo Anthony to Dwight Howard, recent All-Star weekends have morphed into a glorified trade deadline preview. With the deadline coming so quickly after All-Star weekend and with play generally resuming 48 hours after the All-Star Game, a weekend that is supposed to be a showcase of the game's best has consistently been overshadowed by the transaction culture that has gripped the league and its media coverage.
The seven-day break will give everyone some much needed breathing room. Who knows? It might actually make All-Star weekend enjoyable for a change.
One thing it probably won't do, however, is compel the game's biggest stars to resume participation in the dunk and 3-point contests on All-Star Saturday night. The short break and packed All-Star schedules have been among the key reasons that superstars have for years avoided what used to be a highlight of the weekend. But there is no indication that any discussions have taken place about using the longer break to entice the likes of James, Paul George (when healthy), Russell Westbrook and others to join the Saturday night festivities and restore their long-lost luster.
Of course, adding two additional days without games after the All-Star Game will only put more focus on trade deadline moves at that time. But in theory, the focus will be shifted away from the league's showcase event.
One step at a time.
The Suns firing Earl Watson three games into season is second-quickest firing in NBA histo...

Bledsoe tweeted, "I Dont wanna be here"

Giannis had his hand on McCollum's hip when he poked the ball away
Teodosic had to leave the Clippers' game Saturday night against the Suns

Irving said recently that he does not regret the profane outburst

Wade is having a rough start to his first season playing in Cleveland