Will Seattle group's hostile takeover of the Sacramento Kings work?
The group desperately trying to move the Kings to Seattle against the NBA's wishes has a last-ditch plan that won't work.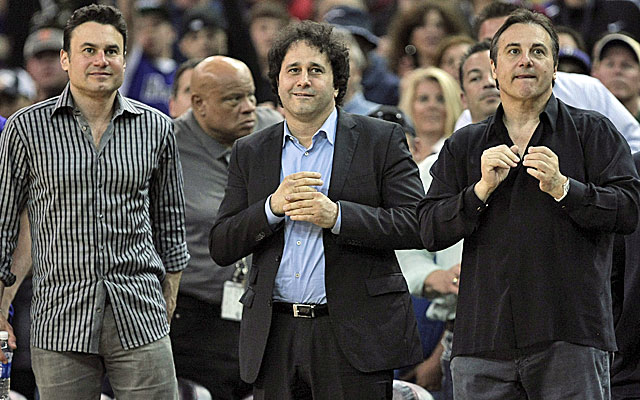 Let's review: The Maloofs made a deal to sell the Sacramento Kings to Chris Hansen and Steve Ballmer, who planned to move the team to Seattle. The city of Sacramento put together an ownership group and passed another funding plan for a new arena in an effort to keep the team.
Owners spent weeks considering whether Sacramento's efforts to keep the franchise passed muster under the league's constitution and bylaws, which set forth various specific criteria that must be considered before allowing a team to move. On April 29, the owners' relocation committee voted 7-0 to reject the Kings' bid for relocation, a strong statement that was expected to resonate with the full board of governors in a May 15 vote in Dallas on the Kings' future. 
More on Kings sale
Stories
Before that committee recommendation, which under normal circumstances would be followed nearly 100 percent of the time by the full board of 30 ownership representatives, Hansen announced that his group was raising the ante. The Hansen-Ballmer agreement to purchase 65 percent of the team from the Maloofs would now be based on a valuation of $550 million, an increase of $25 million. Now, Hansen has sweetened the pot again -- increasing the franchise valuation by another $75 million as part of a backup plan to buy 20 percent of the team from the Maloofs if owners formally reject relocation on Wednesday in Dallas.
Oh, and as part of this backup plan, owners are being offered a relocation fee of $115 million -- approximately $4 million per owner -- in a nearly four-fold increase of the $30 million fee that owners received when the SuperSonics moved from Seattle to Oklahoma City in 2008, league sources confirmed to CBSSports.com on Sunday.
Question No. 1: What?
Question No. 2: Can we please have one of those fast-talking auctioneers with a cowboy hat and a lip full of Skoal at the Board of Governors meeting on Wednesday?
Question No. 3: Pretty please?
I could go on and on with the questions, but let's stop for a moment and call this what it is: an extortion attempt. A hostile takeover.
If you were to point out that the Sacramento group led by software billionaire Vivek Ranadive did the same thing when it agreed as part of its negotiations with the NBA to forgo revenue sharing once the Kings moved into a new Sacramento arena, I'm not going to argue with you. There are no clean hands in this process.
But what the Maloofs and Hansen-Ballmer have conspired to do here is not only shocking for its avarice, but also incredibly shortsighted and illogical. Since we love to analyze what makes NBA owners tick, let's follow this Hansen-Ballmer backup plan to its illogical conclusion.
Let's assume for a moment that the owners on the relocation committee -- Clay Bennett (Thunder), Ted Leonsis (Wizards), Micky Arison (Heat), Greg Miller (Jazz), Herb Simon (Pacers), Glen Taylor (Timberwolves) and Peter Holt (Spurs) -- are so tone deaf and arrogant that they would admit publicly that a bribe of $4 million per owner was sufficient reason to change their minds and say that relocation of the Kings now sounded like a pretty good idea, after all. Let's assume they would actually do that. The NBA would be setting a precedent for future prospective owners that it's OK to circumvent the league's constitution and bylaws and simply continue throwing money at them until they say yes. That would be something; something that's not going to work.
Assuming this would not happen, because the owners presumably would want to maintain at least the appearance of dignity and not open up their own franchises to hostile takeovers, what's the end game? If the full board follows the recommendation to reject relocation, and the Maloofs refuse to sell to the Ranadive group, what happens next?
Would the owners on the advisory finance committee -- James Dolan (Knicks), Wyc Grousbeck (Celtics), Larry Tanenbaum (Raptors), Jeanie Buss (Lakers) and Robert Sarver (Suns) -- recommend that the Maloofs should remain the majority owners of the Kings? Would they recommend that 20 percent of the team should be sold to a group that has vowed to move the team to Seattle, in direct opposition to the relocation committee's recommendation and, presumably, the full board's vote, as well?
Would 75 percent of the owners -- the threshold required to approve an ownership transfer -- vote for such an incongruous arrangement? Clearly, the owners want the Kings to reside in a viable market, with a strong ownership group and a new arena. Does anyone really believe that Hansen and Ballmer are going to buy 20 percent of the team for $125 million and then make an arena deal with Sacramento? If you believe that, then I'll trade you DeMarcus Cousins and Tyreke Evans for LeBron James and a free kick in the groin of your choice.
So this whole thing is a non-starter. The owners on the relocation committee can't change their minds, unless they want to sign off publicly on accepting a bribe. How transparently greedy would that be? 
The owners can't sign off on the team staying in Sacramento with minority owners who are determined to move it against the NBA's wishes -- minority owners who obviously have the wherewithal to become majority owners with one wire transfer.
Could you imagine the owners welcoming someone into their exclusive club as part of an unholy alliance with the members they can't wait to get rid of -- and leaving the team stuck in a city where it has no chance of achieving an arena deal?
One more question: Does this just about sum it up?
Teletovic missed the final three months of 2014-15 season with Nets recovering from same i...

Keep it right here for all of the news, notes, scores and highlights from around the leagu...

The NBA's City edition Nike jerseys are bold and very different
The Wolves may be smoke and mirrors, but the Pacers have the look of a team that can hang in...

LeBron said it might be difficult if the Lakers rookie ducks out of the way before he gets...

Galin Dragiev has his finger on the pulse of the Mavericks and just locked in a play for Thursday's...