Winners and Losers from the 2014 NBA Draft
The Lakers and Celtics do well, the Grizzlies and Sixers' season ticket holders, not so much.
More 2014 NBA Draft: Draft Tracker | Trade Tracker | Complete coverage
A night much quieter than expected on the trade front still held some surprises. The 2014 NBA Draft provided a new stock of athletes and talent in what may go down as one of the better drafts in league history, or one of its most over-hyped. Here are a few teams and people that came out big Thursday night.
Winners
Boston Celtics: Landed a combo guard who could eventually replace Rajon Rondo with Marcus Smart and a plug-and-play wing who can cruise into a starting position if necessary. Smart is a risk because he can't hit from the outside and has shaky shot selection. But he's also strong as an ox and the Celtics defense only gets better with him on the floor. He can stuff stats and produce.
James Young can score and right now is able to fill in at least admirably for Jeff Green, even if he can't score to that degree. He can hit from the outside and get up and down the floor. It's a great combination for Boston, which has a really great young core to build around.
Now to figure out what to do with Rondo ...
Los Angeles Lakers: Nabbed Julius Randle and No. 7 and that's an absolute steal. He's strong down low and has a fearless, relentless attitude Kobe Bryant will love. The Lakers needed an impact player and they found him, something they need with Bryant's limited timeline. Pau Gasol may be gone in free agency and Randle gives them a power forward with more of an alpha dog mentality and a lot more physicality.
To deal with the pressure of being a Laker, you have to be aggressive and Randle certainly is that. And yet, after being picked by the most famous franchise in the NBA, he still gets to bring a chip on his shoulder to fume over going seventh. That combination could do great things for the Lakers. Even if next season Randle doesn't become the star who carries the Lakers forward after Kobe, he's going to help them win games.
Andrew Wiggins: The kid started the year as the No. 1 prospect and finishes the night as the No. 1 prospect. He seems genuinely thrilled to join the Cavaliers, and playing on a team with talent and an established superstar (Kyrie Irving) means he'll be able to develop at the pace he needs.
Jabari Parker: The kid was happy to go to Milwaukee and may be the first person in years happy to go to Milwaukee. And it's a good fit. He gets to be the guy with the Bucks. Parker needed the right circumstances and everything came together for him on draft night.
Knicks fans: Wait, what? The Knicks not only had draft picks, but landed Cleanthony Early and Thanasis Antetokounmpo? That's incredible. Knicks fans have two young, super-athletic players to root for in Summer League and maybe beyond, and if any fan base deserves to have some fun, it's them.
Isaiah Austin: Touching moment when Austin was introduced to a standing ovation by the commissioner. The way the kid has faced the moment and promised to do something with his life in the face of such an unfortunate circumstance is really admirable. 
Speaking of...
Adam Silver: The guy's approval ratings are through the roof right now. The Sterling fiasco, how he's brought transparency and a new energy, the possibility of avoiding a lockout in two years, everything's coming up Silver. 
Losers:
Philadelphia 76ers season-ticket holders: They sat through a year of absolute misery, suffering through the tank effort that was supposed to lead to a payoff. Instead, Sixers fans are looking at another year of absolute tanking. The Sixers did nothing to get better for opening night Thursday. Philadelphia's not a loser, because Joel Embiid and Dario Saric could wind up being very good. Key word: could. We don't know if Embiid's injuries will derail his career or if Saric will eventually come over and, if so, what he'll be. Maybe it'll work out but they needed to nail this draft and instead they get an incomplete and their fans get a, "So ... who's excited for another year of Thaddeus Young hating his life?"
Oh, which reminds me:
Thaddeus Young: Left Behind, Part II.
Rodney Hood: Fell all the way to 23 and Utah. He should have gone 22 to Memphis, and you can make the argument he should have gone in the teens. Even with his defensive issues, Hood projects much better than several picks in front of him. Going to Utah isn't great either. Even if he's not a fan of the nightlife, he may be stuck behind Gordon Hayward. Tough night for a good prospect.
Memphis Grizzlies: Jordan Adams is a shooter, that's true. But Adams isn't fast, isn't athletic, and has an undefined concept physically. They reached for Adams and passed over better players.
Zach LaVine: That kid's face when he wound up in Minnesota was pure misery. Somebody go by that kid some gloves and a scarf.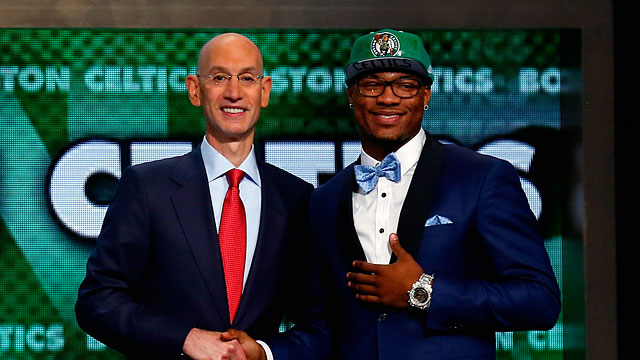 Mike McClure, a DFS pro with more than $1M in winnings, gives optimal DraftKings and FanDuel...

Iggy is focused on giving back to the Boys and Girls Club as he is with his Silicon Valley...

Ball missed much of the preseason after injuring his ankle against the Nuggets on Oct. 2
The Warriors are coming into the season with overwhelming championship odds

The best player in the world has a chance to make an important statement -- and kneel

The Cavs begin their defense of the Eastern Conference against the new-look Celtics