Winners and Losers from the Decision 2.0 of LeBron James
A look at who came out ahead and behind after LeBron James decides to return to Cleveland Friday.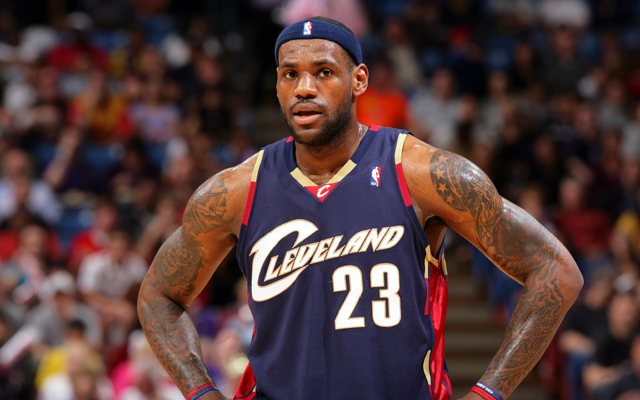 LeBron's return: James chooses Cleveland | Doyel: Welcome back to Ohio
The NBA world plunged into chaos and Cleveland leapt into joy Friday as LeBron James announced through Sports Illustrated that he's decided to return home and sign with the Cavaliers. In the wake of the biggest sports story of the NBA year, the ramifications were felt throughout the league and the so-called dominoes didn't fall, they were thrown off the table by the earthquake.
Here's a look at the winners and losers from Decision 2.0:
WINNERS
LeBron James: Only James could walk away from a team that won the Eastern Conference four times, won two titles, and was lead by Pat Riley, to go to Cleveland and come out ahead. Much will be made of why James made this choice, and that's a win for him. He came across as humble in his Sports Illustrated revelation. Simply the choice in how to reveal the decision, in an essay and not a television interview, looks good on him. Whoever worked on the essay did a masterful job, and James legitimately came across as having matured. He was grateful to Miami and the Heat, but explained with a sense of maturity what family and home meant.
Behind that is the fact he's going to a team poised to support him. It's not as good of a team as the one he came to in Miami four years ago. But it has great potential. He has the opportunity now to mentor players who need it on and off the court: Kyrie Irving, Tristan Thompson, Dion Waiters, Andrew Wiggins. Those players will benefit just by being around him daily. James is the salve that heals the wound, the tutor that helps the students excel, and the once and future King returned home. It's all upside for him.
He threatened his ring count, but you wonder if James realized after getting whipped by the Spurs that there's simply a lot more to life than obsessively chasing rings. It's an addictive property. The ones that have won the most have chased hardest, but they're not necessarily the happier people long-term. James may have realized something about that over the four years.
Whatever the case, James helped his image, his career, and his conscience on Friday. That's a pretty good day.
Dan Gilbert: Old Comic Sans Cavs Dan gets to rehabilitate his image. Despite constantly sticking by the decision to lob the letter four years ago, Gilbert gets to wipe that clean. He brings the biggest name in the sport, one of the biggest in the world, back to his team, and will reap the competitive and financial windfall. Gilbert mismanaged and mis-hired his way to four lottery appearances since James left, somehow landed three No. 1 picks, and got LeBron back.
Never let it be said that Cleveland doesn't have any luck.
Kyrie Irving: Irving was supposed to be the franchise leader, but struggled to stay healthy and to defend, and couldn't lift the team to the playoffs. Worse yet, his behavior was starting to rankle people and whether Irving wanted to be in Cleveland was becoming a legit question. Instead? Irving signs a max extension and gets one of his mentors who happens to be the best player on the planet to come help him win now.
Irving gets a defender to help cover his weaknesses. He gets a mentor to teach him how to win, and a star to take the pressure off him. Big win.
The Pacers, Bulls, Wizards, Raptors, Hawks, Nets, basically the entire Eastern Conference outside of Miami and the Sixers: The Cavs will be good. They could be great. James makes any team into a contender. But this is not the superteam in Miami that you couldn't effectively defend without tremendous personnel and coaching. This isn't the behemoth that won 27 games in a row. It's a young team that will make mistakes, has a lot of holes to fill on its roster and has to learn to play together. Meanwhile, the Heat (we'll get to them) are like saber-toothed tiger that lost its teeth. Agile, strong, but without the ability to really, truly hunt.
The East is wide open. James will make the Cavaliers great, in time. But the window to win the East is open. And any number of teams could earn the right to lose to the West because of it.
The Western Conference: Because if you can get through the Western Conference, you can win the title. The big bad wolf on South Beach is gone. The one in Cleveland is young and tough but you'd always rather face that.
Losers
Dwyane Wade: No one lost more than Wade did Friday. He lost one of his best friends. (Though the relationship between the two is often overstated.) They're pretty clearly "work friends," which is different from college roommates or lifelong friends. But he also lost his championship contention meal ticket. It's forgotten now, but Wade was once one of those guys trying to drag a mediocre team to the playoffs. In 2009 he put together a truly magnificent, MVP-caliber season. It didn't matter. Wade narrowly avoided that when Bosh re-upped, but the fact remains that Wade's window is closing. And the odds of Pat Riley snagging another magic charm to prop it back open are slim. Worse, Wade now has to make a compromise you really don't want to make. He was always going to take a pay cut. But before, he was taking a pay cut to keep the Big 3 together. Now he's taking a pay cut out of the simple fact that the team can't contend unless he does so they can add more talent. He's not taking a pay cut to make room for LeBron James. He's taking a pay cut to make room for someone like Trevor Ariza. That hurts his heart and his pride.
Chris Bosh: Bosh took the money to come back to Miami. He won in a lot of ways. But like Wade, his window is closing. What's worse, the way it went down still wasn't enough to convince him to sign with Houston. That was his best shot to have it all, the four-year max and title contention. But Bosh took comfort over great aspirations, and that's hard to argue with. But he didn't win.
Pat Riley and Micky Arison: Arison didn't even vote for the new CBA that prevented him from creating cap room to keep a good team around James. He didn't even want the system that led to him amnestying Mike Miller, which helped usher James out the door. He never wanted this. And yet the guy who did vote for it, Dan Gilbert, walks away with James. Go figure.
Arison brought it on himself though. Paying the super-tax may not have been financially smart but that's the price you pay for contention. He chose to try and get by on a budget without Miller and it cost him, big time.
Meanwhile, Riley, hamstrung by the new CBA and unable to put anything decent on the table, walks away with Wade and Bosh, which in 2010 would have been a king's ransom. But now it just feels like the leftovers. Riley has fallen here many times, only to rise up once again. But he's getting long in the tooth. How much longer is he going to have the patience for this?
Oh, and did I mention that the Cavs get the Heat's pick if it's outside the top 10 next year?
Houston Rockets: Man, did they get boned. James leaves, so the Rockets go all in, trading Jeremy Lin and Omer Asik, clearing cap space, only to watch Bosh re-sign with the Heat. Now they have cap space for the next two days they can't use effectively, until they have to either match the offer sheet for Parsons or let him walk. Houston pulled off trade after trade after trade and wound up somehow getting slightly worse despite smart management. The Cavaliers landed in the lottery four times and walk away looking like geniuses. Go figure.
The Central Division: The Bulls, Pistons, Bucks and Pacers have to compete with and play four times a year against the best player on the planet on a team with four No. 1 picks.
UNDECIDED
Andrew Wiggins: If the stays, he's a winner. He gets to learn under one of best wing players of all time and develop at a good pace among other stars. If he gets traded to Minnesota, he's a loser, because that place has basically become basketball Siberia. That's right. If he stays in Cleveland,  he comes out ahead. That's where Minnesota's at.
It's a different league now, but the veteran is filling a void for New Orleans after his four-year...

The Bulls lead by three with 10 seconds left but lost 116-115

Larry Nance Sr. starred for Cleveland from 1988-94
The hotline comes in the wake of the 'Sports Illustrated' investigation into the Dallas Ma...

Giannis, who spent last weekend in L.A. for the All-Star Game, says he loves 'low-key' Mil...

We have all the scores, highlights and news from the first day back from the All-Star brea...