Wisconsin Media Day Notebook
There's high expectations surrounding Wisconsin heading into the 2016-17 season.
MADISON, Wis. -- There are a lot of expectations surrounding head coach Greg Gard and Wisconsin in his first full year at the helm.
The Badgers return every scholarship player from a team that reached the Sweet 16 a season ago and finished the year by winning 13 of their last 17 games.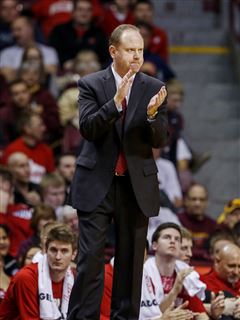 Just like two years ago when UW reached the national title game for the first time since 1941, the end goal is to be the last team standing in April.
The 2016-17 basketball season is almost underway! Stay in the loop on the Badgers -- take five seconds to sign up for the Wisconsin newsletter.
"I feel we're definitely capable of winning the national championship if we all play together," senior point guard Bronson Koenig said. "Right now, we're just trying to take it day-by-day."
Picked to win the Big Ten Conference by most outlets, Wisconsin has three players on the preseason All-Big Ten team. Joining Koenig, preseason Player of the Year Nigel Hayes and Ethan Happ headline a lineup that returns 99.8 percent of its minutes and 99.7 percent of its scoring from 2015-16, the highest in the country in both areas.
Prior to the start of practice, UW discussed their preseason goals and expectations as a team. Once the first whistle blew, it's been all about business.
"It's been said. We talk about it in terms of 'we're going to do this, we're going to win this,'" junior guard Jordan Hill said. "I think we all know what our goals are and what we want to achieve. After that, I don't think much needs to be said.
"It's pretty much you're going to lay down or we're going to make you lay down."
Wisconsin finished the regular season in a tie for third place in the 2016 Big Ten standings — extending its streak of top-four finishes to a league-record 16th-consecutive season. With a 12-6 conference record. Gard led the Badgers to the most Big Ten wins by a first-year coach since 2004 (Bruce Weber, Illinois).
The Badgers are currently enjoying a streak of 18 consecutive NCAA tournament appearances, tied for the fifth-longest streak in tournament history. Last season, UW reached the Sweet 16, becoming the nation's only team to reach that point in five of the last six years.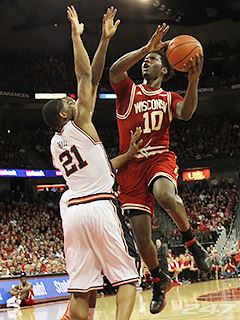 Nothing is promised come March, but the Badgers players and coaches know they have a squad that's capable of once a gain making a run at the national championship. With five starters who have played on college basketball's biggest stage, one thing UW won't do is jump ahead in the process.
"Coach harps on it every day. When your coach does that, the leaders fall in line," assistant coach Howard Moore said. "Expectations are always high inside our locker room. Our players understand they have to compete at a high level every day.
"This could be a special year. We can't promise anything, but if you lean on your work ethic and stay with our principals together as a team, then a lot of things can be accomplished."
Big Things Expected From Koenig
The talk surrounding UW media day was Koenig, who spent much of the summer training with Corey Calliet, a celebrity trainer and body transformation specialist.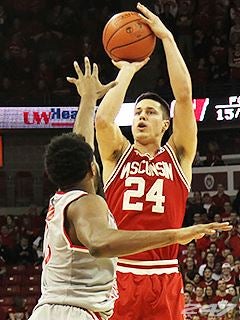 Koenig flew to Los Angeles to work with Calliet prior to UW's eight-week summer session and then returned following his UW commitments. Working alongside players like Russell Westbrook of the Oklahoma City Thunder, Koenig is seeing huge results in his game.
"I noticed it right when I ripped baseline I was a lot quicker," Koenig said of his first practice as a senior. "I had five, six guys come up to me after the first practice, telling me how much quicker and stronger I looked."
Last season, Koenig averaged 13.1 points and 2.4 assists per game as a junior.
"I hope it's not hype," Moore said of Koenig's new abilities. "He's shown us for the past three years he can play. You've seen a change in his body. He's taking things more serious this season. He's showing that he's a senior and he's ready to be a leader and keep this program heading in the right direction."
Happ Expanding His Game
If Wisconsin is going to improve on their 34.9 percent mark from three-point range last season, it starts with spreading the floor at the forward/center positions.
Happ has worked hard this off-season on his three-point and mid-range jumpers and is expected to provide the Badgers with a new weapon on the outside.
"I definitely see a progression in the right area," said Gard. "There have been days when he's outstanding in practice. I'm excited in terms of his potential.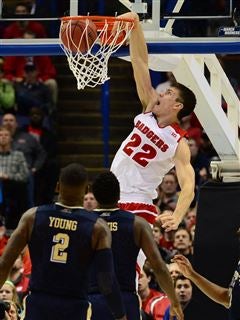 "His shooting his something he's worked on. I wouldn't say he's a prolific three-point shooter, but the confidence to play on the perimeter is much higher than it was a year ago."
Happ did have a three-point shot heading into his career at Wisconsin in 2014-15. In one AAU game, he connected on six triples, including the game-winner with just seconds left.
However, the coaching staff saw some mechanical flaws in his stroke, forcing Happ to take a step back. After not attempting a single three-pointer as a redshirt freshman, Happ will be letting it fly this season.
"It's not where I'd like it to be, but it's definitely better than where it was.," he said. "I'm putting in live shots now. I'm not making as many as I'd like, but you have to keep shooting in live action and soon enough you start making them.
"If I was a team defending me the first couple games, I would play off me too," Happ continued. "If they give me an open shot, I'm just going to have to keep taking them."
Pritzl, Van Vliet Ready to Contribute
After not playing as true freshman, forward Andy Van Vliet and shooting guard Brevin Pritzl will make a push for playing time in 2016-17.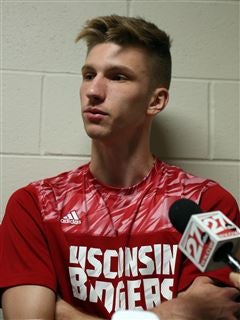 Van Vliet was ruled ineligible last season and now returns as a sophomore. The 6-foot-11 Belgian said he added 25 pounds in the off-season.
"I feel like I got stronger," he said. "I feel like I have quicker moves. I feel much more confident playing against these guys. I feel totally different. I feel way more confident having weight on me and going up against those guys."
Pritzl, who broke his foot twice last season, received a medical hardship waiver. While his foot has fully healed, Pritzl admits there's still a long way to go in his progression before he's back to 100 percent after only being able to participate in a few practices last season.
"I don't think (the rust) is going to wear off until next year," he said. "There's no way for me to get back a year of playing. It's just a huge gap. To lose a year of full participation, I had to learn how to re-run, re-cut, and do all those kinds of things.
"It will take awhile, but hopefully the more I play, the more the rust wears off."
Freshman Making Noise
With everything Wisconsin returns this season, it's going to be tough for true freshman Aleem Ford and D'Mitrik Trice to crack the lineup. However, Gard says the two products out of IMG Academy are definitely making a push.
"Those two freshman have not taken a back seat at all," said Gard.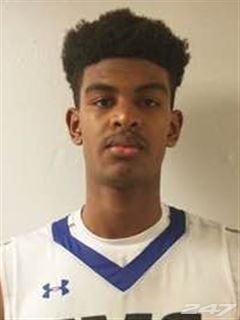 Trice, a native of Ohio, is the younger brother of former Michigan State star Travis Trice.
"When I got a chance to see him at IMG when our season was over, there was no doubt. In 10 minutes I could tell the instincts, how he talked to people -- he had a quarterback mentality.
"Meech just made some plays upstairs, they had a hard time containing him in a small space."
Gard was initially only recruiting Trice, but upon scouting the former three-star point guard, noticed Ford on a nearby court. The two ended up being a package deal and completing UW's 2016 recruiting class.
"I like his potential," Gard said. "He's very skilled, good athlete, very long. Picks things up quickly, always asks the right questions. He's going to be a good player here.
"When? Obviously it's pretty competitive right now. But in terms of what he's done so far, he's made some things happen and turned some heads a little bit."
Looking for the scoop on Wisconsin recruiting? Become a Badger247 VIP subscriber and get FREE access until Jan. 1!
Right before Wiggins hit his shot, Carmelo Anthony hit a 3 to put the Thunder in front

The Suns firing Earl Watson three games into season is second-quickest firing in NBA histo...

Bledsoe tweeted, "I Dont wanna be here"
Giannis had his hand on McCollum's hip when he poked the ball away

Teodosic had to leave the Clippers' game Saturday night against the Suns

Irving said recently that he does not regret the profane outburst