With a hobbled Blake Griffin, Clippers no match for Grizzlies' grit
The Memphis Grizzlies were going to arrive at a moment like this eventually: a chance to find out if they're better without Rudy Gay or not. As it turned out, the most important game of the post-Gay era arrived sooner than expected.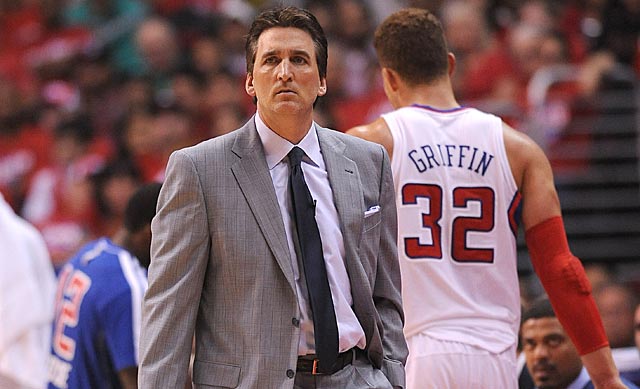 LOS ANGELES -- The Memphis Grizzlies were going to arrive at a moment like this eventually: a chance to find out if they're better without Rudy Gay or not.
As it turned out, the most important game of the post-Gay era arrived sooner than expected.
This was supposed to happen in Game 7 on Sunday at Staples Center, which was inevitable the way this series had been going. It would come down to a one-and-done elimination game, just like last season's first-round meeting with the Clippers -- except with a change of venue.
Some strange things happened on the way to that seemingly scripted outcome. Blake Griffin suffered a severe high-ankle sprain in practice on Monday, something that wasn't supposed to happen. I mean, who has a 5-on-5 scrimmage in the middle of a playoff series? What is this, Hoosiers?
Then, after 37½ minutes of a basketball clinic that the Grizzlies were putting on, Marc Gasol went to the bench with his fifth foul. Memphis had a five-point lead at the time. By the time Gasol came back, with 2:28 left, it was an eight-point lead. The Clippers had done nothing to take advantage of the gaping hole in the middle of the Memphis defense, and were getting eaten alive by Zach Randolph at the other end.
Throw in the fact that it was Tayshaun Prince -- an NBA champion with the Pistons what feels like a lifetime ago -- knocking down a 3-point dagger with 1:29 left in the Grizzlies' 103-93 victory, and you had your answer. This team is better, more organized, more balanced and more dangerous than it would've been had the Gay trade not been made.
"He's a veteran, he's a leader, he's a champion and I'm just glad we got him and that's just what it is," Tony Allen said after the Grizzlies seized a 3-2 series lead. "He's been battle-tested before; that's what he does. He's been in that situation before and he's a big-time player for us."
The Clippers had one big-time player in Game 5, Chris Paul, and if that continues there will be no Game 7 here on Sunday. Paul had 35 points and got no help with Griffin spending as much time with his foot in an ice boot as he did levitating in the air during the game.
"It was one of those things that I couldn't honestly believe it happened [Monday]," Griffin said.
His ankle swollen and discolored, Griffin walked gingerly through the locker room and said, "We've just got to wait and see" about Game 6 in Memphis on Friday night.
Griffin said the injury -- the first high ankle sprain of his career -- happened when the Clippers were scrimmaging and he left his feet to make a pass and came down on someone's foot. Only 24 hours of continuous treatment and a lot of painkillers got Griffin onto the floor at all.
"He shouldn't have been playing," said a person with knowledge of the sprain's severity.
It probably wouldn't have mattered whether Griffin was healthy, because the Grizzlies imposed their will from start to finish and had an answer for every absurd lineup combination Vinny Del Negro threw out there.
I swear, watching Del Negro coach this team is like watching some new sport I've never seen before.
Chauncey Billups, 35, plays all 12 minutes in the first quarter, none in the second, and then after an hour or so of sitting around, plays 5:32 in the third and not a second in the fourth? Ronny Turiaf doesn't play at all in the first half and then is on the floor for the most critical minutes of the game in the fourth?
With 4:51 left, Del Negro motions to 40-year-old Grant Hill, who hasn't made an appearance the entire series, and tells him now is the time he has chosen to put him into the fray? And then calls Hill back to the bench after a timeout in favor of Lamar Odom?
Who makes these decisions, a Ouija board?
Finally, Lionel Hollins outmaneuvered Del Negro one last time by sliding Prince to the power forward spot against a three-guard lineup late in the fourth once Gasol returned from the bench. Prince, who moments earlier had gotten free for a layup and a 20-footer, promptly lined up and buried a 3-pointer from 27 feet that gave Memphis a 94-86 lead with 1:29 left.
"This is the first time in a big playoff game I think that I was at the four," Prince said. "I've just been trying to stay in the gym and keep that rhythm with my jump shot and be ready when I get the opportunity."
The opportunity came sooner than expected -- the opportunity to prove that the Grizzlies are better than they were before the trade.
"I'm not concerned about what people thought about the trade and how it would turn out," Prince said. "What I'm concerned with is how we can get better each game and trying to fit in with these guys and doing what they need for me to do and ask for me to do. Just show some leadership, play some defense and try to knock down some shots."
That, he did. Next up, Game 6 on Friday night in Memphis, where the Grizzlies won Game 3 by 12 points and Game 4 by 21.
"We have to play with a sense of urgency," Griffin said. "Otherwise, everybody knows what happens."
Yes, everyone -- including the owner, Donald Sterling, who stood in the media room after the game watching the postgame show on TV. The local analysts were lamenting the Clippers' lack of adjustments and faulty defensive strategy -- not double-teaming the post and daring the Grizzlies to make jump shots in the fourth quarter.
I'm not sure if any of that made sense to Sterling, but surely this truth must: one team in this series has gotten better since the last time they met, and one has regressed.
Then-Lakers owner Jerry Buss eventually shot down the idea

Bryant will have both No. 8 and No. 24 raised to the Staples Center rafters on Monday

The Lakers will be retiring Kobe Bryant's No. 8 and No. 24 jerseys at halftime
The Nuggets will look for their second-straight win with Nikola Jokic back in the lineup

This composition is absolutely amazing

Stephen Curry, who grew up in North Carolina, wants to be part of the next Panthers ownership...