With annihilation of Heat, Spurs' masterpiece defines greatness
The Spurs didn't just claim this championship; they tore it from Miami's lifeless fingers with three consecutive annihilations to punctuate the loudest, most heartfelt note of this dynasty.
More NBA Finals: San Antonio wins title, beats Miami 104-87 | Court Vision
SAN ANTONIO – When time had elapsed on this masterpiece, Gregg Popovich could only sit on the bench in the middle of the mayhem and exhale.
He dropped his head into his hands and rubbed his fingers through whatever hair he has left. The hugs and handshakes after San Antonio's fifth championship, a remarkable run of sustained excellence, were only beginning.
Pat Riley, who'd created the three-headed monster in Miami four years ago, was one of the first to get to Popovich as confetti began falling all around them. Bill Russell, the ultimate champion, was there, too. What an embrace Russell and Popovich had; two all-time winners enveloping each other in respect.
Spurs general manager R.C. Buford, the architect of this latest basketball machine in a journey as long as it has been brilliant, wrapped his arms around Popovich. They hugged hard, like family. Buford's eyes were red like blood, holding back tears.
All around them were the players they'd recruited, drafted, signed, traded for, cursed out, consoled, supported and, ultimately, taught how to be Spurs. They kept coming, old and new, one after another. Their coronation, their joyful gallop to greatness, led them finally to a 104-87 dismantling of LeBron James and the Miami Heat on Sunday night. The Spurs' fifth title, coming in five games over a Heat team they reduced to rubble, brought their world of domination full circle.
A few feet away, the great Tim Duncan stood on the floor and held up five fingers – three on one hand and two on the other. The fifth finger signified the one that got away a calendar year ago in Miami -- the one that Duncan, Tony Parker, Manu Ginobili, the stealthy Boris Diaw, magnificent series MVP Kawhi Leonard, Danny Green and on and on, came back this season to claim as rightfully theirs.
"What happened last year definitely helped us," said Duncan, who tied Kobe Bryant for the lead among active players with five championships. "It helped us drive and stay focused for an extended period of time. It could've easily hit us in different ways; we could've reacted in different ways. But we reacted the right way."
The Spurs always do. How they conducted themselves after Duncan and Popovich won their first championship together 15 years ago – a staggering tribute to their partnership – is the same way they operate now.
"Last year's loss was devastating," Popovich said. "I've said it many times, a day didn't go by that I didn't think about Game 6. So I think, just in general, for the group to have the fortitude that they showed to get back to this spot, I think, speaks volumes."
They didn't just claim this championship; they tore it from Miami's lifeless fingers with three consecutive annihilations to punctuate the loudest, most heartfelt note of this dynasty. It's a dynasty that might not be over, one that may very well have more life left than the one in Miami that the Spurs just demolished.
Duncan, after all, has more fingers to hold up if he chooses to use them. At 38, Duncan has a player option for next season -- and with it, a chance to try this one more time.
"Playing with the teammates I've always played with, coached by the guy that is coaching us, I always felt that we had a shot," Ginobili said. "Even last year, after that tough blow in Game 6 especially, I always believed that we had a shot [at] coming back."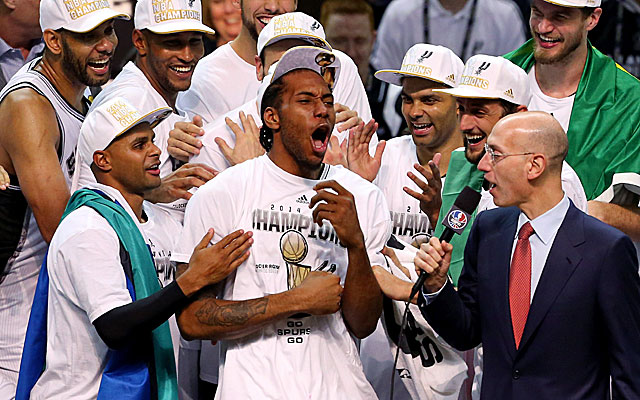 Earlier, in the Spurs' processional into the arms of Father Popovich, finally here was the Admiral, David Robinson on the floor at AT&T Center. He and Duncan had started this whole thing with San Antonio's first title in 1999.
That's how the story goes, though it's only part of it.
The other part goes like this:
On a mid-November day in 1987, Buford showed up for work at the Kansas University offices. He was an assistant under Jayhawks coach Larry Brown, who never bothered to tell anyone on the staff that a young coach from Pomona-Pitzer would be spending some time around the team.
When Buford got to work that day, Popovich was sitting in the lobby.
"Next thing you know, you realize that a really gifted coach is coming to spend time with us," Buford told CBSSports.com on Sunday night. "We got into the season and there wasn't any way that Larry was gonna let Pop leave."
Popovich, an Air Force man, had a plan. As often is the case in coaching, the plan didn't quite go as he'd drawn it up. He'd set out to spend three months at North Carolina with Dean Smith, then three months with Brown and three months with Hank Egan at the University of San Diego. Buford's eyes widened and brightened as he told the story of how his nearly 30-year relationship with the man they call Pop began.
"Was he grumpy back then, too?" I asked.
"He had great humility," Buford said, "and he was anxious to learn."
Learn, he did. After Popovich returned to Pomona, the Jawhawks won the 1988 national championship under Brown, with Buford on the bench. When the brilliant Brown decided it was time to move to the "next town," as it were, he brought Buford and Popovich with him.
That town was San Antonio, and it has never been the same. Pop and Buford have been together ever since.
"I don't know that you ever know that you're gonna have a career like he's had," Buford said. "As wonderful as he is, we've had the fortune of David and Tim to set the table for all of us."
Incredibly, beyond reason, that is Buford's take on the legion of former players, coaches and front-office men who've passed through San Antonio on their way to big jobs in other NBA cities. If someone made a shot chart of all the former Spurs who've landed from coast to coast in the NBA, it would look like San Antonio's shot chart in this series.
"Incredible pride and, I think, more than that a feeling of good fortune that they were all a part of establishing the success that we had," Buford said. "We didn't rub on them; they rubbed on us and they made us better."
Yet none of them has been able to replicate the championships, the longevity, the consistency that have made San Antonio the epicenter of the sport – and now, the slayer of the free-agent superstar team that Riley assembled four years ago in Miami.
"Our ownership group and Tim Duncan have given us the chance to do that," Buford said.
Aside from a flirtation with the Orlando Magic as a free agent in 2000, Duncan has kept coming back year after year – taking less money, losing weight to save his balky knees, willfully surrendering his role as the focal point to Parker through the years. The Spurs never face the kind of anxiety and hysteria that Spurs disciples Danny Ferry and Mike Brown faced with James in Cleveland, or the kind that that the Knicks face this summer with Carmelo Anthony – or that the Heat will confront in a couple of weeks amid the wreckage of this massacre in the Finals.
The Spurs just keep going.
"We're not gonna trade several pieces of our group, and because of that, we're just not a viable option, I guess, for what people are looking for," Buford said.
In the postgame news conference after his third loss in five Finals appearances, James was asked several times to handicap his future in Miami. James, Dwyane Wade and Chris Bosh all have early-termination options and can become free agents July 1. As he did after his Cavaliers lost to the Celtics in 2010 Eastern Conference semifinals, James left his options open – and even used precisely the same terminology as he did in the postgame interview room back then.
"Me and my team will sit down and deal with it," James said.
Could anyone imagine Duncan opting out and going somewhere else? The Spurs chasing a superstar to jump on the bandwagon for one more championship ride? These things don't happen in the culture that Popovich and Buford began creating nearly 30 years ago in Lawrence, Kan. These things do not define the Spurs.
"Tim's gonna let us know when he's ready to end it," Buford said. "The alternative, we don't really approach because there isn't an answer."
Popovich had talked for years about holding training camp at the Air Force Academy, where he'd coached basketball under Egan and majored in Soviet Studies during the Cold War. Last October, only four months after that crushing loss to Miami in the Finals, he finally decided to do it. Buford wasn't surprised. The team needed a fresh start, a new focal point – something to rally around.
"The way last season ended set everybody on their heels," Buford said. "And I think when we went to the Air Force Academy to start training camp, it was a great opportunity for us to build something fresh and different. Pop was really proud to take our group and show them the Academy, but also to share his experience with them. … The obstacle course that the team went through, it was a whole different environment and it set the stage to get people past where we were."
The Spurs embraced it, let the agony of losing in the Finals last June wash over them. Here they came, to plunder the rest of the NBA -- to claim what the Heat had snatched away from them in a sport that is forever chasing the Spurs, trying to out-Spur them.
The problem, quite simply, is that nobody does it better. 
CBS Sports HQ Daily Newsletter
Get the best highlights and stories - yeah, just the good stuff handpicked by our team to start your day.
Please check the opt-in box to acknowledge that you would like to subscribe.
Thanks for signing up!
Keep an eye on your inbox for the latest sports news.
Sorry!
There was an error processing your subscription.
Only one pick fell into the D range

The Hawks' stellar haul in the first-round was a huge winner on draft night

Villanova's Bridges was drafted by the Sixers at No. 10, but his fairy-tale draft night didn't...
All the deals that went down during the 2018 NBA Draft

Giannis Antetokounmpo's brother Kostas is the last player taken in this year's NBA Draft

The 2018 NBA Draft is in the books