With assist from Kidd, Melo leads Knicks to 4-0 start
With an assist from Jason Kidd and his calming, winning influence, Carmelo Anthony has the Knicks off to a 4-0 start for the first time in almost two decades.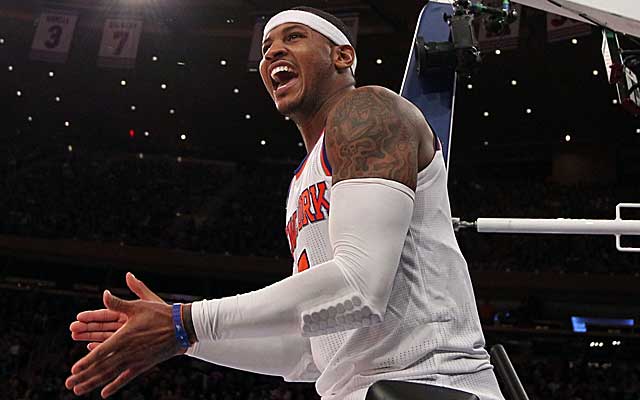 Carmelo Anthony's elevated play is a big reason the Knicks are 4-0. (US Presswire)
NEW YORK -- We live in a world where the Lakers fired their coach not only before Thanksgiving, but before families even started bickering over who would be hosting Thanksgiving. And now we live in a world where the Knicks are the last remaining undefeated team in the NBA.
I'm scared of this world, and you should be, too.
You should be scared because Carmelo Anthony is rebounding and playing defense in addition to scoring, and he's doing all three in abundance. You should be scared because when we were making fun of all the Knicks' old players, we failed to realize that the old guys were just the peripheral talent.
It's early -- way too early -- to be drawing any sweeping conclusions. (Unless you're the Lakers.) But something unsettling has happened.
The Knicks are pretty good.
"They're a very good team," Mavericks coach Rick Carlisle said after New York improved to 4-0 for the first time since the 1993-94 season with a 104-94 victory over Dallas Friday night. "In my opinion, they're one of a handful of teams in the East that has a chance to come out of the East."
Hyperbole aside, Carlisle followed up with an indisputable truth.
"And they have Jason Kidd," Carlisle said.
Well, we knew the Knicks had Jason Kidd. But what Carlisle meant was, the Knicks have Jason Kidd.
"Jason Kidd is going to raise everyone's intensity and focus," Carlisle said. "That's just how it works."
That's how it worked in Dallas. The Mavs won 67 games during the 2006-07 regular season, lost to Golden State in the first round, and then in February 2008 acquired Kidd from the Nets. By the end of Kidd's second full season in Dallas, the Mavs were NBA champions.
Tyson Chandler was signed-and-traded to the Knicks after that, and Kidd left for New York as a free agent this past July. Kidd, 39, is well beyond his days of producing at an All-Star level, but his winning ways and influence have shown no signs of diminishing.
"I thought I could help this team," Kidd said.
He has turned into basketball's Mr. Fixer Upper, serving as a calming, veteran force on the U.S. Olympic team that ended the nation's gold-medal drought at the 2008 Beijing Games. He resurrected the Nets with consecutive trips to the NBA Finals, delivered Dirk Nowitzki's first NBA title and now has taken on the ultimate makeover project in New York.
The Knicks have long enjoyed stature in the NBA that far outstrips their actual accomplishments. The same could've been said of Anthony, whose talent and star power were never in doubt but whose resume as a winner was curiously pockmarked with one first-round exit after another during his first nine seasons.
"I think J-Kidd will be good for him," Mavs owner Mark Cuban said. "I think Carmelo wants to win, and I think J-Kidd will be able to show him what he's seen with Dirk and what he's seen with other players. I think he'll be a good influence. But it's a team game."
And that's the thing: Melo is playing like a team player. It wasn't just his 31 points Friday night, but his seven rebounds, two blocks and locked-in focus on both ends of the floor. I'm not the best lip-reader in the world, but it sure looked to me like Anthony, after converting an aggressive drive to the basket in the fourth quarter, pumped his arms and shouted, "I'm a (expletive) animal, man!"
When he plays like this, yes he is.
These are things the world saw from Anthony during the London Olympics, but things we've never seen for an extended period on an NBA floor.
"He's a talented player, if not one of the best in the league," Kidd said. "I was with another great one in Dallas, so I feel that he can be just as good as Dirk. He understands the moment. He wants the ball. People don't look at him as a defensive player, but he's a guy that plays defense, and he's been doing it since I've been here, watching him in training camp. He's playing both ends."
Four games is hardly enough time to judge; the Knicks, and Anthony, have a long way to go. But if this is the new Melo, and if Kidd -- the human Swiffer of the NBA -- has brought it out in him, there's good reason to fear this new basketball world in which we live.
Our advanced computer model simulated Saturday's Thunder-Cavs game 10,000 times

The Jazz are reportedly looking into trading Rodney Hood before the Feb. 8 NBA Trade Deadl...

The Cavaliers are ready to reset everything if they have to. Their interest in Lou Williams...
It sounds like the Cavaliers are going to be active before the NBA trade deadline on Feb....

We've got all the scores, highlights and news for Friday night

George Hill, who is unhappy in Sacramento, could be a solution to Cleveland's backcourt si...